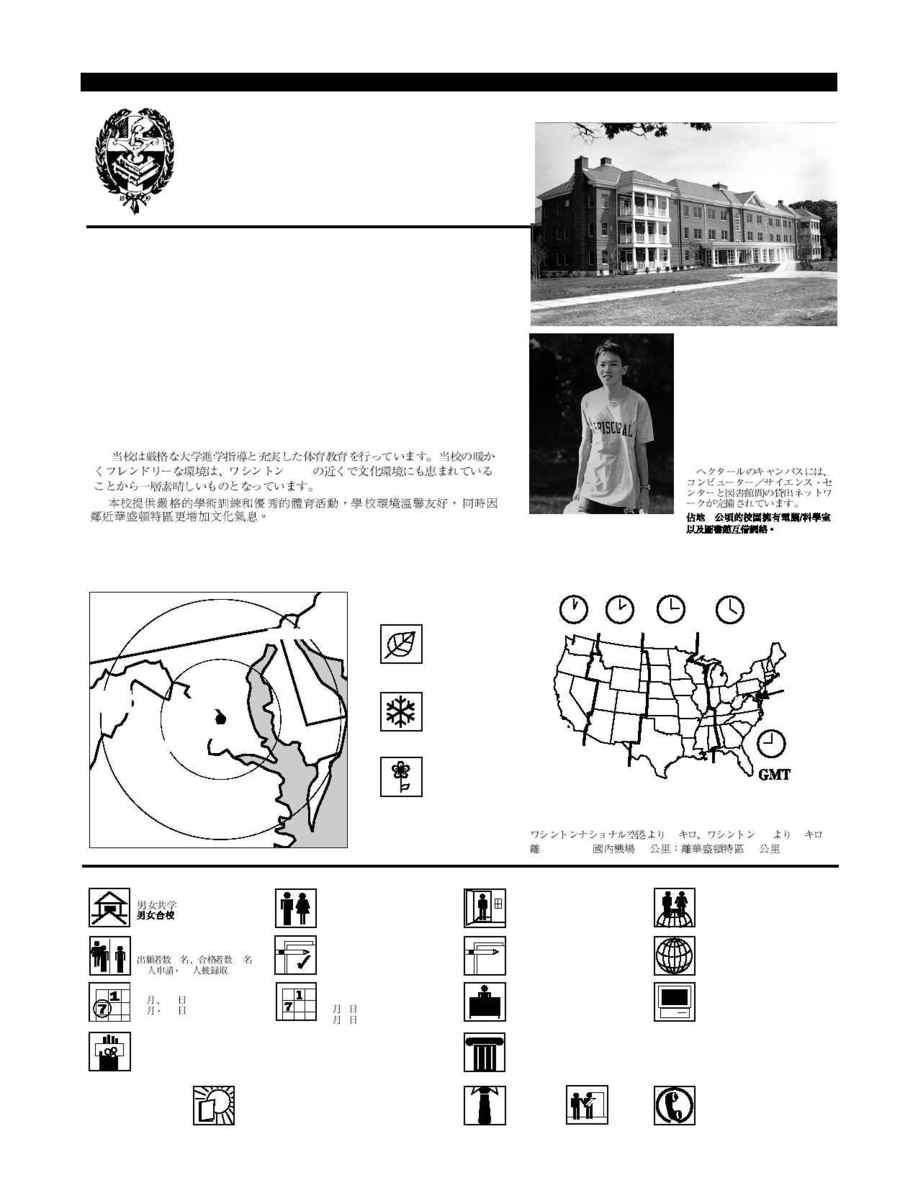 WEST
VIRGINIA
VIRGINIA
PENNSYLVANIA
80 km
160 km
Episcopal High School
Founded 1839
The 130-acre campus has four
computer/science labs and an
interlibrary loan network.
Las 53 hectáreas de terreno tienen 4
laboratorios de computación y
ciencias y a una red de préstamos
interbibliotecarios.
Le campus de 53 hectares dispose
de quatre laboratoires informatiques
et scientifiques, et d'un réseau de
prêts entre bibliothèques.
10 km from Washington National Airport; 12 km from Washington, DC
A 10 km del aeropuerto nacional de Washington; a 12 km de Washington, DC
A 10 km de l'aéroport national de Washington ; à 12 km de Washington, DC
30, 12 / solicitaron admisión, fueron
aceptados / candidats, admis
January 31 / 31 de enero / 31 janvier
1
September 7 / 7 de septiembre /
7 septembre
9
University of North Carolina, University
of Virginia, Vanderbilt University, Wake
Forest University, Davidson University
Austria (3), Bermuda (2), France (1),
Germany (3), Hungary (1), Jamaica (1),
Japan (3), Mexico (1), Scotland (2), Saudi
Arabia (5), South Korea (12), Taiwan (1)
UNITED STATES
Episcopal High School offers rigorous college-preparatory academics and
competitive athletics. The school's warm and friendly setting is enhanced by
the cultural opportunities in nearby Washington, D.C.
Episcopal High School ofrece un riguroso programa académico de
preparación para la universidad y deportes competitivos. El ambiente cálido y
amistoso del colegio es enriquecido por las oportunidades culturales de la
vecina ciudad de Washington, D.C.
Episcopal High School offre un programme rigoureux de préparation aux
universités et des programmes sportifs. Dans un cadre chaleureux et amical,
l'école met en relief les opportunités culturelles de la ville voisine de
Washington, D.C.
Robert Watts III, Director of Admission
1200 North Quaker Lane
Alexandria, Virginia 22302
Phone: 703-933-4062 Fax: 703-933-3016
E-mail: admissions@episcopalhighschool.org
URL: http://www.episcopalhighschool.org
Coeducational 9­12 / Mixto / Mixte