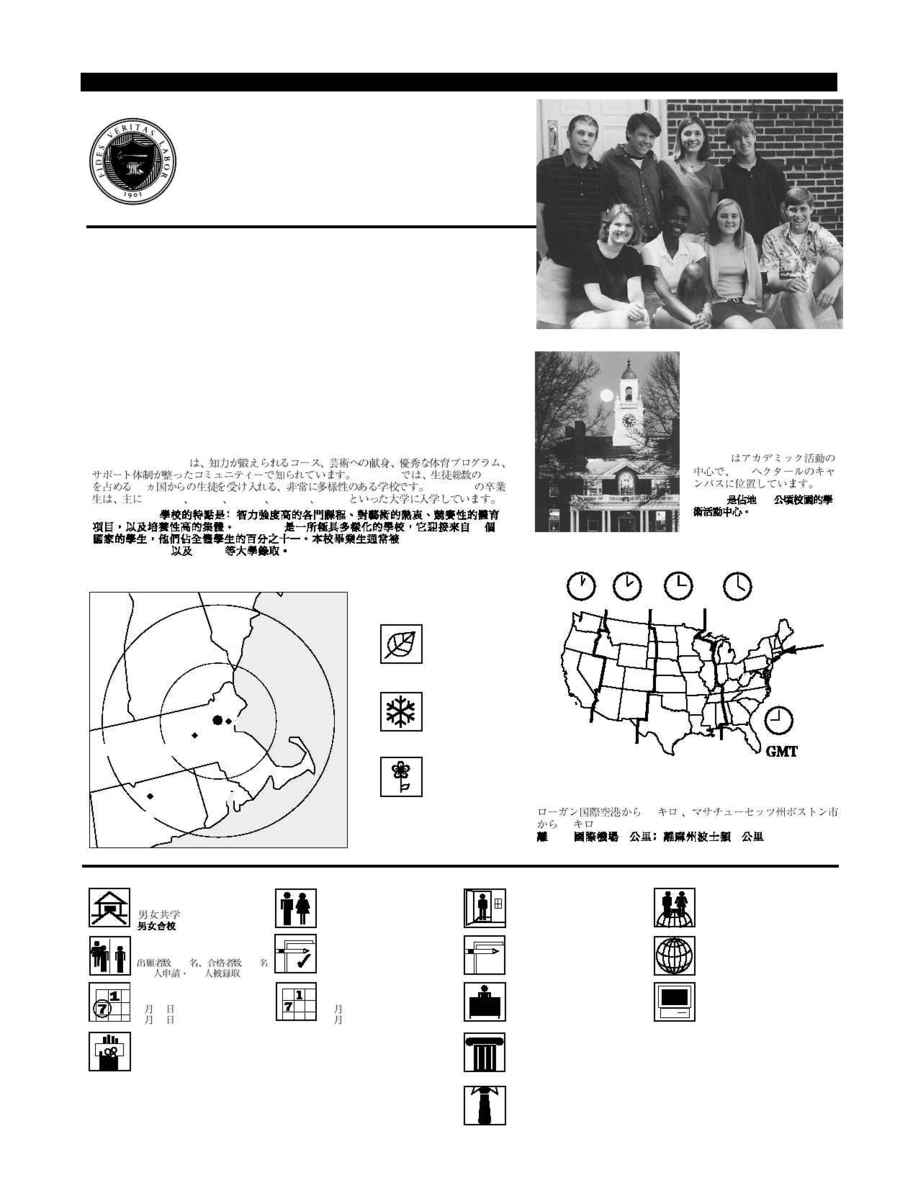 NEW HAMPSHIRE
MASSACHUSETTS
80 km
160 km
ATLANTIC
OCEAN
RHODE
ISLAND
MAINE
CONNECTICUT
Middlesex School
Founded 1901
Eliot Hall is a center of academic
activity on the 300-acre campus.
Eliot Hall es un centro de
actividades académicas en el
terreno de 121 hectáreas.
Eliot Hall, situé sur le campus de
121 hectares, est un centre
d'activités académiques.
13 km from Logan International Airport; 11 km from Boston, MA
A 13 km del aeropuerto internacional de Logan; a 11 km de Boston, MA
A 13 km de l'aéroport international Logan ; à 11 km de Boston, MA
Coeducational 9­12 / Mixto /
Mixte
650, 240 / solicitaron admisión,
fueron aceptados / candidats, admis
January 31 / 31 de enero /
31 janvier
September / septiembre /
septembre
9
9
Bowdoin College, Brown University,
Cornell University, Middlebury College,
Trinity College
Canada, Japan, Korea, Mexico,
Thailand
UNITED STATES
Intellectually rigorous courses, a commitment to the arts, a competitive athletic program,
and a supportive community define Middlesex School. An extraordinarily diverse school,
Middlesex welcomes students from 20 countries who represent 11 percent of the student
body. Middlesex graduates regularly gain admission to such colleges as Bowdoin, Brown,
Cornell, Harvard, and Trinity.
Cursos intelectualmente exigentes, un compromiso con las artes, un programa atlético
competitivo y una comunidad que brinda apoyo, distinguen al Middlesex School. Un colegio
extraordinariamente diverso, Middlesex recibe estudiantes de 20 países, los cuales representan
el 11 por ciento del cuerpo estudiantil. Los graduados de Middlesex son admitidos
regularmente en universidades tales como Bowdoin, Brown, Cornell, Harvard y Trinity.
Des cours intellectuellement rigoureux, un engagement envers les arts, un programme
sportif compétitif et une communauté coopérative définissent Middlesex School. Middlesex,
une école extraordinairement diversifiée, accueille des étudiants de 20 pays différents
représentant 11 pour cent de l'effectif. Les diplômés de Middlesex sont régulièrement admis
dans des universités telles que Bowdoin, Brown, Cornell, Harvard et Trinity.
Sibyl F. Cohane, Director of Admissions
1400 Lowell Road
Concord, Massachusetts 01742
Phone: 978-369-2550 Fax: 978-287-4759