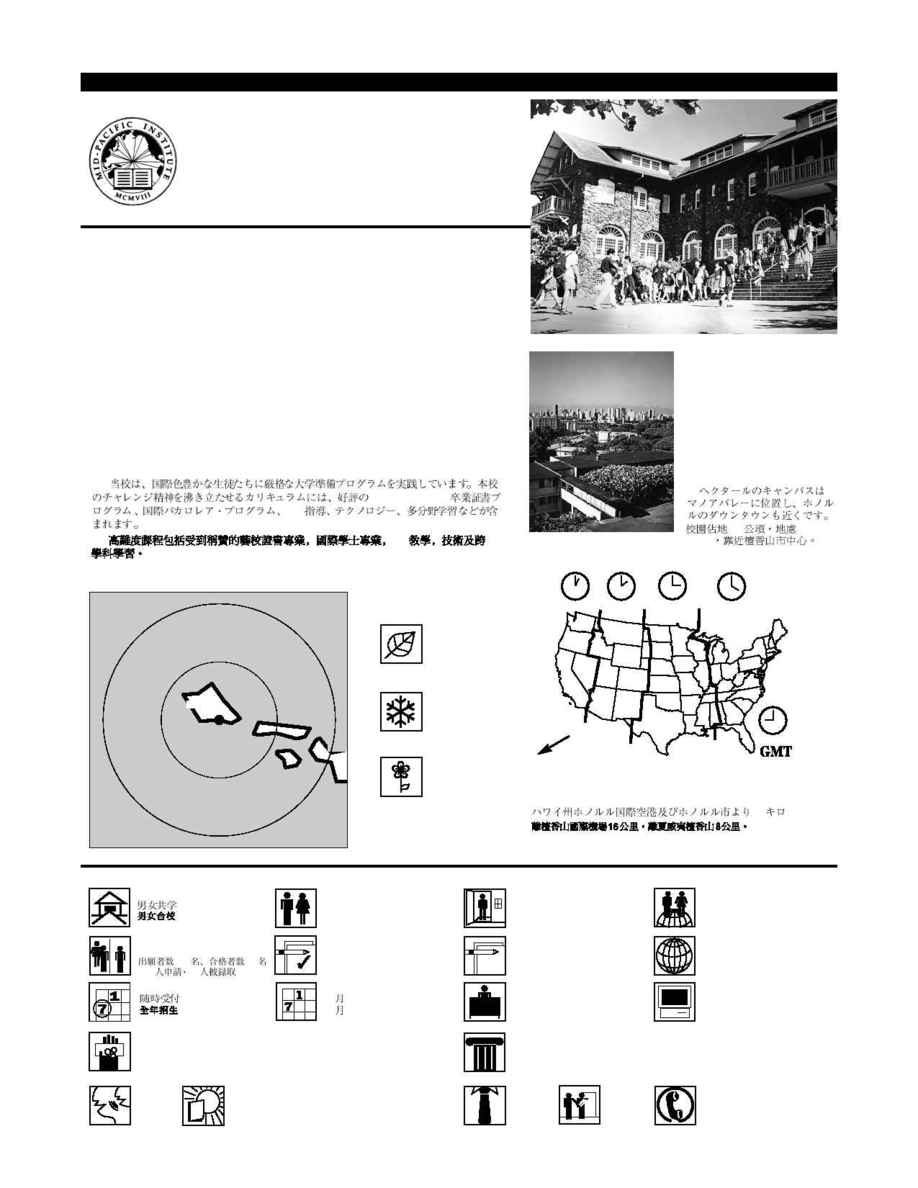 OAHU
MOLOKAI
MAUI
LANAI
Mid-Pacific Institute
Founded 1864
The 34-acre campus is set amidst
the hills of Manoa Valley and is near
downtown Honolulu.
Las 14 hectáreas de terreno están
situadas entre las colinas del Valle
Manoa, cerca del centro de
Honolulu.
Le campus de 14 hectares est situé
au milieu des collines de Manoa
Valley et est proche du centre ville
d'Honolulu.
14
16 km from Honolulu International Airport, 8km from Honolulu, HI / A 16
km del Aeropuerto Internacional de Honolulu, a 8 km de Honolulu, HI / À
16 km de l'aéroport international d'Honolulu ; à 8 km d'Honolulu, HI
236, 95 / solicitaron admisión,
fueron aceptados / candidats, admis
Rolling / Continuo / Continuelles
$9585 (day); $15,920 (boarding)
September / septiembre / septembre
9
University of Washington, Creighton
University, University of Hawaii,
University of Oregon, Boston University,
Stanford University, Harvard University
Canada, Hong Kong, Japan,
Korea, Taiwan,
UNITED STATES
Mid-Pacific Institute provides a rigorous college-preparatory program for a diverse multi
cultural group of students. The challenging curriculum includes an acclaimed School of
the Arts certificate program, International Baccalaureate program, ESL instruction,
technology, and interdisciplinary learning.
Mid-Pacific Institute brinda un programa intensivo de preparación para la
universidad a un grupo de estudiantes provenientes de diversas partes del mundo. El
estimulante plan de estudios incluye un programa de estudios muy elogiado en la
Escuela de Artes con entrega de diploma, un programa de Bachillerato Internacional,
cursos de inglés como segundo idioma (ESL), tecnología y educación
interdisciplinaria.
Mid-Pacific Institute fournit un programme de préparation universitaire rigoureux
pour un groupe d'étudiants provenant de diverses cultures. Le stimulant programme
scolaire comprend un excellent programme préparant au diplôme de l'École des Arts,
un programme préparant au baccalauréat international, des cours d'anglais comme
langue étrangère (ESL), des cours de technologie et un enseignement interdisciplinaire.
Dorothy Crowell, Director of Admissions
2445 Kaala Street
Honolulu, Hawaii 96822-2299
Phone: 808-973-5004 Fax: 808-973-5099
URL: http://www.midpac.edu
Coeducational 6­12 / Mixto / Mixte