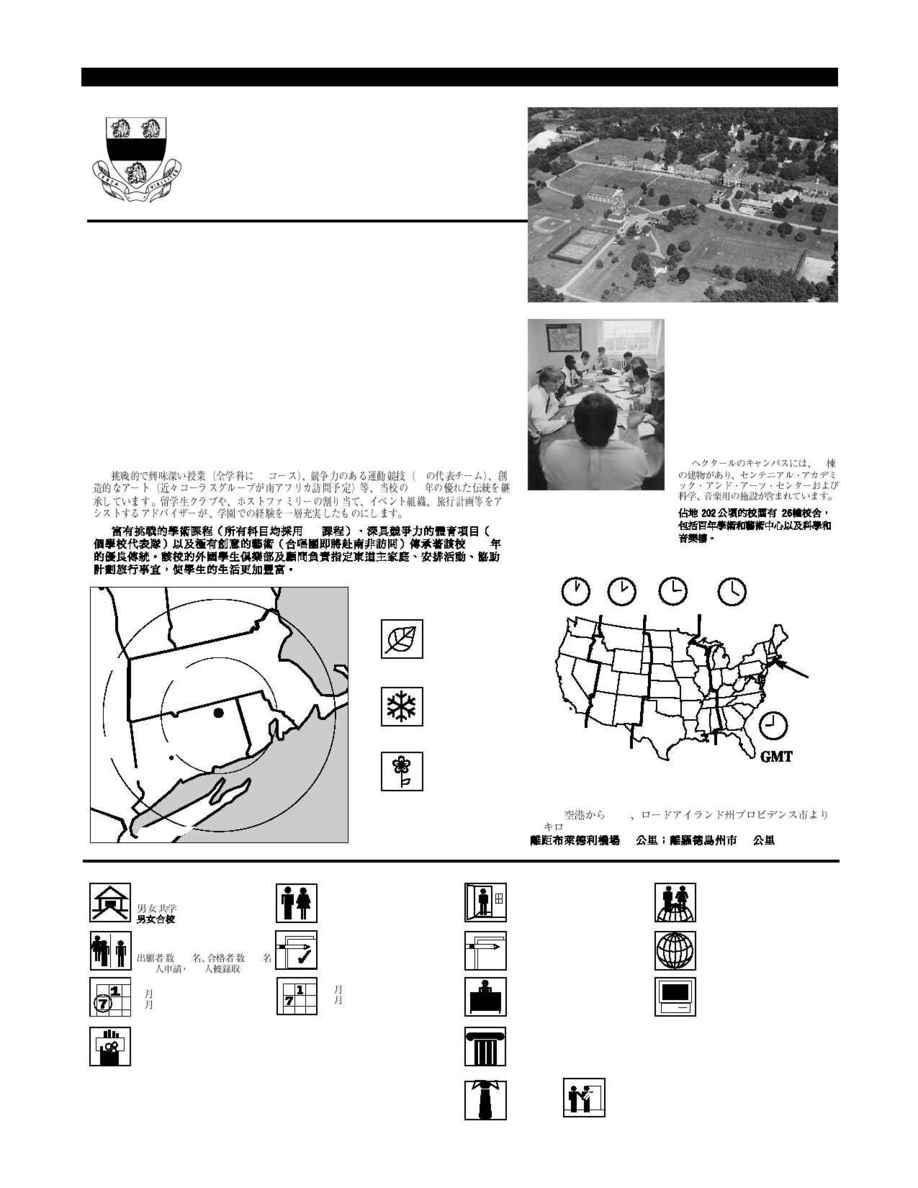 Atlantic
Ocean
80 km
160 km
NEW
YORK
R.I.
MASSACHUSETTS
Pomfret School
Founded 1894
81 kilometers from Bradley Airport; 56 km from Providence, RI / A 81
kilómetros del aeropuerto de Bradley; 56 km de Providence, RI / À 81 km de
l'aéroport Bradley ; á 56 km de Providence, RI
Bradley
Coeducational, 9­PG / Mixto
9­PG / Mixte 9­PG
425, 225 / solicitaron admisión,
fueron aceptados / candidats, admis
September / septiembre / septembre
9
9
Brown University, Duke University,
Boston College, Middlebury College,
Denison University
Germany, Korea, Thailand,
Venezuela
UNITED STATES
Challenging academics (AP courses in all disciplines), competitive athletics (fourteen varsity teams),
and creative arts (upcoming chorus trip to South Africa) continue the school's 106-year tradition of
excellence. The academic experience is enhanced by the school's International Student Club and
adviser, who assigns host families, organizes events, and assists with travel planning.
Plan de estudios estimulante (cursos avanzados en todas las disciplinas), atletismo competitivo
(catorce equipos universitarios) y artes creativas (próximo viaje del coro a Sudáfrica) continúan la
tradición de 106 años de excelencia del colegio. La experiencia académica se incrementa con el Club
de Estudiantes Internacionales del colegio y un asesor que asigna a los estudiantes a familias
dispuestas a alojarlos, organiza eventos y ayuda en los planes de viaje.
Un programme stimulant (cours de niveau supérieur dans toutes les disciplines), des sports de
compétition (quatorze équipes sportives de première catégorie) et des activités créatives (voyage
imminent de la chorale de l'établissement en Afrique du Sud) perpétuent depuis 106 ans la tradition
de l'excellence à Pomfret School. Outre la qualité du programme scolaire, les jeunes gens ont à leur
disposition le Club international des étudiants de Pomfret ainsi qu'un conseiller chargé de
l'assignation des familles d'accueil, de l'organisation des manifestations et des programmes de voyage.
Monique C.K., Wolanin, Director of Admissions
P. O. Box 128
Pomfret, Connecticut 06258-0128
Phone: 860-963-6120 Fax: 860-963-2042
E-mail: admission@pomfretsch.com
URL: http://www.pomfretsch.com
The 500-acre campus has 26 buildings,
including the Centennial Academic and Arts
Center and science and music facilities.
Las 202 hectáreas de terreno contienen 26
edificios, incluyendo el Centro Académico y
de Artes del Centenario ("Centennial") e
instalaciones para ciencias y música.
Le campus de 202 hectares possède 26
bâtiments, y compris le Centennial Academic
and Arts Center et des installations réservées
aux sciences et à la musique.
February / febrero / février
2
2