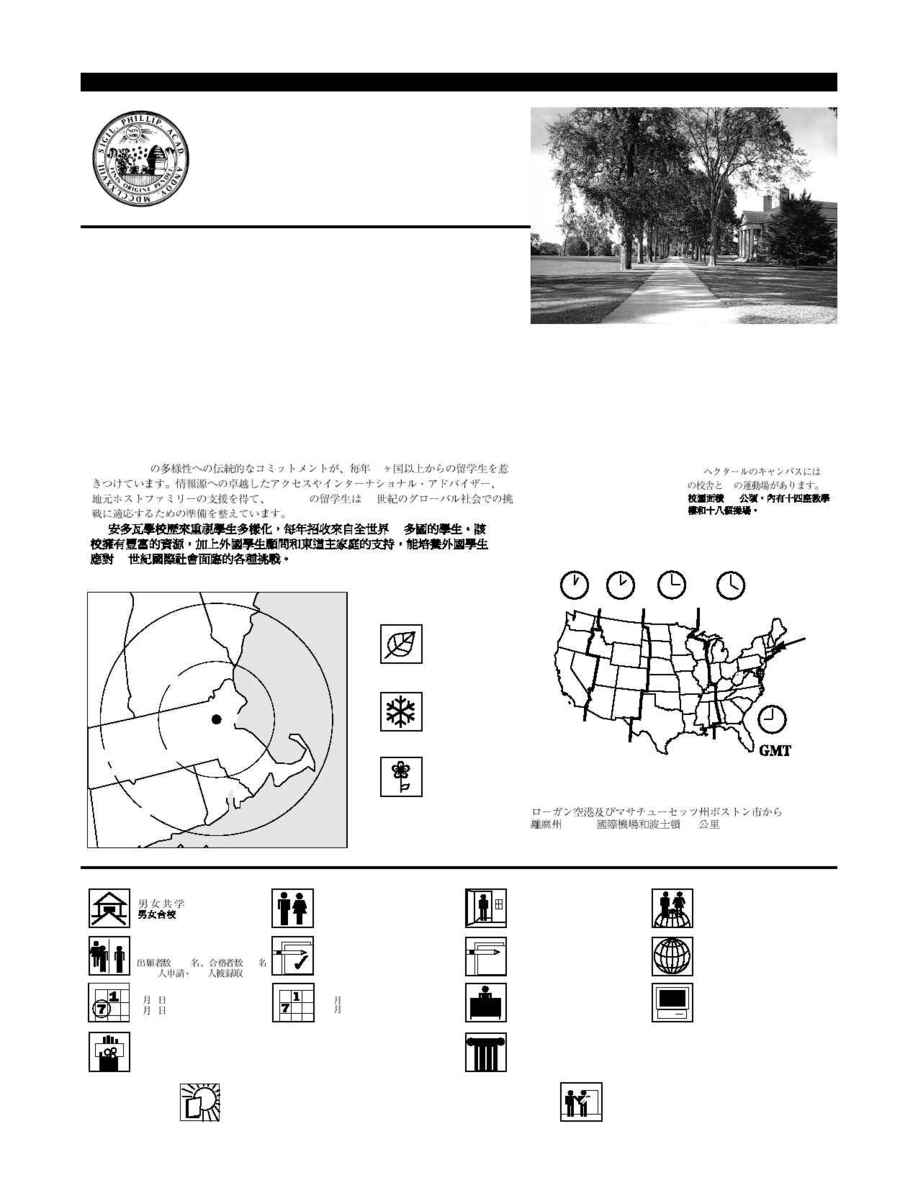 Mrs. Jane F. Fried, Dean of Admission
180 Main Street
Andover, Massachusetts 01810
Phone: 978-749-4050 Fax: 978-749-4068
NEW HAMPSHIRE
MASSACHUSETTS
80 km
160 km
ATLANTIC
OCEAN
RHODE
ISLAND
MAINE
CONNECTICUT
Phillips Academy
TABS, FAIS, NAFSA, NAIS member
Founded 1778
Andover's historical commitment to a diverse community annually brings students from more
than thirty countries to the campus. With access to outstanding resources and the support of
international advisers and local host families, Andover's international students are being
prepared to meet the challenges of the global community in the twenty-first century.
El compromiso histórico de Andover con una comunidad diversa atrae anualmente a
estudiantes de más de treinta países a la academia. Con acceso a recursos extraordinarios y el
apoyo de asesores internacionales y familias locales que alojan a los estudiantes. A los
estudiantes extranjeros de Andover se les prepara para enfrentar los desafíos de una
comunidad global en el siglo XXI.
Chaque année, des étudiants de plus de trente pays différents viennent étudier à Phillips
Academy, perpétuant ainsi la longue tradition de l'école pour la diversité. Grâce à
d'excellentes ressources et au soutien des conseillers internationaux et des familles d'accueil
locales, les étudiants étrangers de Andover sont préparés à répondre aux enjeux de la
communauté internationale au siècle prochain.
The 500-acre campus includes
fourteen academic buildings and
eighteen playing fields.
Las 202 hectáreas de terreno incluyen
catorce edificios académicos y
dieciocho campos de juego.
Le campus de 202 hectares comporte
quatorze bâtiments scolaires et dix-
huit terrains de jeux.
40 km from Logan International Airport and Boston, MA
A 40 km del aeropuerto internacional de Logan y de Boston, MA
A 40 km de l'aéroport international Logan et de Boston, MA
2359, 499 solicitaron admisión, fueron
aceptados / candidats, admis
China, Hong Kong, Indonesia,
Japan, Korea, Saudi Arabia
February 1 / 1 de febero / 1 février
2
September / septiembre / septembre
9
9
Harvard University, Columbia University,
Yale University, University of Pennsylvania,
Brown University
UNITED STATES
Coeducational 9­PG / Mixto / Mixte