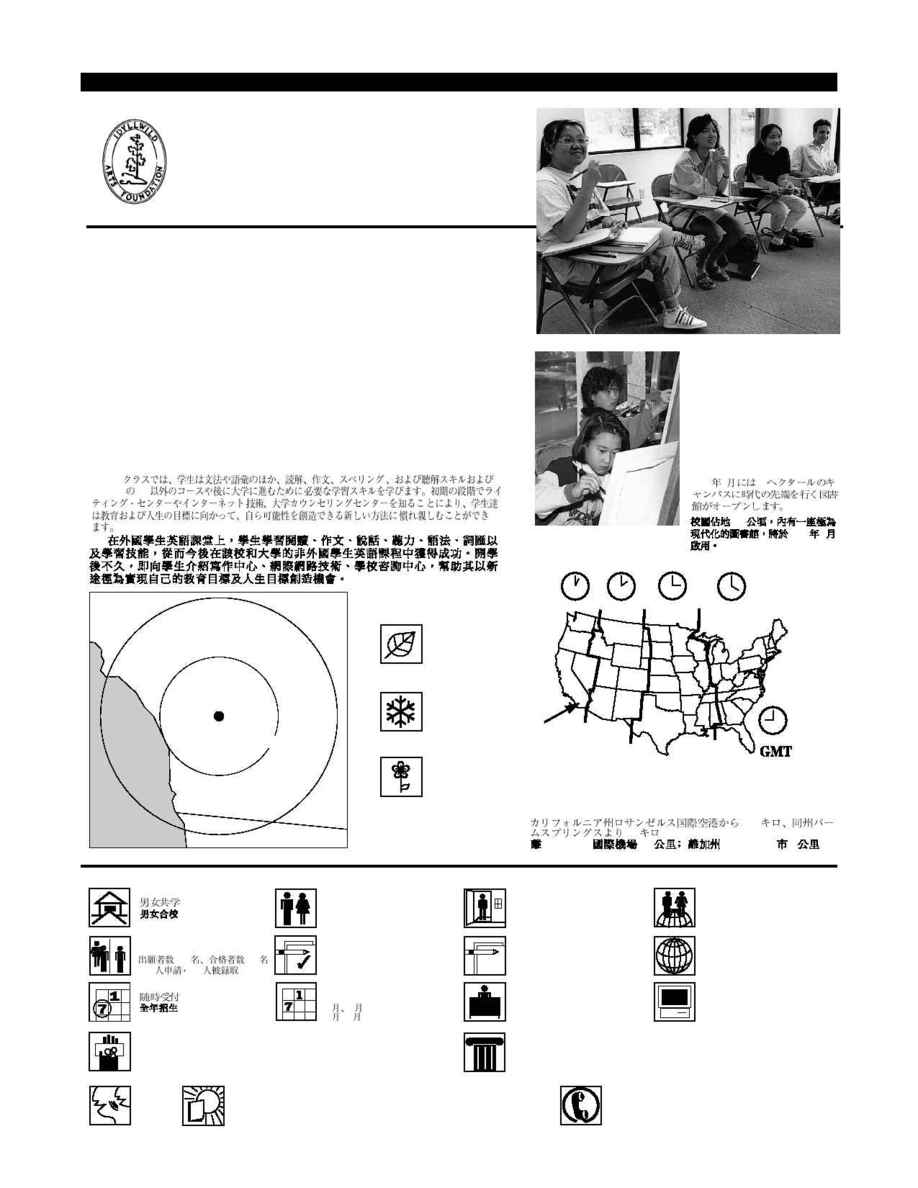 CALIFORNIA
MEXICO
80 km
160 km
Pacific
Ocean
Idyllwild Arts Academy
Founded 1981
A state-of-the-art library will open
in March 2000 on the 206-acre
campus.
En marzo del año 2000 se
inaugurará una moderna biblioteca
en el recinto escolar de 83
hectáreas de terreno.
Une bibliothèque ultra-moderne
ouvrira ses portes en mars 2000
sur le campus de 83 hectares.
156 km from Los Angeles International Airport; 84 km from Palm Springs,
CA / A 156 km del aeropuerto internacional de Los Angeles; a 84 km de
Palm Springs, CA / A 156 km de l'aéroport international de Los Angeles ; à
84 km de Palm Springs, CA
Coeducational 8­PG / Mixto / Mixte
270, 192 / solicitaron admisión,
fueron aceptados / candidats, admis
September, January / septiembre,
enero / septembre, janvier
9
University of Southern California, New York
University, University of Michigan, Curtis,
Juilliard School
Bulgaria (11), China (11),
Germany (8), Japan (13),
Korea (11)
UNITED STATES
In ESL classes, students learn reading, composition, speaking, and listening skills as well as grammar,
vocabulary, and study skills needed to succeed in non-ESL courses at the Academy and later in college. An
introduction to the Writing Center, Internet technology, and the College Counseling Center early in their
education familiarize them with new ways to create opportunities for themselves in their educational and
life goals.
En las clases de inglés como segundo idioma (ESL), los estudiantes aprenden lectura, composición,
conversación, técnicas de comprensión, así como gramática, vocabulario y las técnicas de aprendizaje
necesarias para tener éxito en los cursos regulares de la Academia y posteriormente en la universidad. La
introducción al Centro de Redacción, la tecnología de Internet y el Centro de Asesoramiento para la
Universidad, en los comienzos de su educación, los familiariza con los nuevos medios para crear
oportunidades para sí mismos en sus objetivos académicos y personales.
Pendant les cours d'anglais comme langue étrangère (ESL), les étudiants apprennent la lecture, la
composition, l'expression orale et les techniques d'écoute, ainsi que la grammaire, le vocabulaire et les
techniques d'étude nécessaires aux autres cours aussi bien à l'Academy que plus tard à l'université. Une
introduction au Centre de lettres, à la technologie Internet et au Centre d'orientation universitaire en début
de scolarité permet aux étudiants de découvrir de nouvelles façons de créer leurs propres opportunités aussi
bien sur le plan scolaire que personnel.
Anne Behnke, Dean of Admission
P.O. Box 38, 52500 Temecula Road
Idyllwild, California 92549
Phone: 909-659-2171 Ext. 223
Fax: 909-659-2058
Rolling / Continuo / Continuelles