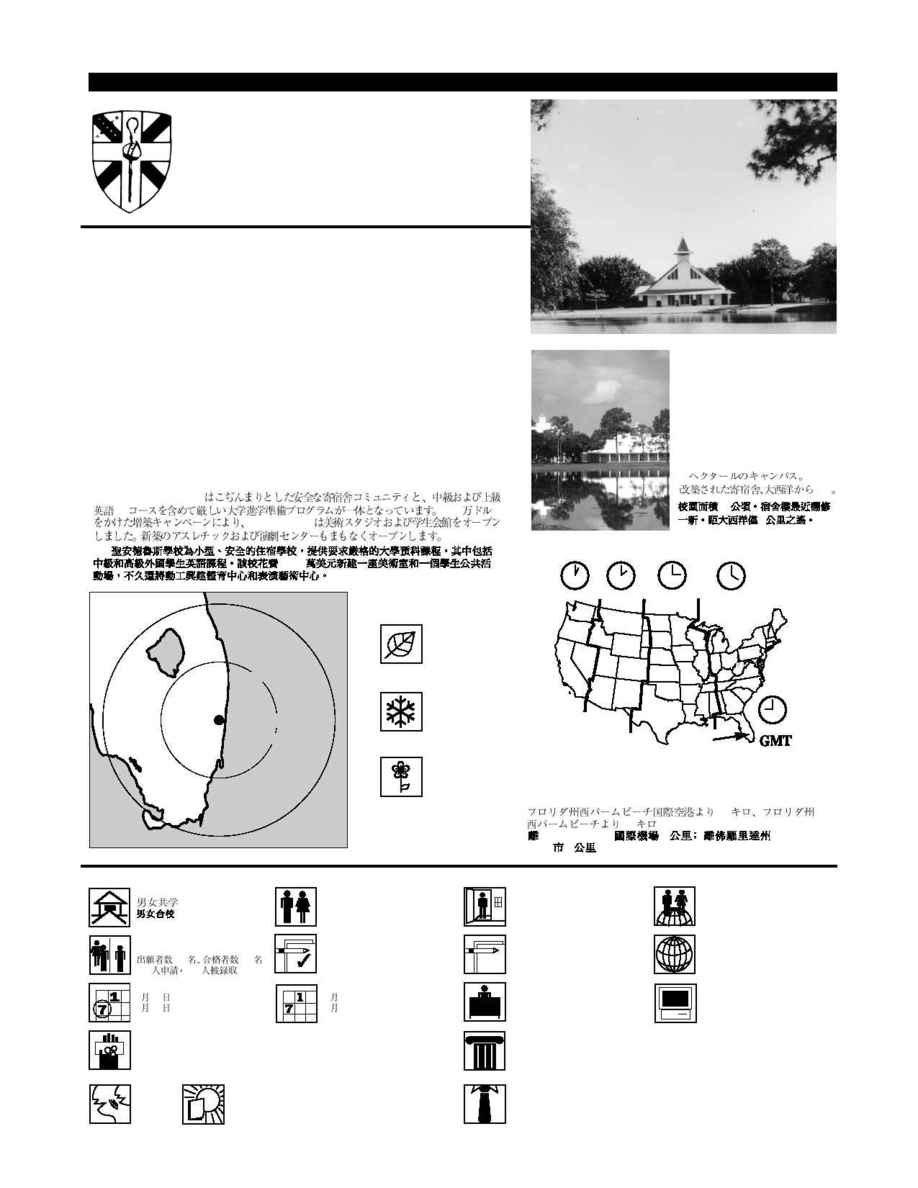 Atlantic
Ocean
FLORIDA
80 km
160 km
Saint Andrew's School
Founded 1962
87-acre campus; newly renovated
dormitories five miles from Atlantic
Ocean.
35 hectáreas de terreno, residencias
estudiantiles renovadas recientemente.
A ocho kilómetros del Océano Atlántico.
Un campus de 35 hectares, des dortoirs
récemment rénovés. À 8 km de l'océan
atlantique.
40 km from West Palm Beach International Airport, FL; 40 km from West
Palm Beach / A 40 km del aeropuerto internacional de West Palm Beach; a
40 km de West Palm Beach, FL / À 40 km de l'aéroport international de West
Palm Beach, FL ; à 40 km de West Palm Beach
250, 125 / solicitaron admisión, fueron
aceptados / candidats admis
February 10 / 10 de febrero / 10 fevrier
August / agosto / août
8
8
University of Florida, University of Virginia,
Brown University, Georgetown University,
University of Miami
Austria (33), Bahamas (33),
Brazil (33), Germany (32),
Jamaica (33),
UNITED STATES
Saint Andrew's combines a small, safe boarding community with a demanding college-
preparatory program, including intermediate and advanced English as a second
language (ESL) courses. In a $25-million building campaign, Saint Andrew's opened a
fine arts studio and a student commons. Building for new athletic and performing arts
centers will begin soon.
Saint Andrew's School combina una comunidad de internado, pequeña y segura,
con un exigente programa de preparación para la universidad que incluye cursos
intermedios y avanzados de inglés como segundo idioma (ESL). En una campaña de
construcción de $25 millones, Saint Andrew's inauguró un estudio de bellas artes y un
comedor para estudiantes. En breve se iniciarán las construcciones de nuevos centros
de atletismo y artes interpretativas.
Saint Andrew's, un petit pensionnat situé dans un environnement sûr, propose un
programme poussé préparant à l'entrée à l'université ainsi que des cours d'anglais comme
langue étrangère (ESL) de niveaux « intermédiaire » et « avancé ». Après des travaux de
rénovation de près de 25 millions de dollars, Saint Andrew's a ouvert un studio pour les
beaux-arts et une salle commune pour les étudiants. Un nouveau complexe sportif et un
centre pour les arts du spectacle ouvriront également bientôt leurs portes.
Mr. Bradford L. Reed, Director of Admission
3900 Jog Road
Boca Raton, Florida 33434
Phone: 561-483-8900 Fax: 561-487-4655
Coeducational 6­12 / Mixto / Mixte