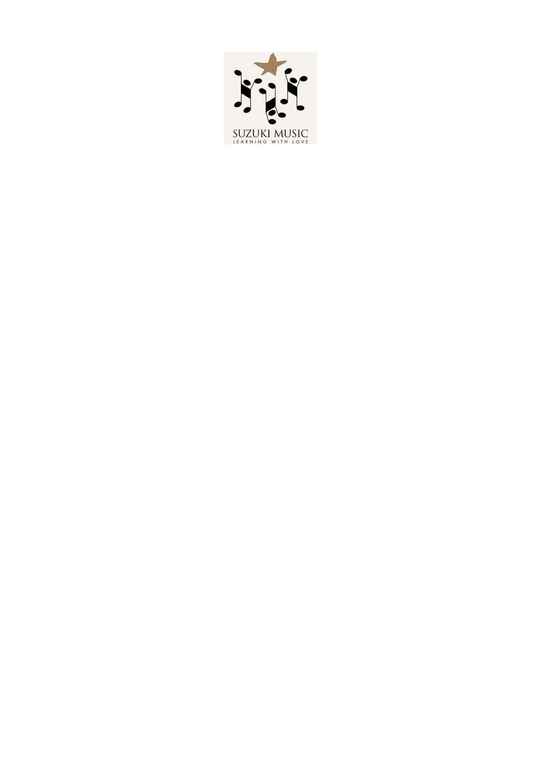 WHAT IS SUZUKI
GRADUATION?
Certain pieces in the Suzuki repertoire are
designated as Graduation Levels. When
students have studied beyond the piece for
each level, they may graduate - that is, they
prepare a polished performance of the set
piece. They then receive a written report on
their playing, and are presented with a
Graduation Certificate at a special
Graduation Concert.

The beautiful certificates, edged in gold,
come from Japan and are screen printed
from a painting done by Dr Suzuki himself.

Graduation is not an examination, and every
child succeeds. Teachers present students
only when they are certain that the
performances are secure and musical and
that the student is studying well beyond that
particular level. To graduate is to achieve
recognition for having reached a certain
milestone in the ongoing process of musical
education.

Graduation is not compulsory, however to
graduate at any level beyond Level 1, a
student must have graduated at all previous
levels. More than one level may be
presented on one occasion.
HOW IS THE GRADUATION
PERFORMANCE PRESENTED?
In Japan, all graduation performances are
taped. Currently in Victoria there is some
degree of flexibility. String and flute
graduations may be taped or presented in a
live performance on certain given dates.
Pianists generally present a live performance,
with two possible dates each year. A taped
performance is acceptable in certain
circumstances, such as illness, injury, or prior
commitment on the day of graduation.
Qualified teachers listen to graduations, and
write positive and helpful reports. These
reports are sent initially to teachers who pass
them on to the students.

GRADUATION CONCERTS
STRINGS and FLUTES
An Annual Graduation Concert is held in a
large public hall. All students of these
instruments are encouraged to participate in
the large group items, whether they are
graduating or not, to celebrate with the
graduates. Pianists are represented by
graduating soloists selected by audition.
PIANO
Graduation concerts are held twice a year
several weeks after the graduation
performance. Graduating students perform a
solo item of their choice and are presented
with their certificates.

CONDITIONS
For teachers to be eligible to enter students
for graduation they must have completed
Primary Teacher Accreditation, be financial
members of Suzuki Music and have fulfilled
the annual Professional Development
requirement in the previous year.

Families must be financial members of Suzuki
Music from the beginning of the year in which
they graduate (no pro-rata memberships).

FEES
Fees charged cover such things as:

Hire of venue (live graduations)
Fees to teachers writing reports
Certificates

Inscription of certificates