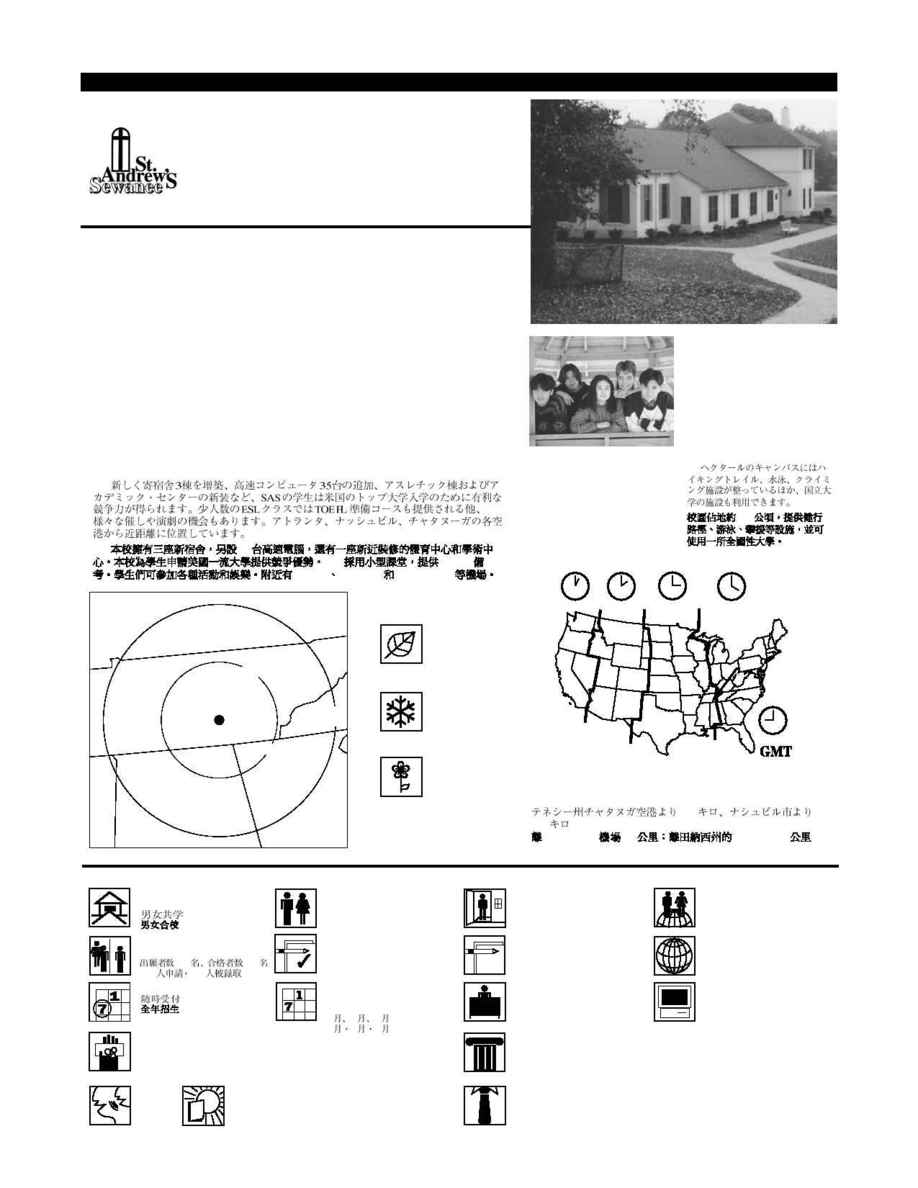 TENNESSEE
GEORGIA
80 km
160 km
ALABAMA
NORTH
CAROLINA
St. Andrew's-Sewanee School
Founded 1868
The 500-acre campus offers hiking trails,
swimming, climbing, and access to a
national university.
El recinto escolar de 200 hectáreas de
terreno ofrece pistas para
excursionismo, natación, montañismo y
acceso a una universidad americana.
Campus de 200 hectares ; sentiers de
randonnée, natation, escalade, et accès à
une université américaine.
100 km from Chattanooga Airport and 135 km from Nashville, TN
A 100 km del aeropuerto de Chattanooga y 135 km de Nashville, TN
À 100 km de
Chattanooga et à 135 km de Nashville, TN
Coeducational 9­12 / Mixto /
Mixte
175, 150 / solicitaron admisión,
fueron aceptados / candidats, admis
Rolling / Continuo / Continuelles
$22,500; $1500­$3500 (ESL)
August, September, January /
agosto, septiembre, enero / août,
septembre, janvier
8
Vanderbilt University, Middlebury College,
Kenyon College, Davidson College,
University of Tennessee
Austria, Germany (27),
Japan (27), Korea (22),
Taiwan (8)
UNITED STATES
With 3 new dorms, 35 additional high-speed computers, and a newly renovated athletic
complex and academic center, SAS offers students a competitive advantage when applying to
America's top universities. ESL classes are small and provide TOEFL preparation. Students have
access to events and plays. Airports in Atlanta, Nashville, and Chattanooga are nearby.
Con 3 nuevas residencias estudiantiles, 35 computadoras adicionales de alta velocidad y un
complejo deportivo y centro académico renovados recientemente, SAS ofrece a los estudiantes
una ventaja competitiva al solicitar ingreso en las principales universidades de los Estados
Unidos. Las clases de inglés como segundo idioma (ESL) tienen pocos alumnos e incluyen
preparación para la prueba TOEFL. Los estudiantes tienen acceso a eventos y obras de teatro.
Los aeropuertos de Atlanta, Nashville y Chattanooga están cerca.
Avec 3 nouveaux dortoirs, 35 ordinateurs à grande vitesse supplémentaires, ainsi qu'un
complexe sportif et un centre éducatif récemment rénovés, SAS offre à ses étudiants un
avantage concurrentiel lors de leurs demandes d'inscription dans les plus grandes universités
américaines. Les cours d'anglais comme langue étrangère (ESL) dispensés dans des classes
restreintes préparent à l'examen du TOEFL. Les étudiants peuvent assister à des événements
culturels et à des pièces de théâtre. Les aéroports d'Atlanta, de Nashville et de Chattanooga sont
proches du campus.
William Andres
Director of Admissions and Financial Aid
290 Quintard Road
Sewanee, Tennessee 37375-3000
Phone: 931-598-5651 Fax: 931-598-0039
E-mail: admissions@standrews.sewanee.edu
URL: http://standrews.sewanee.edu