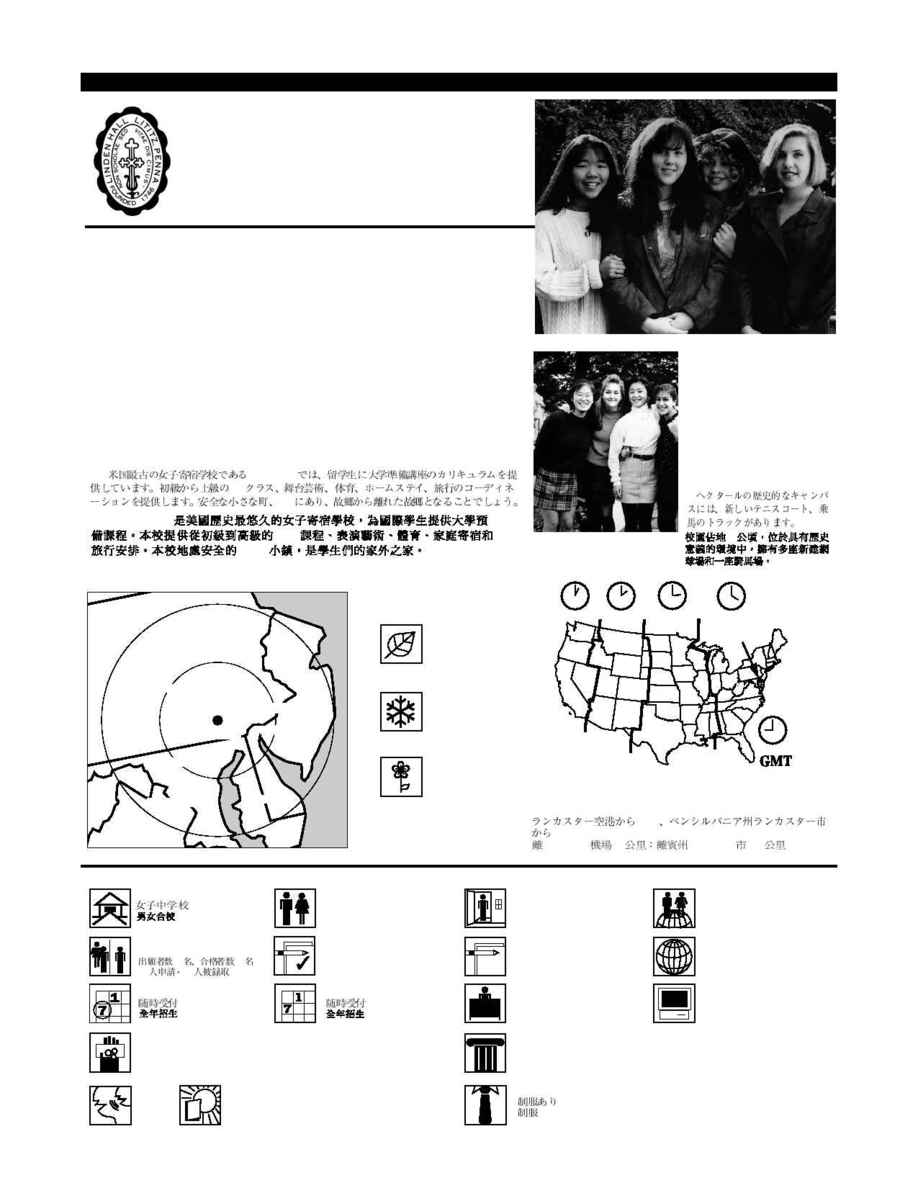 Evelyn Z. McDowell, Director of Admissions
212 East Main Street
Lititz, Pennsylvania 17543
Phone: 717-626-8512 Fax: 717-627-1384
E-mail: admissions@lindenhall.com
80 km
160 km
PENNSYLVANIA
MARYLAND
NEW
JERSEY
DELAWARE
Linden Hall School for Girls
Founded 1746
Linden Hall, the oldest boarding school for girls in the U.S., offers a college-preparatory
curriculum for international students. It offers beginning through advanced ESL, performing
arts, athletics, homestays, and coordination of travel. Located in the small, safe town of Lititz,
it is a home away from home.
Linden Hall, el internado para niñas más antiguo de los EE.UU., ofrece un plan de
estudios de preparación para la universidad para los estudiantes extranjeros. Ofrece un
programa de inglés como segundo idioma (ESL) desde nivel de principiante hasta avanzado,
artes escénicas, atletismo, alojamiento con familias locales y coordinación de viajes. Situado
en la pequeña y segura ciudad de Lititz, hace sentir a los estudiantes como si estuviesen en
su casa.
Linden Hall, le plus vieil internat de juenes filles aux E.U., offre aux étudiants étrangers un
programme scolaire préparant à l'entrée en université. L'établissement propose également des
cours d'anglais comme langue étrangère de niveau débutant à avancé, l'enseignement des arts
du spectacle, des activités sportives, des séjours en famille et l'organisation de voyages. Situé
dans la petite ville calme de Lititz, les étudiants s'y sentent comme chez eux.
The 47-acre campus in a historic
setting offers new tennis courts and a
riding ring.
El terreno de 19 hectáreas situado en
un sitio histórico ofrece nuevas
canchas de tenis y una pista de
equitación.
Le campus de 19 hectares situé dans
un cadre historique dispose de
nouveaux courts de tennis et d'un
manège équestre.
8 km from Lancaster Airport; 11 km from Lancaster, PA
A 8 km del aeropuerto de Lancaster; a 11 km de Lancaster, PA
A 8 km de l'aéroport de Lancaster ; à 11 km de Lancaster, PA
75, 50 / solicitaron admisión, fueron
aceptadas / candidates, admises
Guatemala (6), Japan (26),
Korea (6), Mexico (16),
Saudi Arabia (16)
Pepperdine University, Mount Holyoke College,
Northeastern University, Wesleyan University,
Pacific Lutheran University
Uniforms / Uniforme / Uniforme
UNITED STATES
Rolling / Continuo / Continuelles
Rolling / Continuo / Continuelles
Girls 6­PG / Niñas / Filles