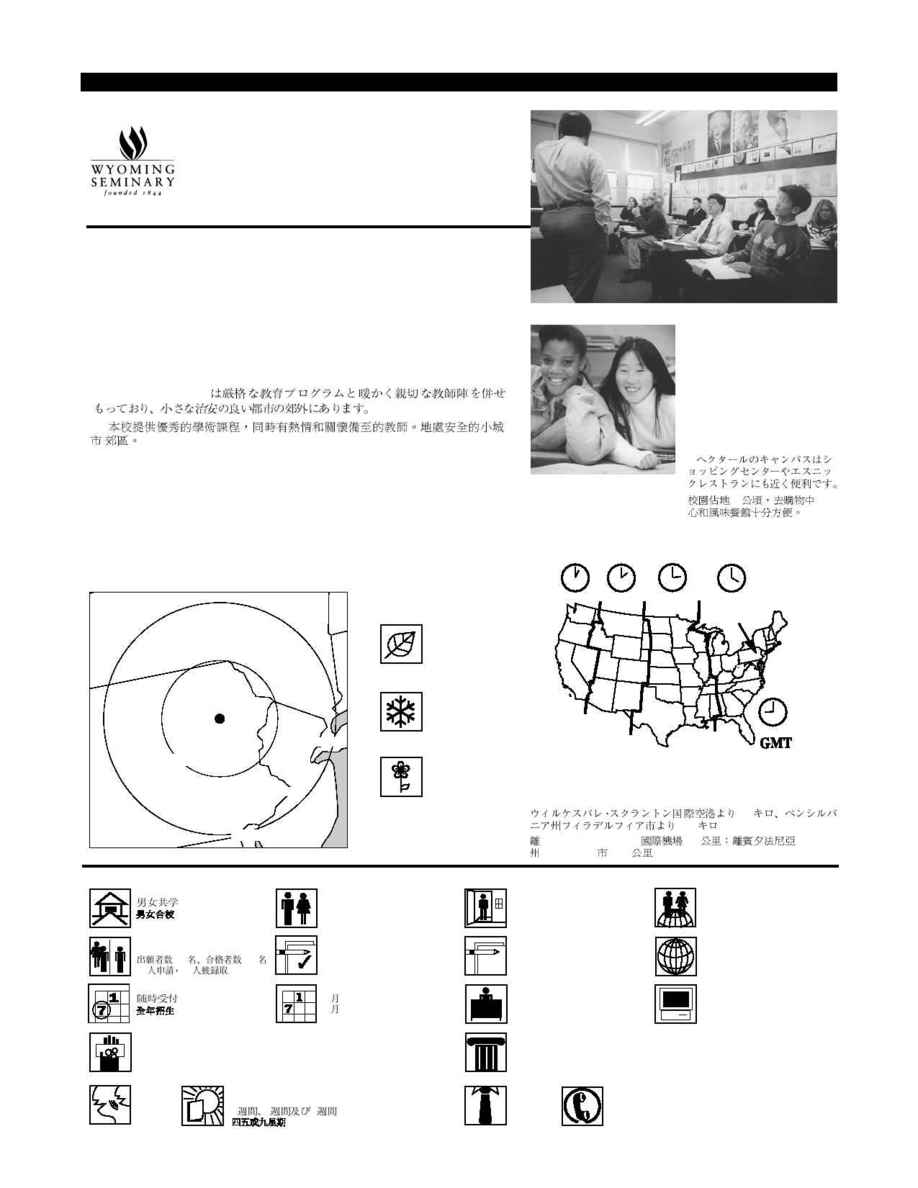 NEW
JERSEY
PENNSYLVANIA
160 km
80 km
Wyoming Seminary
TABS, NAFSA, SSATB member
Founded 1844
The 18-acre campus enjoys access
to shopping centers and ethnic
restaurants.
Las 7 hectáreas de terreno tienen
acceso a centros comerciales y
restaurantes étnicos.
Le campus de 7 hectares se situe
non loin des centres commerciaux
et des restaurants avec différentes
spécialités culinaires.
24 km from Wilkes-Barre/Scranton International Airport; 145 km from
Philadelphia, PA / A 24 km del aeropuerto internacional de Wilkes-
Barre/Scranton; a 145 km de Filadelfia, PA / A 24 km de l'aéroport
international de Wilkes-Barre/Scranton ; à 145 km de Philadelphie, PA
Coeducational 9­PG / Mixto / Mixte
50, 25 / solicitaron admisión, fueron
aceptados / candidats, admis
Rolling / Continuo / Continuelles
September / septiembre / septembre
9
9
Lehigh University, Cornell University,
Carnegie Mellon University
Germany (21), Japan (33),
Korea (103), Saudi Arabia (18),
Thailand (11)
UNITED STATES
Wyoming Seminary blends a rigorous academic program with warm and caring
teachers and is set in a suburb of a small, safe city.
Wyoming Seminar combina un riguroso programa académico con
profesores amables que se preocupan por sus alumnos, y está situado en uno
de los suburbios de una pequeña y segura ciudad.
Le Seminary, situé dans une petite banlieue, offre un programme rigoureux
scolaire avec des professeurs chaleureux et attentifs.
John R. Eidam, Dean of Admissions
201 North Sprague Avenue
Kingston, Pennsylvania 18704­3593
Phone: 717-283-6066 Fax: 717-283-6098
E-mail: jreidam@postoffice.ptd.net
4, 5 or 9 weeks / 4, 5 o 9 semanas /
4, 5 ou 9 semaines
4