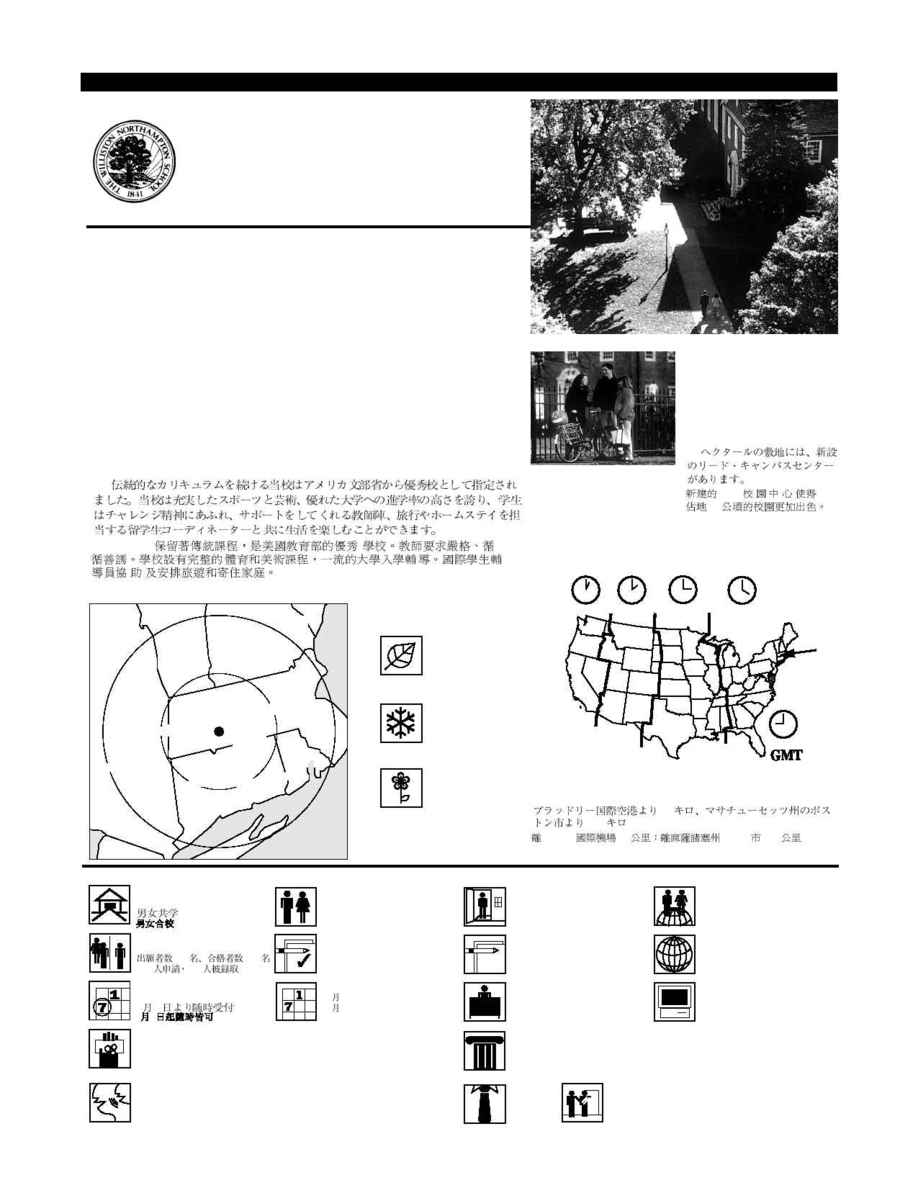 NEW HAMPSHIRE
MASSACHUSETTS
80 km
160 km
ATLANTIC
OCEAN
RHODE
ISLAND
CONNECTICUT
VERMONT
NEW YORK
The Williston Northampton School
NAIS, TABS, FAIS, NAFSA member
Founded 1841
The new Reed Campus Center
enhances the 100-acre campus.
El nuevo Reed Campus Center realza
el terreno de 40 hectáreas.
Le nouveau Reed Campus Center
met en valeur le campus de 40
hectares.
48 km from Bradley International Airport; 161 km from Boston, MA
A 48 km del aeropuerto internacional de Bradley; a 161 km de Boston, MA
A 48 km de l'aéroport international de Bradley ; à 161 km de Boston, MA
Coeducational 9­PG; Day 7­8 /
Mixto / Mixte
500, 270 / solicitaron admisión, fueron
aceptados / candidats, admis
February 1, rolling / 1 de febrero,
continuo / 1 février, continuelles
2
September / septiembre / septembre
9
9
Boston University, Hamilton College,
Tufts University, Wesleyan University,
Mt. Holyoke College
Bermuda (40), Germany (40),
Korea (15), Saudi Arabia (25),
Thailand (75)
UNITED STATES
Traditional in curriculum, Williston is a U.S. Department of Education School of
Excellence. Students enjoy challenging and supportive teachers, strong athletics
and arts, excellent university placement, and an international student coordinator
who facilitates travel and homestays.
Ofreciendo un plan de estudios tradicional, Williston es un Colegio designado
como Excelente por el departamento de educación de los EE.UU. Los estudiantes
disfrutan de maestros que les ofrecen retos y apoyo, programas excelentes de
atletismo y arte, un alto porcentaje de colocación universitaria y un coordinador de
estudiantes extranjeros que provee ayuda con viajes y estadías con familias.
Williston offre un programme d'études traditionnels et a été nommée comme
Ecole Excellente par le ministère d'éducation des E.U. Les étudiants apprennent
avec des professeurs serieux et attentionnés et ils sont familiarisés avec un
excellent programme de sports et d'arts. L'école jouit d'un grand pourcentage
d'admission universitaire et d'un coordinateur d'élèves étrangers qui aide les élèves
pour les questions de voyages et les séjours en famille.
Ann C. Pickrell
Director of Admission and Financial Aid
19 Payson Avenue
Easthampton, Massachusetts 01027
Phone: 413-529-3241 Fax: 413-527-9494