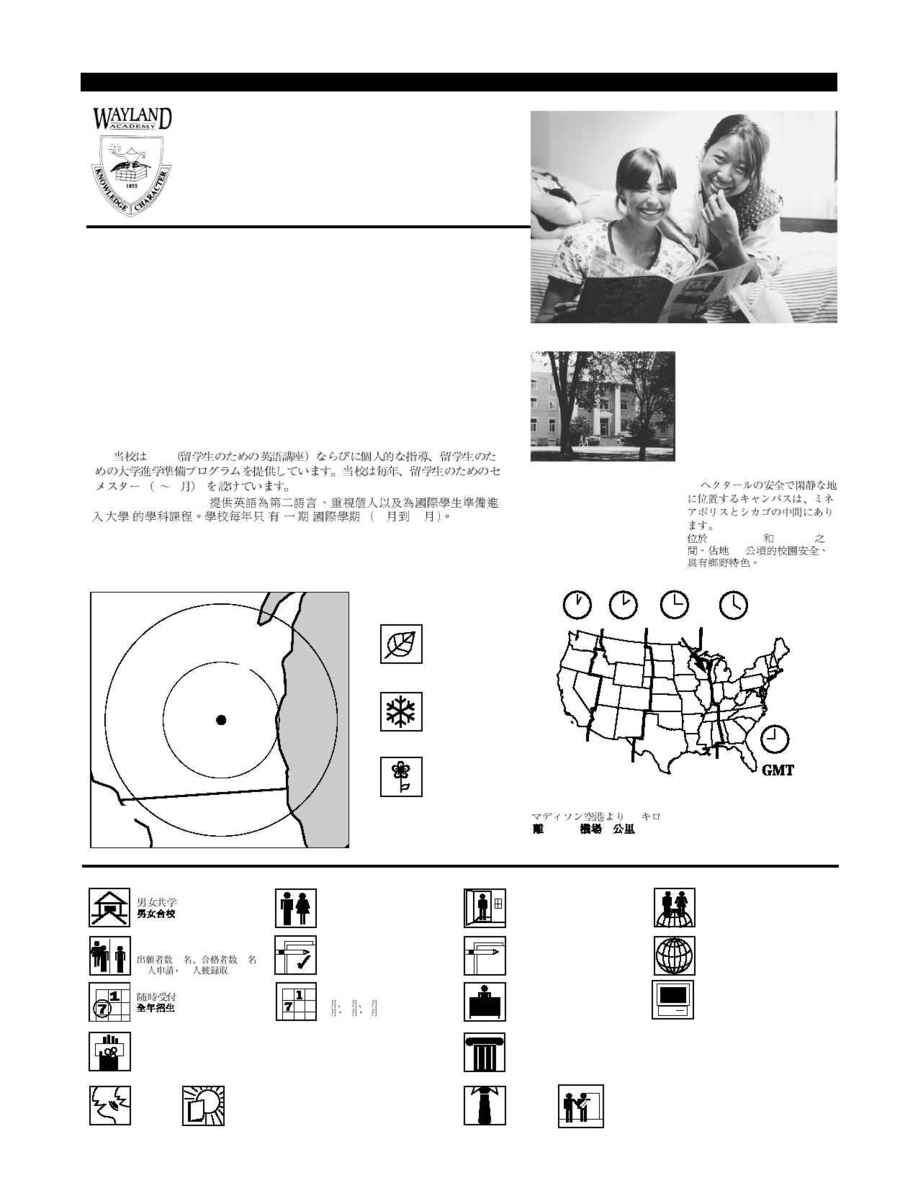 Lake
Michigan
ILLINOIS
WISCONSIN
80 km
160 km
Wayland Academy
Founded 1855
The safe rural 55-acre campus is
located between Minneapolis and
Chicago.
Las 22 hectáreas de terreno están
ubicadas en un área rural segura
entre las ciudades de Minneapolis y
Chicago.
Le campus rural et sûr de 22
hectares se situe entre Minneapolis
et Chicago.
72 km from Madison Airport / A 72 km del aeropuerto de Madison /
A 72 km de l'aéroport de Madison
Coeducational 9­12 / Mixto / Mixte
30, 20 / solicitaron admisión, fueron
aceptados / candidats, admis
University of Wisconsin,
University of Michigan, Lawrence
University, Colorado College
Germany (40), Hong Kong (10),
Japan (15), Korea (25),
Thailand (25)
UNITED STATES
Wayland Academy offers ESL, individual attention, and an academic program
that prepares international students for university study. The Academy offers
an International Semester (April through August) each year.
Wayland Academy ofrece cursos de inglés como segundo idioma (ESL),
atención individual y un programa académico que prepara a los estudiantes
extranjeros para la vida universitaria. La academia ofrece además un Semestre
Internacional todos los años (entre los meses de abril y agosto).
Wayland Academy propose l'anglais comme langue étrangère (ESL), une
attention individuelle et un programme scolaire qui prépare les étudiants
internationaux pour des études universitaires. L'académie offre un Semestre
international (d'avril à août) chaque année.
Robyn Hardt Schultz, Dean
101 North University Avenue
Beaver Dam, Wisconsin 53916-2253
Phone: 920-885-3373 Fax: 920-887-3373
E-mail: admissions@wayland.org
URL: http://www.wayland.org
September, January, April / septiembre,
enero, abril / septembre, janvier, avril
9
Rolling / Continuo / Continuelles