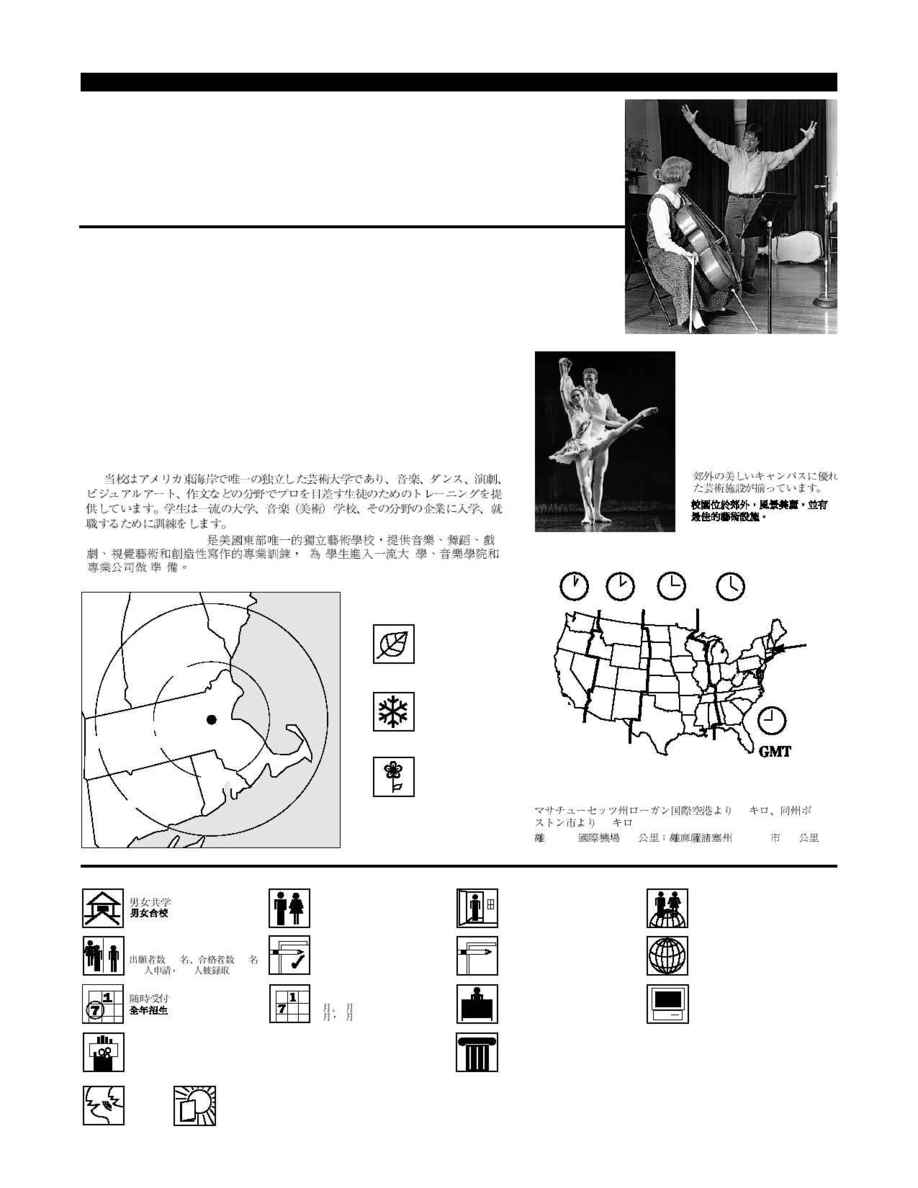 NEW HAMPSHIRE
MASSACHUSETTS
80 km
160 km
ATLANTIC
OCEAN
RHODE
ISLAND
MAINE
CONNECTICUT
Walnut Hill School
Founded 1893
The beautiful suburban campus
offers the finest arts facilities.
Este hermoso recinto escolar
suburbano, bañado por el sol,
ofrece las mejores instalaciones
para arte.
Ce magnifique campus, situé dans
la banlieue de Boston, possède l'un
des plus beaux centres d'art.
32 km from Logan International Airport; 24 km from Boston, MA
A 32 km del aeropuerto internacional de Logan; a 24 km de Boston, MA
A 32 km de l'aéroport international de Logan ; à 24 km de Boston, MA
141, 224 / solicitaron admisión, fueron
aceptados / candidats, admis
September, January / septiembre,
enero / septembre, janvier
9
Juilliard School, Rhode Island School of
Design, Pomona College, Columbia University,
New York University, University of Michigan,
New England Conservatory
Germany (20), Japan (20),
Korea (20), Taiwan (20)
UNITED STATES
Walnut Hill School, the only independent school for the arts in the eastern U.S.,
provides preprofessional training in music, dance, theater, visual arts, and
creative writing. Students are prepared for entrance into the finest universities,
conservatories, and professional companies.
Walnut Hill School, el único colegio independiente para las artes en el este de
los Estados Unidos, proporciona entrenamiento profesional en música, danza,
teatro, las artes visuales y la creación literaria. Prepara a los estudiantes para
ingresar en las mejores universidades, conservatorios y compañías profesionales.
Walnut Hill School est le seul établissement indépendant d'enseignement de
l'art dans l'est des Etats-Unis à offrir une formation pré-professionnelle dans le
domaine de la musique, de la danse, du théâtre, des arts plastiques et de la
création littéraire. Elle prépare les étudiants aux meilleurs universités,
conservatoires et compagnies professionnelles.
Matthew Derr, Dean of Admission and Placement
12 Highland Street,
Natick, Massachusetts 01760
Phone: 508-653-4312 Fax: 508-653-9593
URL: http://www.walnuthillarts.org
Rolling / Continuo / Continuelles
Coeducational 9­PG / Mixto / Mixte