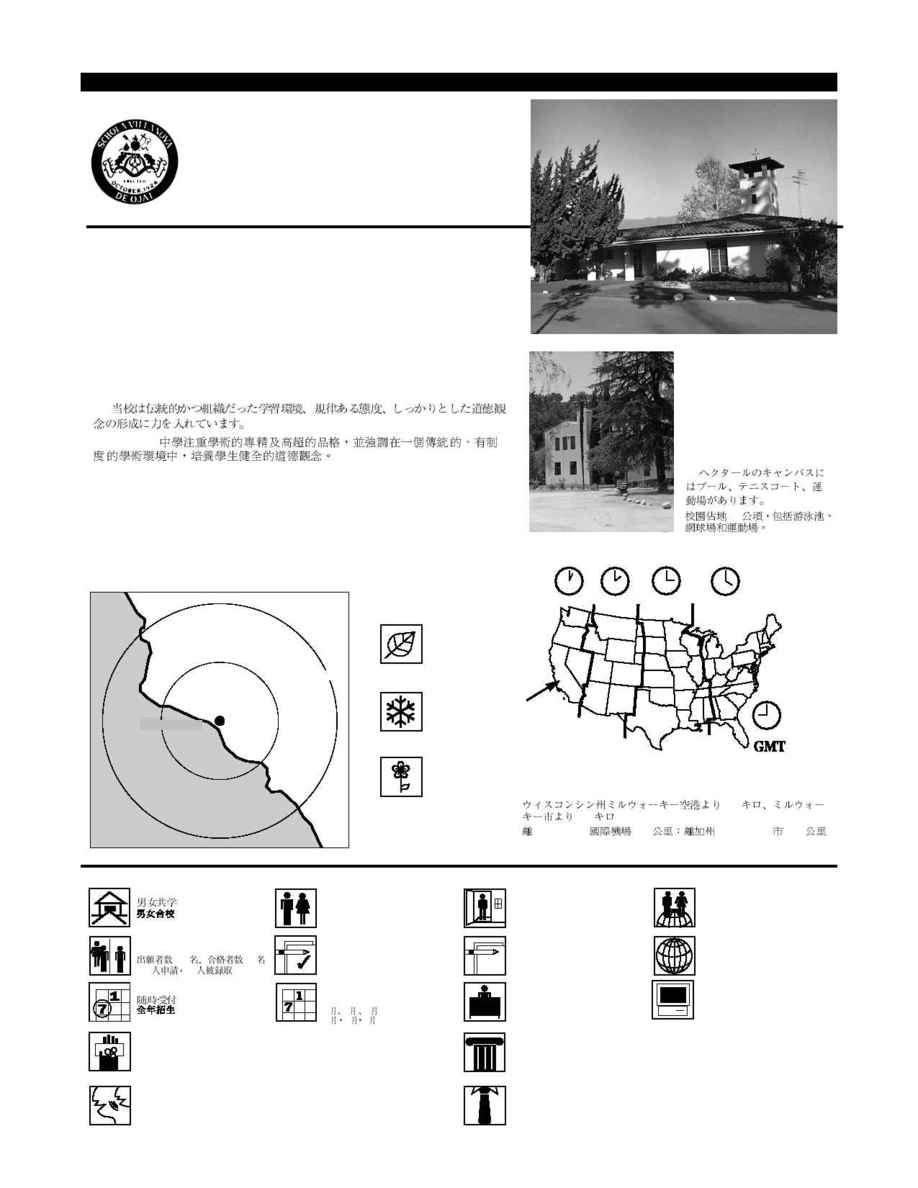 CALIFORNIA
80 km
160 km
Pacific
Ocean
Villanova Preparatory School
Founded 1924
The 127-acre campus includes a
swimming pool, tennis courts, and
athletic fields.
Las 51 hectáreas de terreno
incluyen una piscina, canchas de
tenis y campos deportivos.
Le campus de 51 hectares
comprend une piscine, des courts
de tennis et des terrains de sport.
160 km from Los Angeles International Airport; 145 km from Los Angeles, CA
A 160 km del aeropuerto internacional de Los Angeles; a 145 km de Los Angeles, CA
A 160 km de l'aéroport international de Los Angeles ; à 145 km de Los Angeles, CA
Coeducational 9­12 / Mixto / Mixte
136, 44 / solicitaron admisión, fueron
aceptados / candidats, admis
University of Southern California,
University of Arizona, Boston College,
Boston University, University of
California, Santa Barbara
China (7), Japan (32), Korea (32),
Mexico (74), Taiwan (32),
UNITED STATES
Villanova emphasizes a traditional, structured academic environment, high
standards of behavior, and a firm commitment to strong moral values.
Villanova pone énfasis en un ambiente académico tradicional y
estructurado, altas pautas de comportamiento y un firme compromiso con los
valores morales bien establecidos.
Dans une ambiance traditionnelle, structurée et studieuse, Villanova met
l'accent sur le niveau scolaire, exige une excellente conduite des élèves et les
encourage à adopter un solide système de valeurs morales.
Denver G. Compton, Dean of Students
12096 Ventura Avenue
Ojai, California 93023-3999
Phone: 805-646-1464 Fax: 805-646-4430
August, September, January / agosto,
septiembre, enero / août, septembre,
janvier
8
Rolling / Continuo / Continuelles