Suzuki Seconday Age Concert All Instrument Concerts 2007 Page 1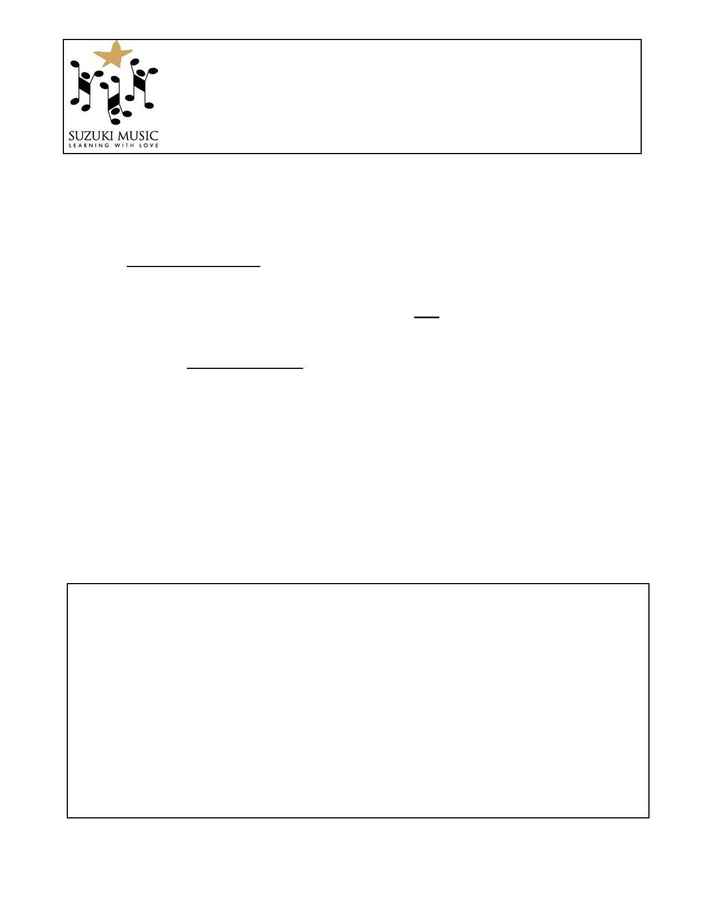 PO Box 439 Kew East Vic 3102
Phone (03) 9859 0433 Fax (03) 9859 0477 Email info@suzukimusic.org.au
Suzuki Talent Education Association of Australia (Vic.) Inc. Reg. No. A5744 ABN 14 080 413 955
SUZUKI MUSIC
SECONDARY AGE ALL INSTRUMENT CONCERTS
Sunday 29 July
MLC, Barkers Road, KEW
Closing Date Friday 29 June
All payments must be received with this form
INFORMATION FOR TEACHERS
You must be able to attend and assist at all concerts in which you are entering students.
Please ensure students are current financial members BEFORE entering them.
Students may only be entered by their own current financial Suzuki teacher.
All details including piece duration should be entered on the reverse side of this form. To ensure that all
performances are at a high standard it is essential that you and the student select a piece to perform that is
already at concert standard by the closing date.
Students requiring accompanying by the official accompanist must contact the accompanist at least 2
weeks prior to the concert to arrange a rehearsal at their own expense. If a student does not contact the
accompanist prior to the concert, the accompanist may decline to accompany the student at the concert.
Students performing non Suzuki repertoire with the official accompanist must provide a copy of the
accompaniment music with this registration form and must take the original to all rehearsals and the
Payment for concerts must be included with this form ­ one payment per teacher please.
Entries received after the closing date will be subject to payment of a late fee and availability in concerts.
Please see Concert Procedures for Teachers for further information.
Venue
MLC Music School ­ 2 rooms
Times
1.30*, 3.00* and 4.30pm (*1.30 and 3.00pm concerts will be accompanied)
Accompanist
PAYMENT DETAILS
Teacher _________________________________________ Email _______________________________________________
Number of students ______ @ $15 per student = $___________
Late fee (for applications received after 29 June) $3.75 per student (max. $25) $___________
TOTAL
Cheque/Money Order [Payable to Suzuki Music] Credit Card (Visa / Mastercard)
[Please circle card type]
_ _ _ _ / _ _ _ _ / _ _ _ _ / _ _ _ _

Cardholder's Name __________________________________ Signature ______________________________________