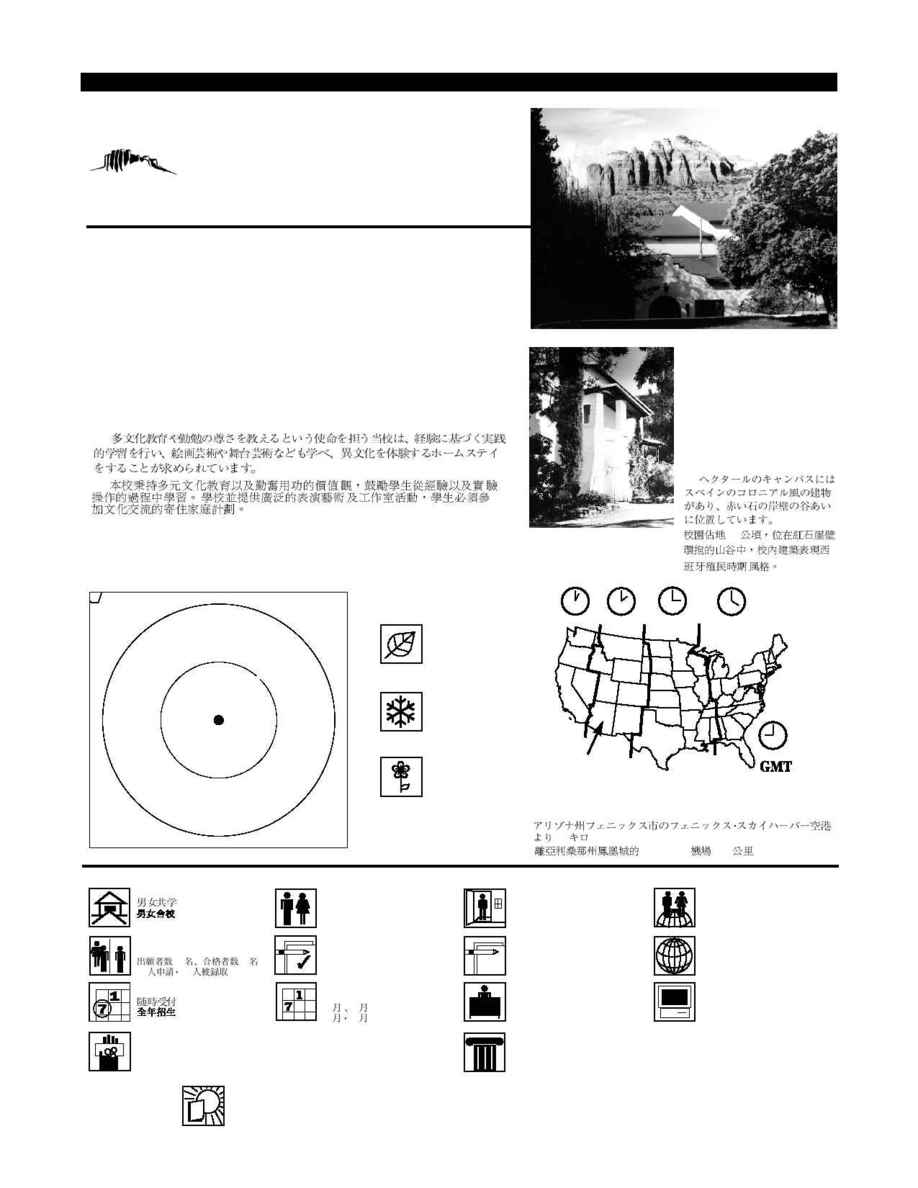 ARIZONA
80 km
160 km
Verde Valley School
Founded 1948
The 120-acre campus has Spanish
Colonial-style buildings, set in a valley
surrounded by red stone cliffs.
Las 48 hectáreas de terreno tienen
edificios al estilo colonial español en un
valle rodeado de peñascos de piedra roja.
Le campus de 48 hectares avec ses
bâtiments de style colonial espagnol
est situé dans une vallée entourée des
escarpements de rocher rouge
160 km from Phoenix Sky Harbor Airport, Phoenix, AZ
A 160 km del aeropuerto Phoenix Sky Harbor, Phoenix, AZ
A 160 km de l'aéroport de Phoenix Sky Harbor, Phoenix, AZ
Coeducational 9­12 / Mixto / Mixte
15, 10 / solicitaron admisión, fueron
aceptados / candidats, admis
September, January / septiembre,
enero / septembre, janvier
9
University of Arizona, Northern
Arizona University, University of
California at Berkeley, University of
California at Santa Cruz
Germany (15), Japan (13),
Mexico (47), Saudi Arabia,
Spain
UNITED STATES
The School, with a mission of multi-cultural education and the value of hard
work, offers experiential, hands-on learning, studio and performing arts, and
required intercultural homestays.
El colegio, cuya misión es la educación multicultural y la enseñanza del valor
del trabajo arduo, ofrece aprendizaje práctico basado en experiencias, artes de
estudio, música, danza y teatro, y estadías obligatorias en hogares interculturales.
L'école, avec une mission d'éducation multiculturelle qui insiste sur le
travail sérieux, offre des classes expérimentales de travaux pratiques ainsi que
des classes d'arts de spectacles et de concerts. Les séjours interculturels en
famille sont requis.
Anne Salzmann, Interim Head of School
Aaron Thomas, Director of Admission
3511 Verde Valley School Road
Sedona, Arizona 86351
Phone: 520-284-2272 Fax: 520-284-0432
E-mail: vvschool@sedona.net
URL: http://www.verdevallyschool.org
Rolling / Continuo / Continuelles