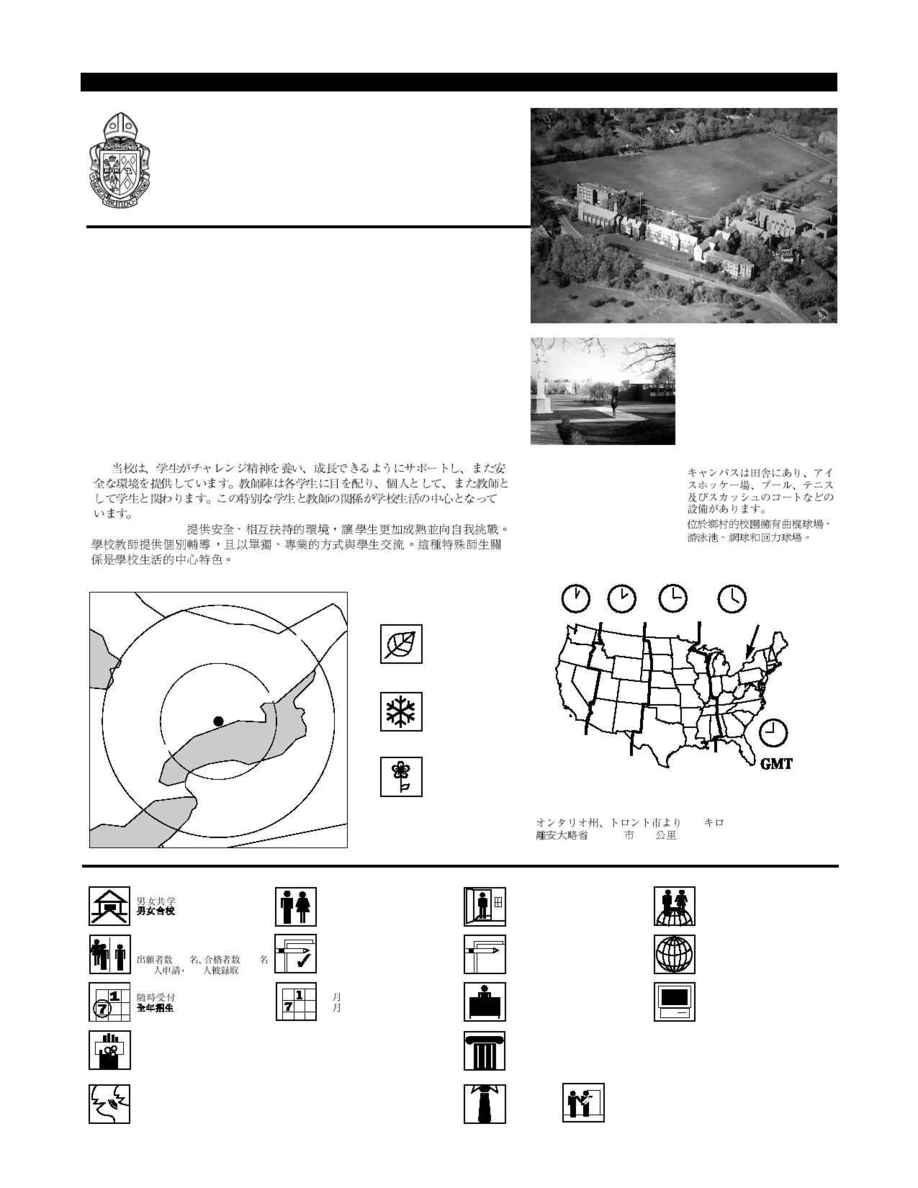 ONTARIO
NEW
YORK
Lake Ontario
QUEBEC
80 km
160 km
Trinity College School
Founded 1865
The campus has an ice hockey
arena, a pool, and tennis and squash
courts in a rural setting.
El colegio tiene una pista de hockey
sobre hielo, una piscina, y canchas
de tenis y squash en un ambiente
rural.
Le campus rural comprend une
patinoire de hockey, une piscine et
des courts de tennis et squash.
100 km from Toronto, ON
A 100 km de Toronto, ON
A 100 km de Toronto, ON
Coeducational 7­PG / Mixto / Mixte
360, 190 / solicitaron admisión, fueron
aceptados / candidats admis
Rolling / Continuo / Continuelles
TOEFL (grades 11­PG),
SSAT (grades 9, 10)
September / septiembre / septembre
9
9
Queen's University at Kingston,
McGill University, Princeton University,
Universities of Toronto
and Western Ontario
Bahamas, Bermuda,
Grand Cayman, Hong Kong,
Japan, Korea, Trinidad
CANADA
Trinity College offers a supportive and safe environment where students can
mature and challenge themselves. Trinity's faculty offers individual attention and
connects with students in a personal and professional way. This special teacher-
student relationship is at the heart of school life.
Trinity College ofrece un ambiente seguro y de apoyo, donde los estudiantes
pueden madurar y fijarse metas. Los profesores ofrecen atención individual y se
relacionan con los estudiantes en forma personal y profesional. Estas relaciones
especiales son el núcleo de la vida escolar.
Trinity College offre un environnement attentionné et sûr où les élèves peuvent
s'épanouir et se développer. Les professeurs de la Trinity offrent une attention
individuelle et développent un contact aussi bien professionel que personnel. Cette
relation spéciale entre professeurs et élèves est la clé de la vie scolaire.
Mr. Brian D. Proctor, Director of Admissions
Trinity College School
Port Hope, Ontario L1A 3W2 Canada
Phone: 905-885-3209 Fax: 905-885-9690