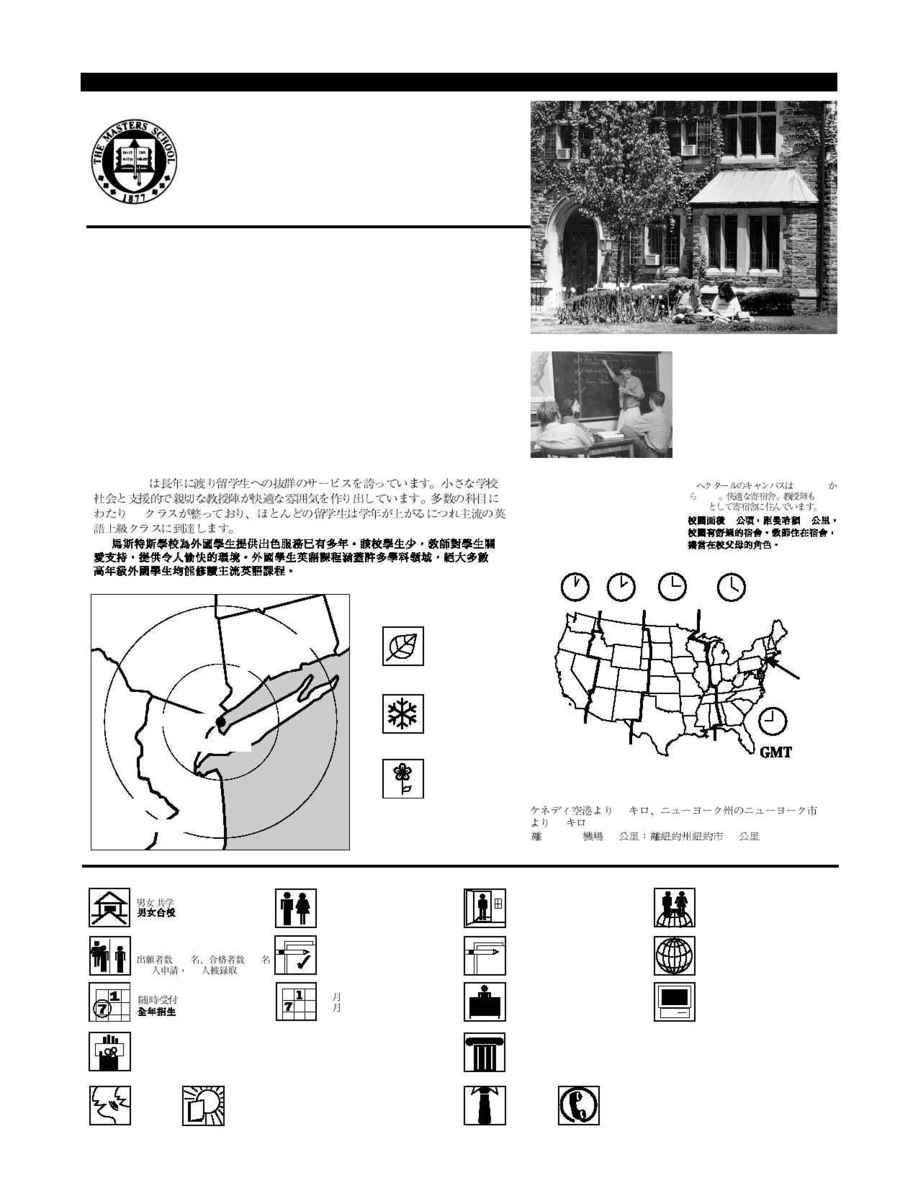 CONNECTICUT
NEW
JERSEY
Atlantic
Ocean
NEW
YORK
80 km
160 km
PENNSYLVANIA
The Masters School
Founded 1877
96-acre campus, 20 miles from Manhattan.
Comfortable dormitories. Faculty members live
in dorms and act as house parents.
39 hectáreas de terreno, a 32 kilómetros de
Manhattan. Cómodas residencias estudiantiles.
Miembros del profesorado viven en las
residencias estudiantiles y actúan como padres
en la casa.
Campus de 39 hectares, à 32 km de Manhattan.
Dortoirs confortables. Les membres du corps
enseignant résident dans les dortoirs et jouent
le rôle de parent pour le groupe.
39
32 km from Kennedy Airport; 32 km from New York City, NY
A 32 km del aeropuerto Kennedy; a 32 km de la ciudad de Nueva York, NY
A 32 km de l'aéroport Kennedy ; à 32 km de New York City, NY
Coed boarding 9­12 / Mixto / Mixte
300, 100 / solicitaron admisión, fueron
aceptadas / candidats, admis
September / septiembre / septembre
9
9
Boston University, Mount Holyoke
College, Parsons School of Design,
New York University
Germany, Hong Kong (25),
Japan (25), Korea (10), Thailand
UNITED STATES
Masters has served international students exceptionally well for many years. The
small school community and caring, supportive faculty provide a pleasant
atmosphere. English as a second language classes are given in many subject areas,
and most international students reach mainstream English classes in the upper
grades.
Masters ha atendido a estudiantes extranjeros excepcionalmente bien por
muchos años. La pequeña comunidad escolar y un profesorado comprensivo que
brinda mucho apoyo crean una atmósfera agradable. Las clases de inglés como
segundo idioma se imparten en muchas áreas y la mayoría de los estudiantes
extranjeros acceden a las clases regulares de inglés en los grados superiores.
Depuis de nombreuses années, Masters propose un excellent programme aux
étudiants étrangers. La petite communauté de l'établissement ainsi que le corps
enseignant, dévoué et coopératif, s'associent pour créer une atmosphère agréable.
Les cours d'anglais comme langue étrangère (ESL) sont dispensés dans de nombreux
domaines et la plupart des étudiants étrangers sont intégrés aux cours d'anglais
réguliers dans les classes supérieures.
Susan D. Hendricks
Director of Admission
49 Clinton Avenue
Dobbs Ferry, NY 10522
Phone: 914-693-1400 Fax: 914-693-1230
Rolling / Continuo / Continuelles