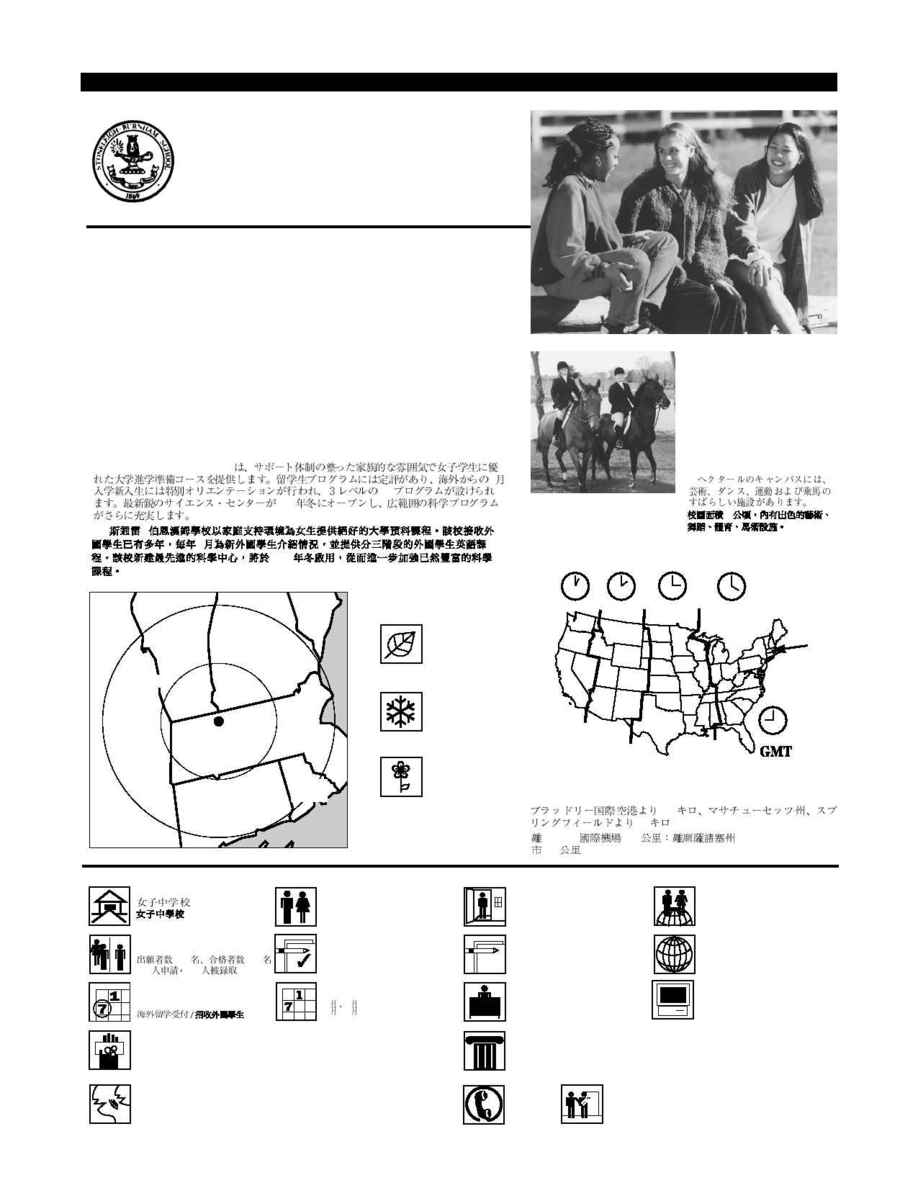 NEW
HAMPSHIRE
VERMONT
CONNECTICUT
NEW
YORK
MASSACHUSETTS
MAINE
Atlantic
Ocean
80 km
160 km
RHODE
ISLAND
Stoneleigh-Burnham School
Founded 1869
The 100-acre campus includes
extraordinary art, dance, athletic, and
equestrian facilities.
Las 41 hectáreas de terreno incluyen
instalaciones extraordinarias para
arte, danza, atletismo y equitación.
Le campus de 41 hectares comprend
d'excellentes installations destinées à
l'art, à la danse, au sport et à
l'équitation.
96 km from Bradley International Airport; 60 km from Springfield, MA
A 96 km del aeropuerto internacional de Bradley; a 60 km de Springfield, MA
A 96 km de l'aéroport international de Bradley ; à 60 km de Springfield, MA
Girls 9­PG / Niñas / Filles
210, 102 / solicitaron admisión, fueron
aceptadas / candidates, admises
Rolling for international students / Continuo para
estudiantes internacionales / Continuelles pour
les étudiants internationaux
September, January / septiembre, enero/
septembre, janvier
9
Bates College, Skidmore College,
University of Massachusetts Amherst,
University of Chicago, Mt. Holyoke College
Eastern Europe (3), Germany (15),
Japan (8), Korea (8), Taiwan (2),
UNITED STATES
Stoneleigh-Burnham School provides girls with excellent college preparation in a supportive family
environment. The international program is well established and includes a special orientation program
in September for new international students and three-level ESL program. The new state-of the-art
Science Center opens in the winter of 1999 and enhances the already extensive science program.
Stoneleigh-Burnham School ofrece a las niñas una excelente preparación para la universidad,
en un ambiente familiar con mucho apoyo. El programa internacional está bien establecido e
incluye un programa de orientación especial en septiembre, para las nuevas estudiantes extranjeras
y un programa de inglés como segundo idioma (ESL) con tres niveles. El nuevo y moderno Centro
de Ciencias abre sus puertas en el invierno de 1999 y amplía el ya extenso programa de ciencias.
Stoneleigh-Burnham School offre aux jeunes filles une excellente préparation universitaire
dans un environnement familial et coopératif. Le programme international, établi depuis
longtemps, est composé d'un programme spécial d'orientation en septembre pour les nouvelles
étudiantes étrangères et de cours d'anglais comme langue étrangère (ESL) de trois niveaux
différents. Un nouveau centre scientifique ultra-moderne ouvrira ses portes au cours de l'hiver
1999 et renforcera le programme de sciences déjà bien développé.
Stoneleigh-Burnham School
Carolyn J. Smith
Director of Admission
574 Bernardston Road
Greenfield, Massachusetts 01301
Phone: 413-774-2711 Fax: 413-772-2602