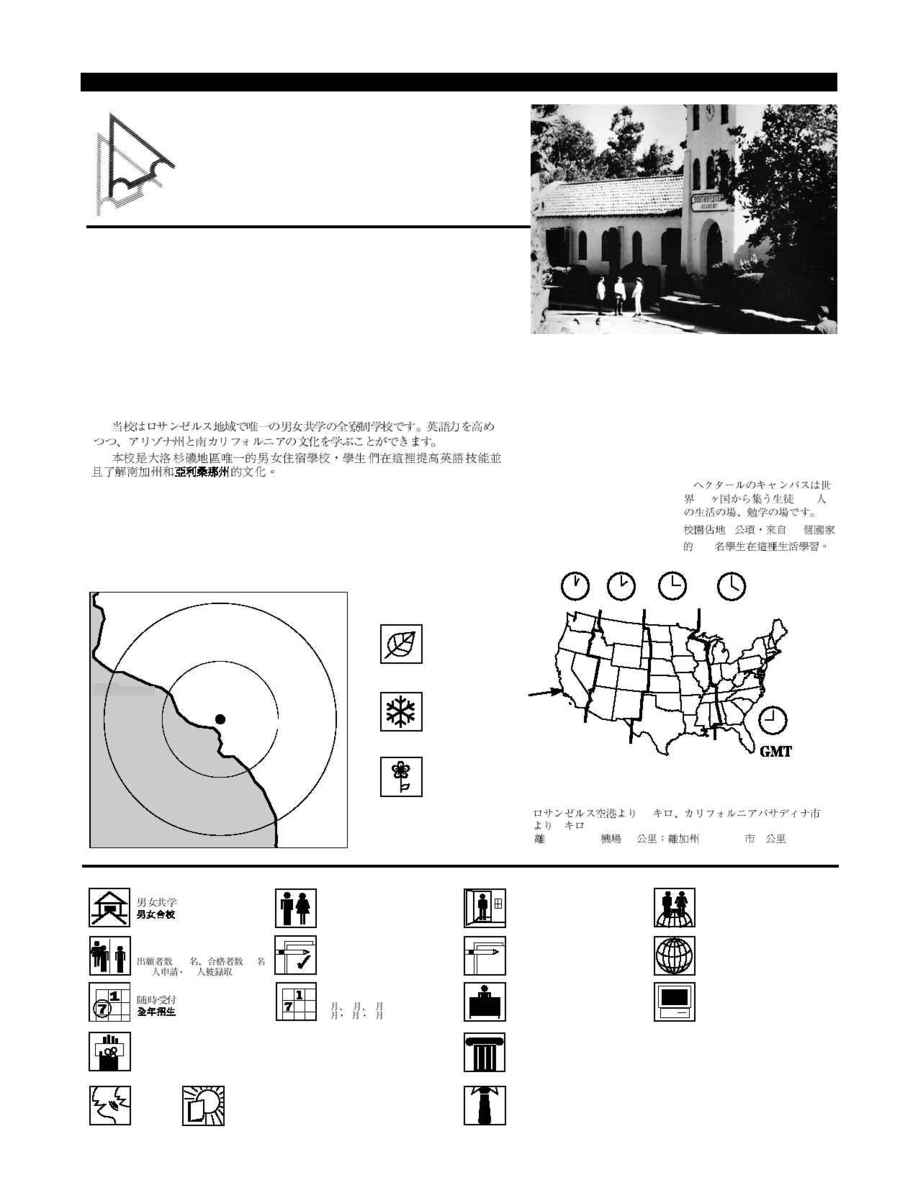 CALIFORNIA
80 km
160 km
Pacific
Ocean
Southwestern Academy
TABS, FAIS, NAFSA, SSATB member
Founded 1924
The 8-acre campus is the home and
school for 175 students from 30
different countries.
El terreno de 3 hectáreas sirve de
hogar y colegio para 175 estudiantes
de diferentes países.
Le campus de 3 hectares sert de
foyer et d'école pour 175 étudiants
de différents pays.
48 km from Los Angeles Airport; 3 km from Pasadena, CA
A 48 km del aeropuerto de Los Angeles; a 3 km de Pasadena, CA
A 48 km de l'aéroport de Los Angeles; à 3 km de Pasadena, CA
Coeducational 6­12 / Mixto / Mixte
225, 34 / solicitaron admisión, fueron
aceptados / candidats, admis
September, February, June / septiembre,
febero, junio / septembre, février, juin
9
Columbia University; University of California, Los
Angeles; University of California, Irvine; University of
Northern Arizona; University of Southern California;
Pepperdine University; University of San Francisco
China (10), Germany (8),
Japan (12), Russia (10),
Thailand (8)
UNITED STATES
Southwestern is the only coeducational boarding program in the greater Los
Angeles area. Students develop strong English skills and are able to take
advantage of the culture of southern California and Arizona.
Southwestern es el único internado mixto del área de Los Angeles. Los
estudiantes desarrollan habilidades en inglés y pueden aprovechar la cultura
de California del sur y de Arizona.
Southwestern est le seul internat mixte dans la région de Los Angeles. Les
élèves développent leurs connaissances de l'anglais et peuvent profiter de la
culture du sud de la Californie et de l'Arizona.
Lynn Yekiazarian, Director of Admissions
2800 Monterey Road
San Marino, California 91108
Phone: 626-799-5010 Fax: 626-799-0407
E-mail: admissions@southwesternacademy.edu
URL: http://www.southwesternacademy.edu
Rolling / Continuo / Continuelles