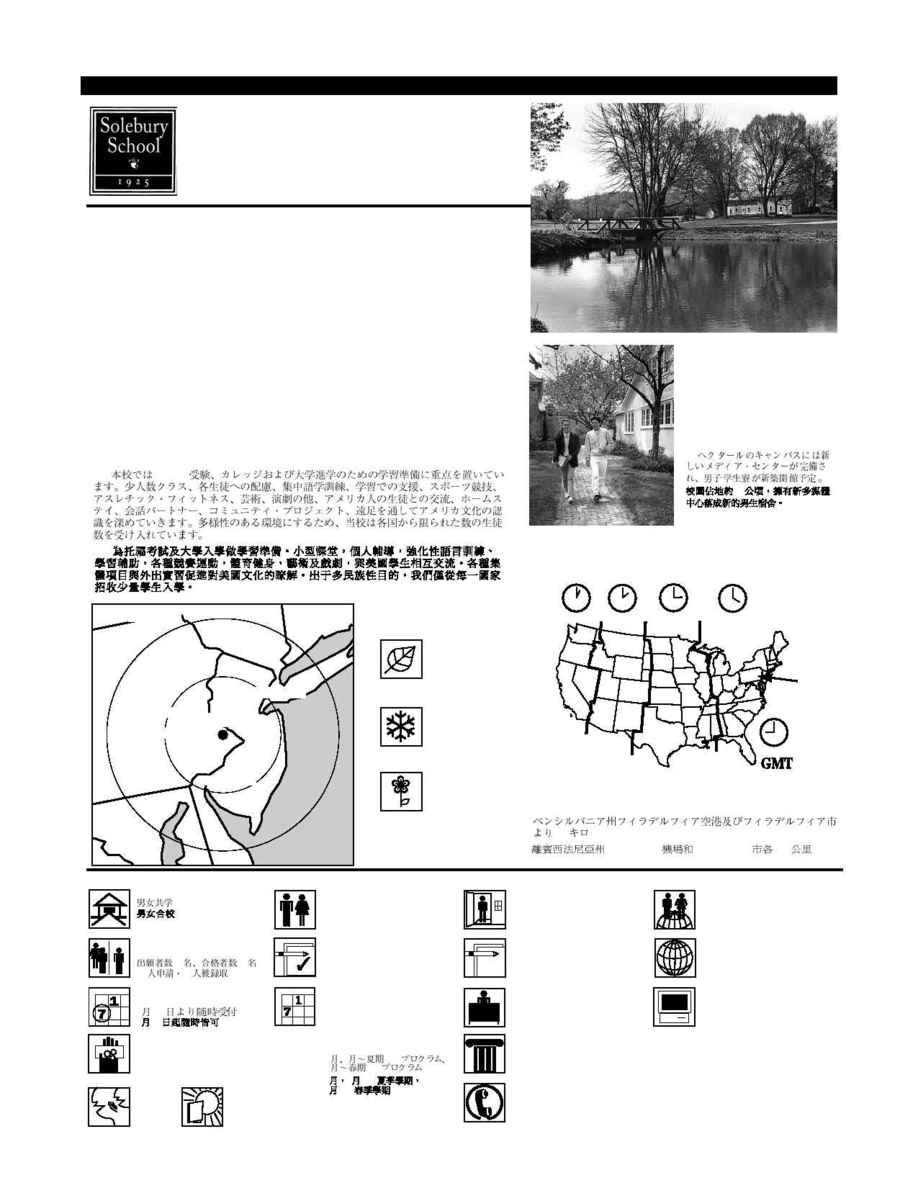 PENNSYLVANIA
NEW
JERSEY
NEW
YORK
Atlantic
Ocean
80 km
160 km
Solebury School
Founded 1925
42 km from Philadelphia Airport and Philadelphia, PA
A 42 km del aeropuerto de Filadelfia y de Filadelfia, PA
A 42 km de l'aéroport de Philadelphie et de Philadelphie, PA
Coeducational 9­PG / Mixto / Mixte
75, 51 / solicitaron admisión, fueron
aceptados / candidats, admis
March 15, rolling / 15 de marzo,
continuo / 15 mars, continuelles
3
$23,500­$29,900, including
$6400 ESL program fee
September, July-Summer ESL program,
March­Spring ESL program /
septiembre, julio­programa ESL de
verano, marzo­programa ESL de
primavera / septembre, juillet­
programme d'ESL de été, mars­
programme d'ESL de printemps
9
Colgate University, Columbia
University, Rhode Island School of
Design, Johns Hopkins University,
Lehigh University
Germany (14), Japan (34),
Korea (14), Taiwan (14),
Thailand (10)
UNITED STATES
Academic preparation for TOEFL and entrance into colleges and universities. Small
classes, individual attention, intense language practice, academic support, competitive
sports, athletic fitness, art, and theater. Integration with American students, homestays,
conversation partners, community projects, and field trips promote awareness of
American culture. For diversity, the School accepts limited enrollment from each country.
El colegio ofrece preparación académica para la prueba TOEFL y entrada a
universidades. Asimismo, clases con pocos alumnos, atención individual, prácticas
intensivas del idioma, apoyo académico, deportes de competencia, aptitud atlética, arte
y teatro. Integración con estudiantes estadounidenses, estancias en hogares, compañeros
para conversar. Los proyectos de la comunidad, así como las excursiones y actividades
especiales fomentan el aprendizaje de la cultura estadounidense. Para mantener la
diversidad, el colegio acepta un número limitado de matrículas por cada país.
Cours de préparation pour l'examen TOEFL et l'admission dans les universités
américaines. Classes aux effectifs restreints, attention individuelle, cours intensifs de
langues, soutien scolaire, sports de compétition, santé physique, art et théâtre.
Intégration parmi les étudiants américains, séjours dans des familles, partenaires pour
conversations. Les projets communautaires et les sorties éducatives permettent de
sensibiliser les étudiants à la culture américaine. Afin de favoriser la diversité, l'école
n'accepte qu'un nombre limité d'inscriptions pour chaque pays.
Denise DiFiglia, Director of Admission
P.O. Box 429, Phillips Mill Road
New Hope, Pennsylvania 18940-0429
Phone: 215-862-5261 Fax: 215-862-3366
E-mail: adm@solebury.pvt.k12.pa.us
URL: http://www.solebury.org
90-acre campus, new multimedia
center, new boys' dorm.
36 hectáreas de terreno, un nuevo
centro de multimedia, nuevas
residencias estudiantiles para varones.
Le campus de 36 hectares comprend un
nouveau centre multimédia, ainsi qu'un
nouveau dortoir pour les garçons.