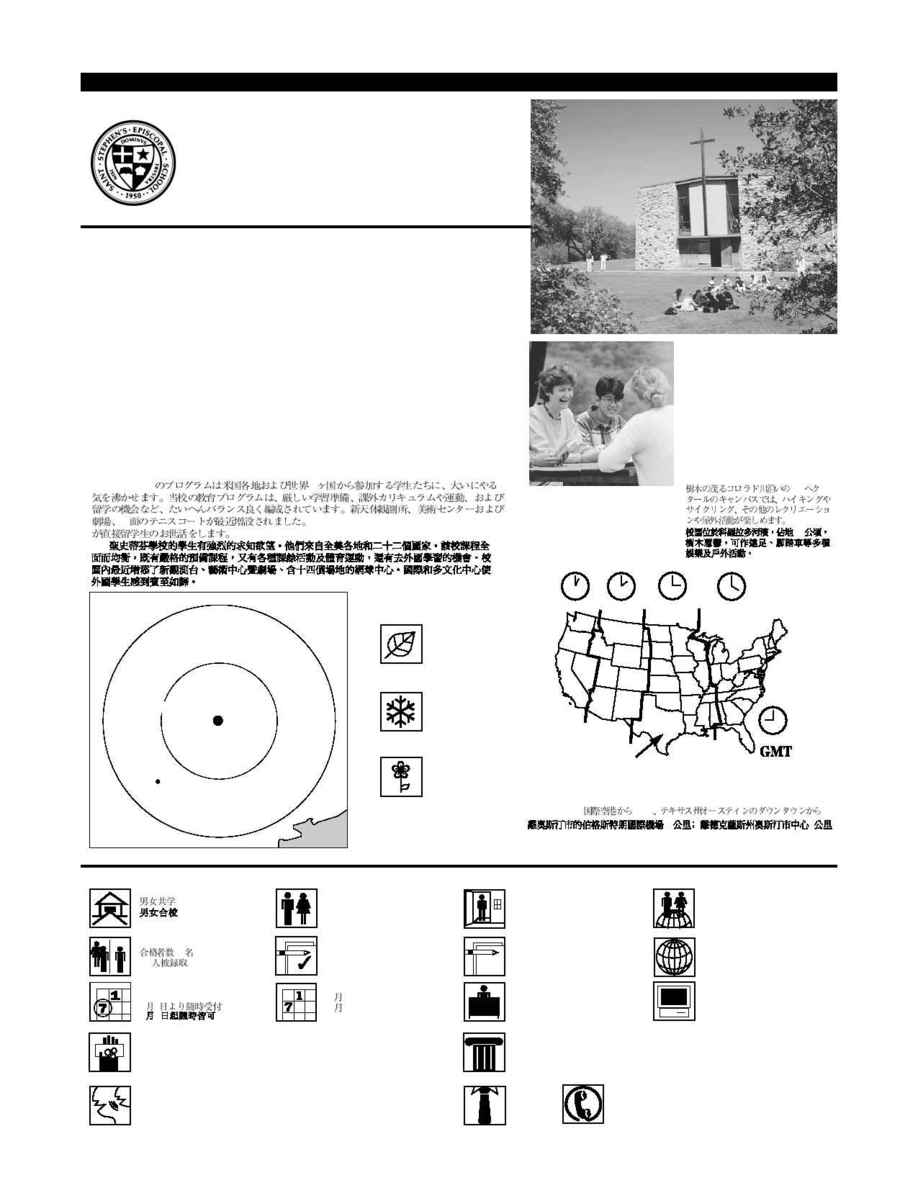 TEXAS
80 km
160 km
St. Stephen's Episcopal School
Founded 1949
The wooded 428-acre campus on the Colorado
River offers many opportunities for hiking,
biking, and other recreational and outdoor
activities.
El recinto escolar, con 173 hectáreas de
terreno boscoso junto al Río Colorado, ofrece
muchas oportunidades para practicar
excursionismo, ciclismo y otras actividades
recreativas y al aire libre.
Le campus boisé de 173 hectares sur la rivière
Colorado permet de faire de la randonnée et de
la bicyclette, et de participer à différentes
activités de loisirs et de plein air.
31 kilometers from Austin Bergstrom International Airport; 6 kilometers from downtown Austin, TX
A 31 km del Aeropuerto Internacional Austin Bergstrom; a 6 km del centro de Austin, TX
À 31 km de l'aéroport international de Austin Bergstrom ; à 6 km du centre-ville de Austin (Texas)
Coeducational 8­12 / Mixto / Mixte
15 / fueron aceptadas / admises
September / septiembre / septembre
9
9
University of Texas at Austin, Stanford University, Harvard
University, Columbia University, University of California-Berkeley,
University of Chicago, Rice University, University of Colorado at
Boulder, Southern Methodist University
Canada, China, Germany, Honduras,
Hong Kong, India, Indonesia, Japan,
Korea, Liechtenstein, Mexico, Saudi
Arabia, Taiwan
UNITED STATES
St. Stephen's serves motivated students from across the United States and from twenty-two countries. A
balanced educational program provides rigorous academic preparation, extracurricular and athletic
activities, and opportunities for foreign study. Recent campus additions include a new observatory, a
fine arts center and theater, and a fourteen court tennis complex. International students are made
welcome by the Center for International and Multicultural Affairs.
St. Stephen's atiende a estudiantes motivados de todos los Estados Unidos y de veinticinco países.
Un programa de estudios bien equilibrado proporciona una rigurosa preparación académica,
actividades extracurriculares y deportivas, y oportunidad para los estudiantes extranjeros. Entre las
recientes adiciones al recinto escolar se cuentan: un nuevo observatorio, un centro de bellas artes y
teatro, y un complejo de catorce canchas de tenis. Los estudiantes extranjeros se sienten bienvenidos
por el Centro para Asuntos Internacionales y Multiculturales.
St. Stephen's accueille des étudiants motivés des États-Unis et de vingt-deux pays différents. Le
programme pédagogique équilibré propose une préparation scolaire rigoureuse, des activités
parascolaires et sportives, ainsi que d'excellentes opportunités pour les étudiants étrangers. Les
adjonctions récentes sur le campus comprennent un nouvel observatoire, un centre pour les beaux-
arts, un théâtre et un complexe composé de quatorze courts de tennis. Les étudiants étrangers sont
accueillis par le Centre des affaires internationales et multiculturelles.
Center for International and Multicultural Affairs
Lawrence Sampleton, Director of Admission
P.O. Box 1868
Austin, Texas 78767-1868
Phone: 512-327-1213 Fax: 512-327-6771
URL: http://www.sss.austin.tx.us
Feb. 1, then rolling / 1 de febrero, continuo de
allí en adelante / 1 février, puis en continu
2