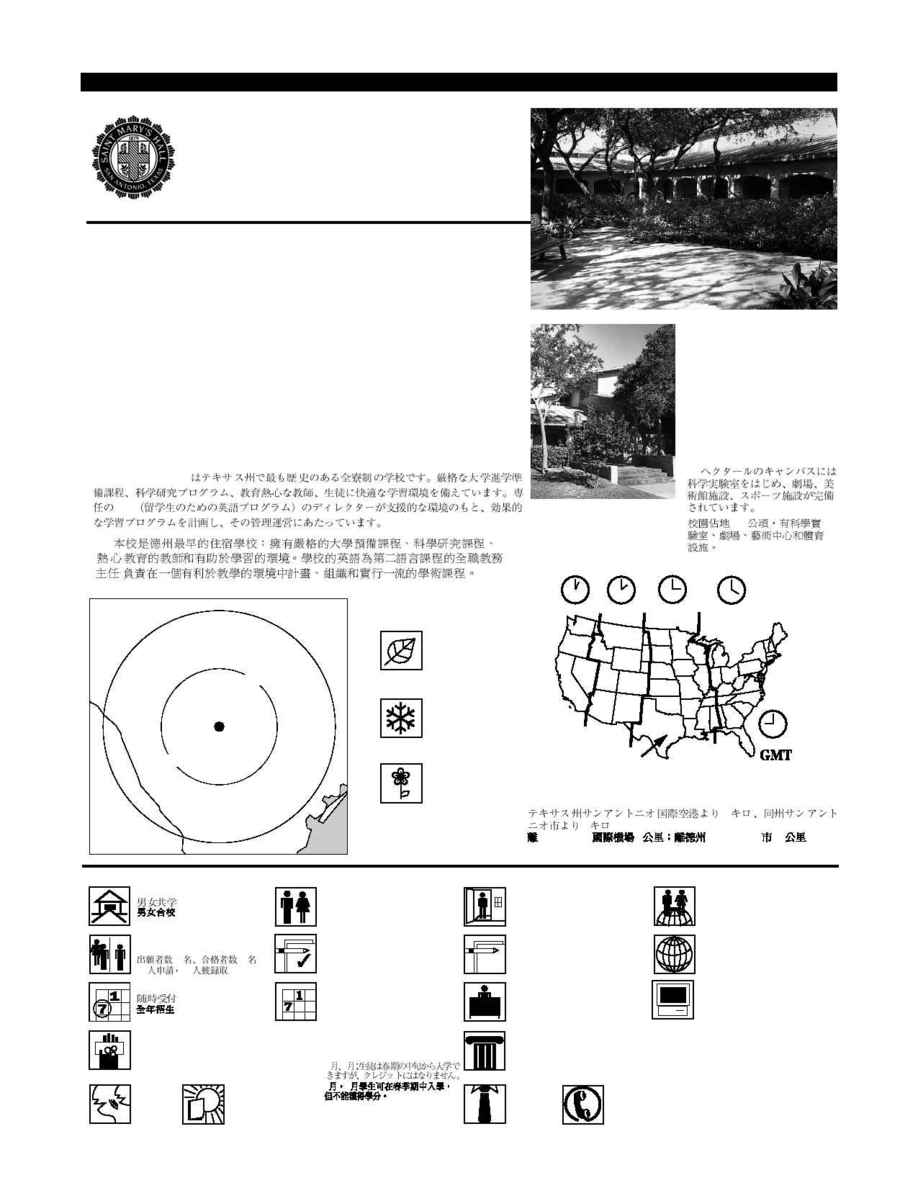 TEXAS
80 km
160 km
Saint Mary's Hall
Founded 1879
The 55-acre campus has science
labs, a theater, a fine arts complex,
and athletics facilities.
El recinto de 22 hectáreas tiene
laboratorios de ciencias, un teatro, un
complejo para las bellas artes, e
instalaciones deportivas.
Le campus de 22 hectares a des
laboratoires scientifiques, un théâtre,
un complexe pour les beaux-arts, et
un centre d'athlétisme.
22
5 km from San Antonio International Airport; 5 km from San Antonio, TX
A 5 km del aeropuerto internacional de San Antonio; a 5 km de San Antonio, TX
A 5 km de l'aéroport international de San Antonio ; à 5 km de San Antonio, TX
Coeducational PK­12 / Mixto / Mixte
81, 52 / solicitaron admisión, fueron
aceptados / candidats, admis
Rolling / Continuo / Continuelles
$18,241­$21,735; $1015­$3605
August, January; students can enter at
mid-spring but do not receive credit /
agosto, enero; los estudiantes pueden
empezar sus clases a mediados de la
primavera, pero sin recibir crédito /
août, janvier; les étudiants peuvent
commencer au milieu du printemps mais
ne reçoivent aucune unité de valeur
Trinity University,
University of Colorado at Boulder,
University of Texas at Austin,
Boston University, UCLA
Germany (4), Japan (9),
Korea (9), Russia (3),
Taiwan (9)
UNITED STATES
Saint Mary's Hall, Texas' oldest boarding school, offers a rigorous college-preparatory
curriculum, a scientific research program, dedicated faculty, and a supportive learning
environment. A full-time ESL Director plans, organizes, and implements a strong
academic program in a nurturing environment.
Saint Mary's Hall, el colegio internado más antiguo de Texas, ofrece un plan de
estudios intensivo para la preparación a la universidad, un programa de investigación
científica, profesores dedicados, y un ambiente escolar con mucho apoyo. Un director
de inglés como segundo idioma (ESL) a tiempo completo planifica, organiza y pone en
marcha un programa académico intensivo en un ambiente educativo.
Saint Mary's Hall, l'internat le plus ancien du Texas, offre un programme rigoureux
d'études préparatoires pour l'université, un programme de recherche scientifique, des
professeurs dévoués, et une ambiance de soutien scolaire. Un Directeur d'anglais comme
langue étrangère (ESL) à plein temps, plannifie, organise et exécute un programme
académique rigoureux dans un environnement attentif aux besoins des étudiants.
M. Frederick Koval
Director of Enrollment Management
9401 Starcrest Drive
San Antonio, Texas 78217
Phone: 210-483-9100 Fax: 210-483-9299
URL: http://www.smhall.org