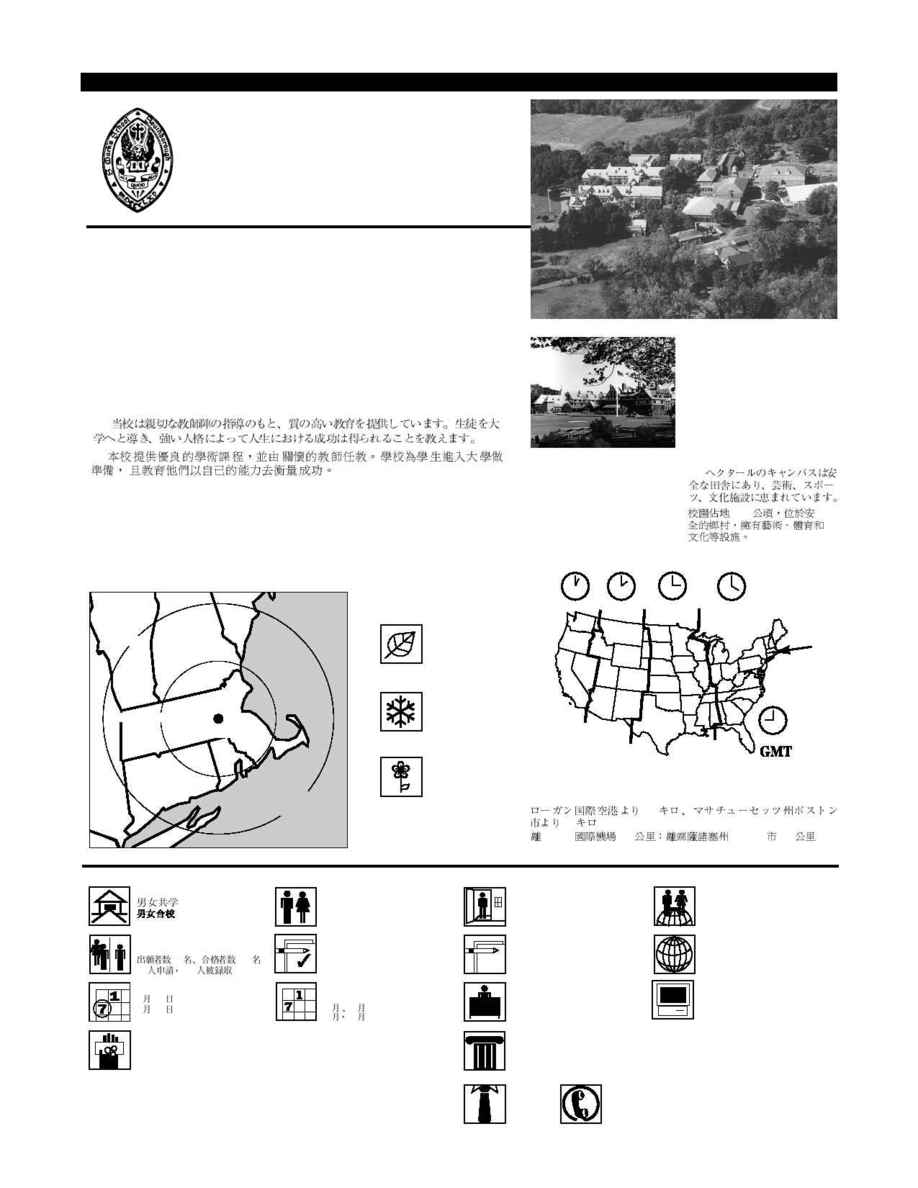 MASSACHUSETTS
160 km
80 km
CONNECTICUT
VERMONT
NEW
HAMPSHIRE
ATLANTIC
OCEAN
Saint Mark's School
Founded 1865
The safe, rural 250-acre campus has
artistic, athletic, and cultural
resources.
El colegio, situado en 103 hectáreas
de terreno en un ambiente rural y
seguro, cuenta con recursos
artísticos, deportivos y culturales.
Le campus sûr et rural de 103
hectares a plusieurs ressources
artistiques, sportives et culturelles.
103
48 km from Logan International Airport; 40 km from Boston, MA
A 48 km del aeropuerto internacional de Logan; a 40 km de Boston, MA
A 48 km de l'aéroport international de Logan ; à 40 km de Boston, MA
Coeducational 9­12 / Mixto / Mixte
60, 245 / solicitaron admisión, fueron
aceptados / candidats, admis
January 31 / 31 de enero / 31 janvier
1
September, January / septiembre,
enero / septembre, janvier
9
Boston University, Boston College,
Brown University, Bowdoin College,
Harvard University
Australia,Canada, Germany,
Hong Kong, Japan, Korea,
Saudi Arabia
UNITED STATES
Saint Mark's School offers a demanding academic program aided by a caring
faculty. The school prepares students for university and teaches them to
measure success by the strength of their character.
Saint Mark's School ofrece un exigente programa académico atendido por
profesores comprensivos. El colegio prepara a los estudiantes para la
universidad y les enseña a medir el éxito de acuerdo con la firmeza del carácter.
Saint Mark's School offre un programme scolaire rigoureux avec des
professeurs attentionnés. L'école prépare les étudiants aux universités et leur
apprend à mesurer le succès en fonction de leur force de caractère.
Molly H. King, Director of Admission
25 Marlborough Road
Southborough, Massachusetts 01772
Phone: 508-786-6000 Fax: 508-786-6120