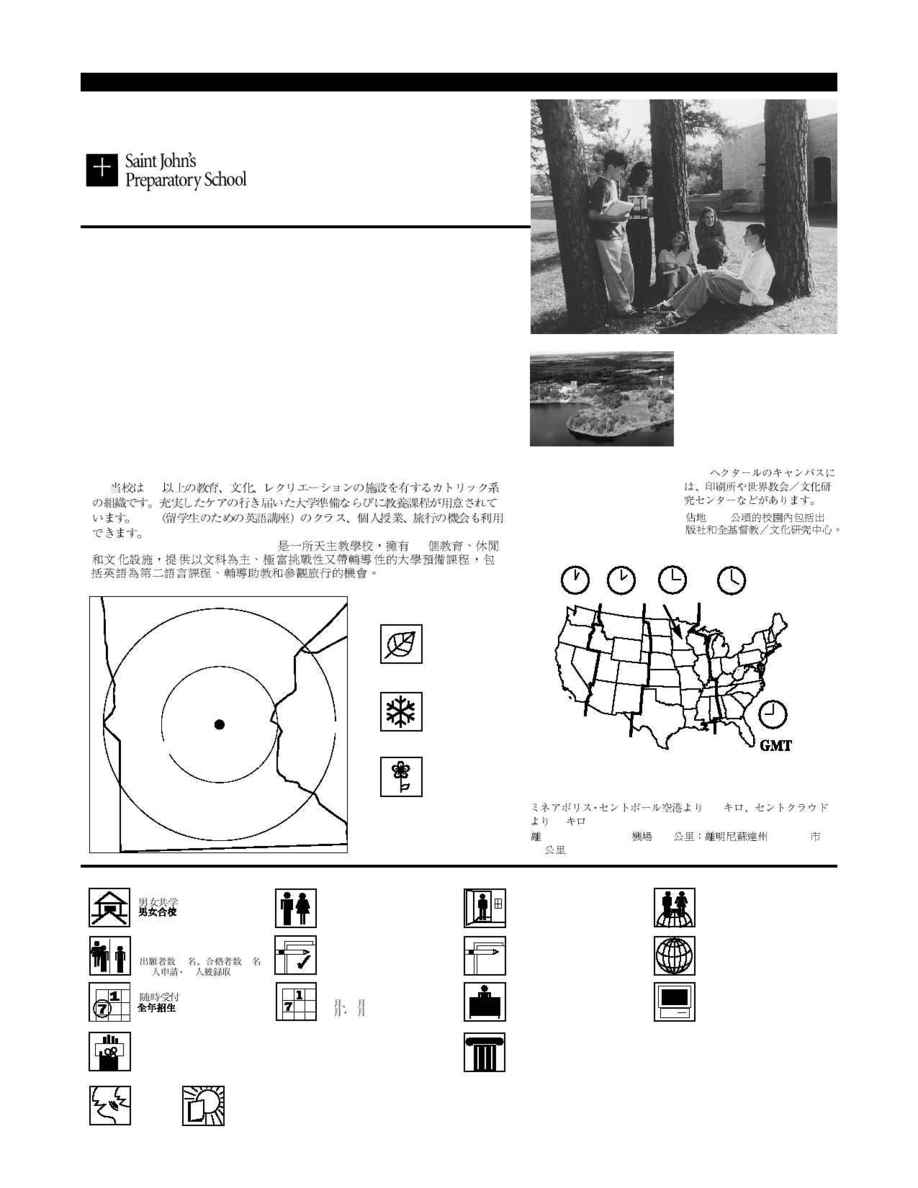 MINNESOTA
WISCONSIN
80 km
160 km
Saint John's Preparatory School
Founded 1857
The 2,500 acre campus has a
publishing house and an ecumenical/
cultural research center.
El terreno de 1.053 hectáreas tiene
una editorial y un centro de
investigación ecuménica y cultural.
Le campus de 1.053 a une maison
d'édition et un centre de recherche
oecuménique et culturel.
150 km from Minneapolis-St. Paul Airport; 20 km from St. Cloud, MN
A 150 km del aeropuerto de Minneapolis-St. Paul; a 20 km de St. Cloud, MN
A 150 km de l'aéroport de Minneapolis-St. Paul ; à 20 km de St. Cloud, MN
94, 85 / solicitaron admisión, fueron
aceptados / candidats, admis
St. John's University, University of Minnesota, University of Chicago,
Carleton College, University of Colorado-Boulder, Arizona State University,
Lawrence University, College of Saint Benedict
Austria, China, Japan, Korea,
Mexico
UNITED STATES
Saint John's Preparatory School is a Catholic institution that offers over 25
educational, recreational, and cultural facilities in its challenging yet supportive
college-preparatory, liberal arts program. ESL classes, tutors, and travel
opportunities are also provided.
Saint John's Preparatory School es una institución católica que ofrece más
de 25 instalaciones educativas, recreativas y culturales en su estimulante, y al
mismo tiempo apoyado, programa de humanidades en preparación para la
universidad. También se ofrecen cursos de inglés como segundo idioma (ESL),
maestros particulares y oportunidades de viajes.
Saint John's Preparatory School est un établissement catholique qui offre
plus de 25 installations scolaires, culturelles et de loisirs qui sont au service
d'une rigoureuse mais soutenue formation littéraire de préparation aux
universités. Des cours d'anglais comme langue étrangère (ESL), des cours
particuliers et des voyages sont offerts également.
Bryan Backes, Director of Admission
1857 Watertower Road, Box 4000
Collegeville, Minnesota 56321
Phone: 320-363-3321 Fax: 320-363-3513
URL: http://www.csbsju.edu/sjprep
Saint John's Preparatory School
August, January, / agosto, enero /
août, janvier,
8
Rolling / Continuo / Continuelles
Coeducational 9­PG / Mixto / Mixte