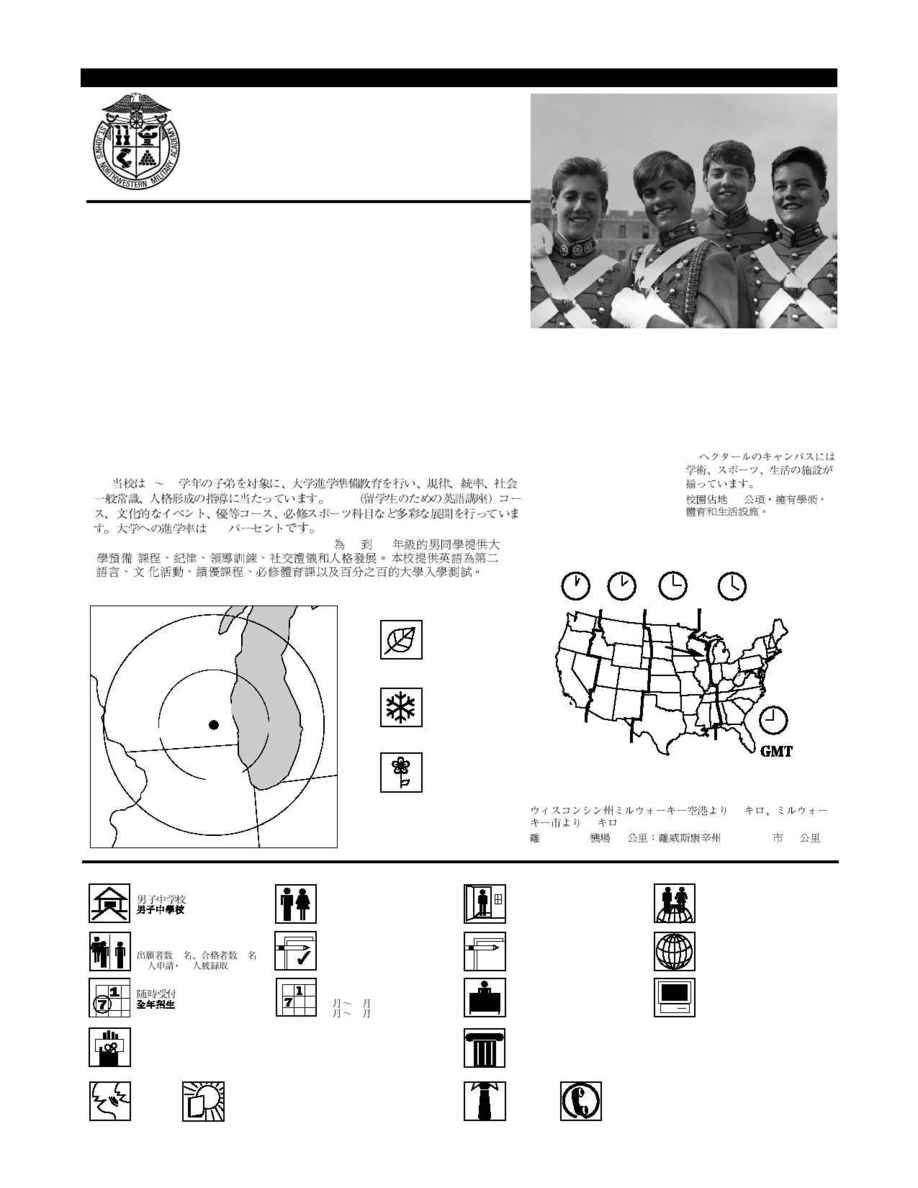 Lake
Michigan
80 km
160 km
WISCONSIN
ILLINOIS
St. John's Northwestern Military Academy
Founded 1884
The 150-acre campus has academic,
athletic, and living facilities.
Las 61 hectáreas de terreno tienen
instalaciones académicas,
deportivas y residenciales.
Le campus de 61 hectares
comprend des centres scolaires et
sportifs ainsi que des dortoirs.
48 km from Milwaukee Airport; 32 km from Milwaukee, WI
A 48 km del aeropuerto de Milwaukee; a 32 km de Milwaukee, WI
A 48 km de l'aéroport de Milwaukee ; à 32 km de Milwaukee, WI
37, 33 / solicitaron admisión, fueron
aceptados / candidats, admis
September­March / septiembre­
marzo / septembre­mars
9
University of Michigan, University
of Notre Dame, Indiana University,
Northwestern University,
Marquette University
Hong Kong (25), Japan (25),
Korea (25), Mexico (45),
Panama (35)
UNITED STATES
St. John's Northwestern Military Academy instructs boys in grades 7 through 12 in
college preparation, discipline, leadership, social graces, and character
development. The Academy offers ESL, cultural events, honor courses, compulsory
athletics, and 100% college placement.
St. John's Northwestern Military Academy ofrece cursos de preparación para la
universidad, disciplina, liderazgo, estima social y desarrollo del carácter a niños
entre las edades de 7 a 12 años. La academia además ofrece cursos de inglés como
segundo idioma (ESL), eventos culturales, cursos de nivel avanzado, y un
programa obligatorio de deportes. 100% de sus estudiantes son aceptados en la
universidad.
St. John's Northwestern Military Academy offre aux garçons âgés de 7 à 12 ans
des cours de préparation universitaire ainsi qu'un enseignement de la discipline,
du leadership, des grâces sociales et la formation du caractère. L'académie
propose l'anglais comme langue étrangère (ESL), des événements culturels et des
cours pour les meilleurs étudiants. L'athlétisme est obligatoire et 100% des élèves
s'inscrivent dans des universités.
Maj. Charles E. Moore
Director of Enrollment Services
1101 North Genesee Street
Delafield, Wisconsin 53018-1411
Phone: 414-646-7115 Fax: 414-646-7128
St. John's Northwestern Military Academy
Rolling / Continuo / Continuelles
Boys 7­12 / Muchachos / Garçons