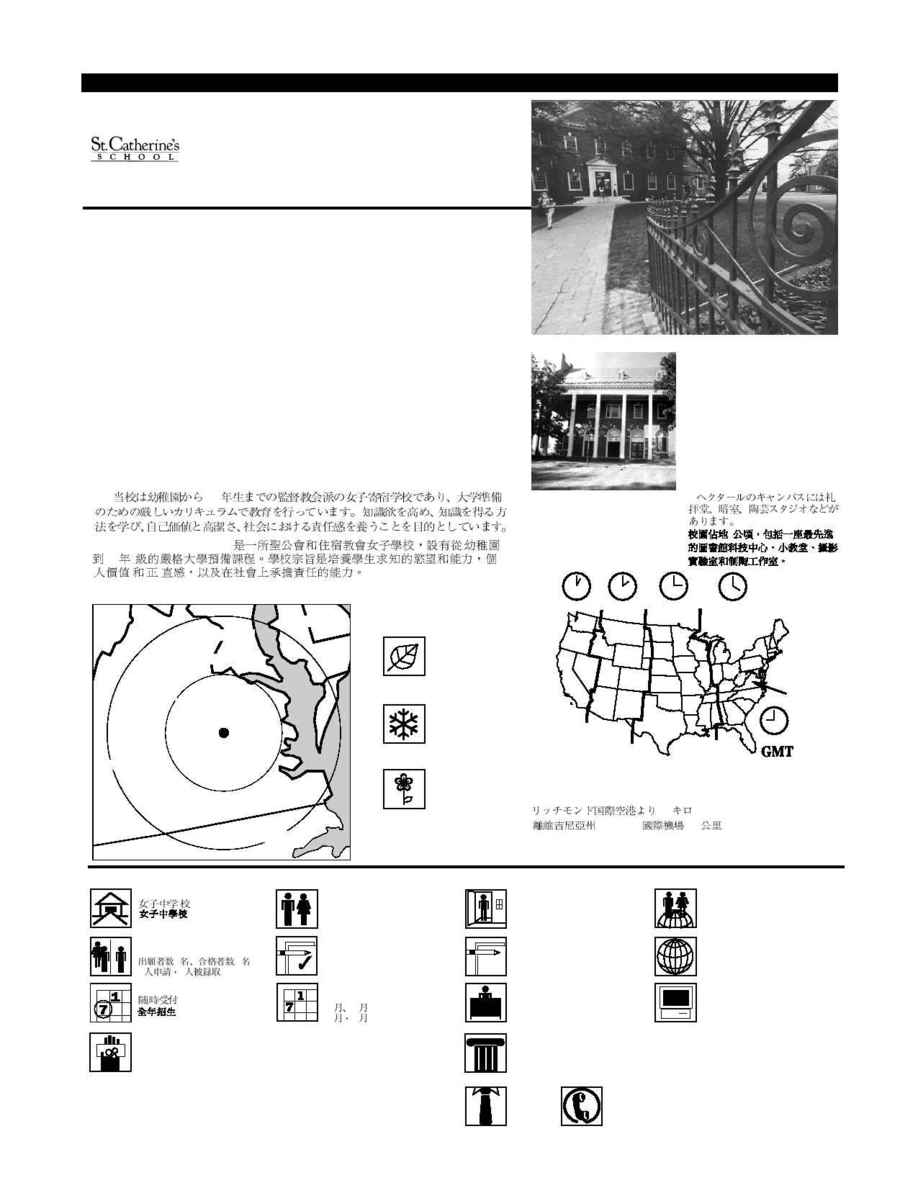 VIRGINIA
80 km
160 km
MARYLAND
DELAWARE
NORTH CAROLINA
St. Catherine's School
Founded 1890
The 16-acre campus includes a state-of-
the-art Library Technology Center, chapel,
photography lab, and ceramics studio.
Las 6 hectáreas de terreno incluyen una
moderna Biblioteca y Centro de Tecnología,
capilla, laboratorio fotográfico y estudio de
cerámica.
Le campus de 6 hectares comprend une
bibliothèque dotée des toutes dernières
technologies, une chapelle, un laboratoire
photo et un atelier de céramique.
32 km from Richmond International Airport, VA / A 32 km del aeropuerto
internacional de Richmond, VA / A 32 km de l'aéroport international de
Richmond, VA
Girls 9­12 / Niñas / Filles
6, 4 / solicitaron admisión, fueron
aceptadas / candidates, admises
September, January / septiembre,
enero / septembre, janvier
9
University of North Carolina-
Chapel Hill, Washington and Lee
University, University of Virginia,
Davidson College
Hong Kong (40), Korea (40),
Mexico (40), Norway (40),
United Kingdom (40)
UNITED STATES
St. Catherine's School is an Episcopal diocesan day and boarding school for girls
that provides a rigorous college-preparatory curriculum in grades junior-
kindergarten through 12th grade. The school aims to develop in its students the
desire and means to attain knowledge, a sense of personal worth and integrity,
and an acceptance of responsibility in society.
St. Catherine's School es un colegio internado y externado Episcopal
diocesano para niñas que provee un programa riguroso de preparación
universitaria para grados desde el jardín de niños hasta el último año de colegio
secundario. El colegio tiene como meta fomentar en sus estudiantes el deseo y la
metodología para la obtención de conocimientos, el auto-aprecio, integridad y la
responsabilidad social.
St. Catherine's School est une école de pension et externe de diocèse
Episcopalienne pour les filles qui offre un programme rigoureux de préparation
universitaire pour les classes de maternelle jusqu'à la dernière année de lycée.
L'école a comme but le développement chez ses élèves du désir d'obtenir des
connaissances et les moyens pour le faire, l'amour propre, l'honnêteté et la
responsabilité sociale.
Katherine S. Wallmeyer
Director of Admissions
6001 Grove Avenue
Richmond, Virginia 23226
Phone: 804-288-2804 Fax: 804-285-8169
E-mail: admissions@st.catherines.org
Rolling / Continuo / Continuelles