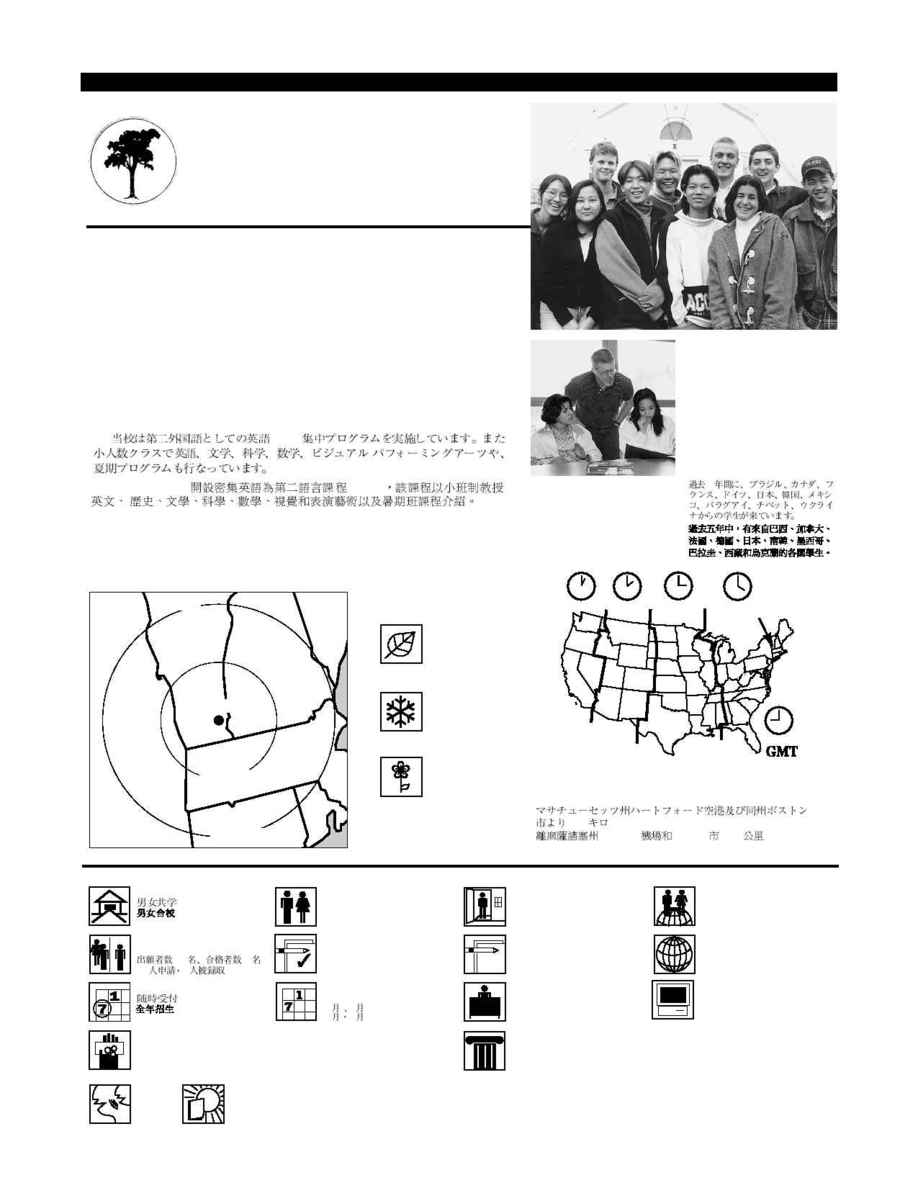 NEW
YORK
80 km
160 km
MASSACHUSETTS
VERMONT
NEW
HAMPSHIRE
CONNECTICUT
The Putney School
Founded 1935
In the past 5 years, students have come
from Brazil, Canada, France, Germany,
Japan, Korea, Mexico, Paraguay, Tibet, and
Ukraine.
En los últimos 5 años han asistido al colegio
estudiantes de Brasil, Canadá, Francia,
Alemania, Japón, Corea, México, Paraguay,
Tíbet y Ucrania.
Depuis ces 5 dernières années, l'école
accueille des étudiants du Brésil, du Canada,
de la France, de l'Allemagne, du Japon, de la
Corée, du Mexique, du Paraguay, du Tibet et
de l'Ukraine.
161 km from Hartford Airport and Boston, MA
A 161 km del aeropuerto de Hartford y de Boston, MA
A 161 km de l'aéroport d'Hartford et de Boston, MA
Coeducational 9­PG / Mixto / Mixte
14, 9 / solicitaron admision, fueron
aceptados / candidats, admis
Rolling / Continuo / Continuelles
$25,750; ESL: $1000­$4000
September, January / septiembre,
enero / septembre, janvier
9
American University, Columbia
University, Cornell University,
Dartmouth College, Middlebury College,
Yale University, MIT, Vassar College
Brazil, Canada, France, Germany,
Japan, Korea, Mexico, Norway,
West Indies
UNITED STATES
Putney School offers an intensive English as a second language (ESL) program
with small classes in English, history, literature, the sciences, math, the visual
and performing arts, and an introductory ESL summer program.
Putney School ofrece un programa intensivo de inglés como segundo
idioma (ELS) con clases de pocos alumnos que incluyen inglés, historia,
literatura, ciencia, matemática, artes visuales y dramáticas, así como un
programa introductorio de verano de inglés como segundo idioma (ESL).
Putney School offre un programme intensif d'anglais comme langue
étrangère (ESL), les sciences. les mathématiques, les arts plastiques, l'art du
spectacle ainsi que' un programme d'été d'ESL.
Pia Senese Norton, Director of Admissions
Elm Lea Farm
Putney, Vermont 05346
Phone: 802-387-6219 Fax: 802-387-6278
3 levels
of ESL
3 levels
ESL summer