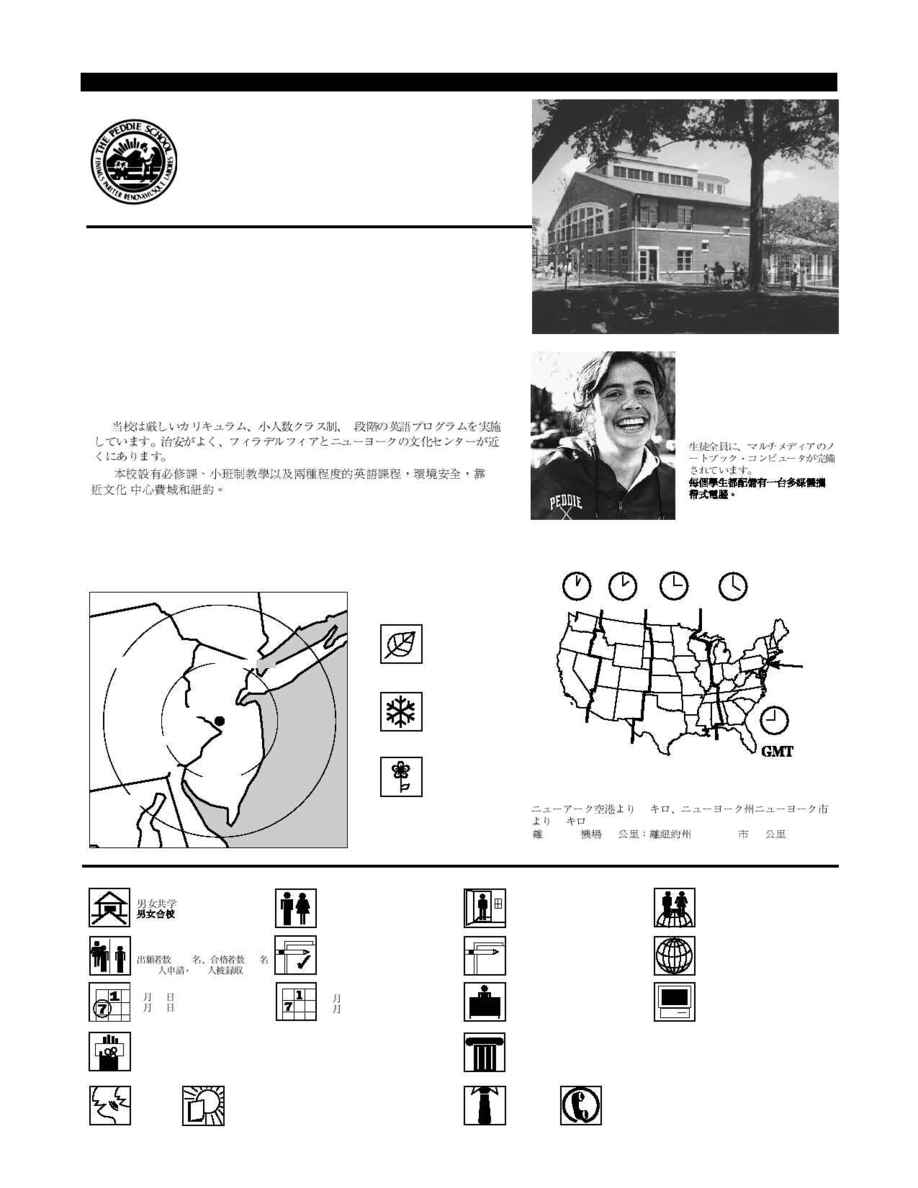 PENNSYLVANIA
NEW
JERSEY
Atlantic
Ocean
80 km
160 km
MARYLAND
DELAWARE
The Peddie School
Founded 1864
Every student is equipped with a
multimedia laptop computer.
Cada estudiante cuenta con una
computadora portátil (laptop) de
multimedia.
Chaque étudiant dispose d'un
ordinateur multimédia portatif.
72 km from Newark Airport; 80 km from New York, NY
A 72 km del aeropuerto de Newark; a 80 km de Nueva York, NY
A 72 km de l'aéroport de Newark ; à 80 km de New York, NY
1,000, 320 / solicitaron admisión,
fueron aceptados / candidats, admis
January 15 / 15 de enero / 15 janvier
1
SSAT (63%), ISEE, SAT, or PSAT
September / septiembre / septembre
9
9
University of Pennsylvania,
U.S.Naval Academy, Cornell
University, Princeton University,
Johns Hopkins University
Germany, Hong Kong, Korea,
Saudi Arabia, Thailand
UNITED STATES
Peddie School offers a demanding curriculum, small classes, and a two-level
English program, within a safe setting, close to the cultural centers of
Philadelphia and New York.
Peddie School ofrece un plan de estudios exigente, clases con pocos
alumnos y un programa de enseñanza del inglés de dos niveles, en un
ambiente seguro, cerca de los centros culturales de Filadelfia y Nueva York.
Peddie School offre un programme rigoureux, dans de petites classes, et un
programme d'anglais à deux niveaux, dans un cadre tranquille qui se situe
près des centres culturels de Philadelphie et de New York.
Michael Gary, Director of Admission
South Main Street
Hightstown, New Jersey 08520
Phone: 609-490-7500 Fax: 609-490-0920
URL: http://www.peddie.org
Coeducational 8­12 / Mixto / Mixte