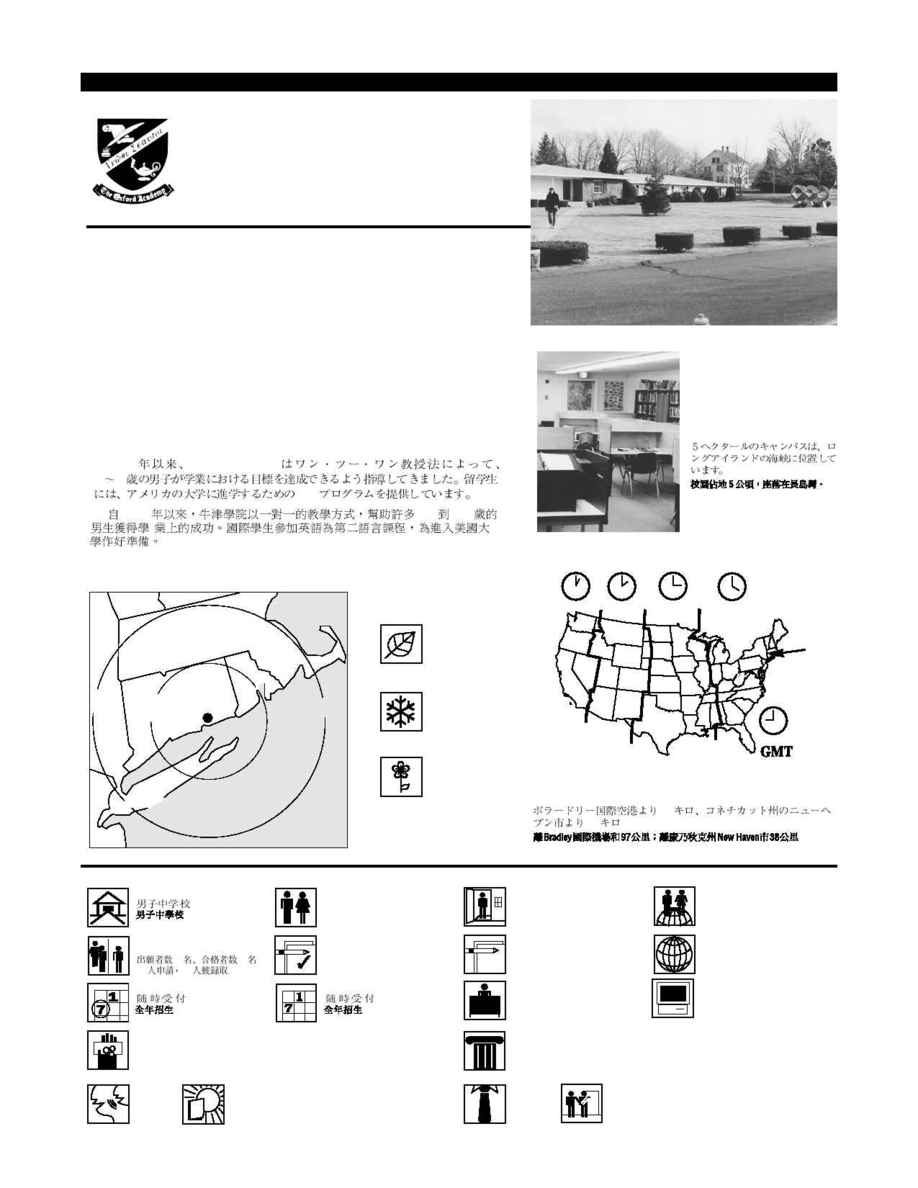 CONNECTICUT
MASSACHUSETTS
80 km
160 km
ATLANTIC
OCEAN
RHODE
NEW
YORK
ISLAND
The Oxford Academy
NAIS, TABS, FAIS, NAFSA member
Founded 1906
The 12-acre campus is located on
Long Island Sound.
Las 5 hectáreas de terreno están
situadas en el brazo de Long
Island.
Le campus de 5 hectares est situé
sur le bras de mer de Long Island.
97 km from Bradley International Airport; 38 km from New Haven, CT
A 97 km del aeropuerto internacional de Bradley; a 38 km de New Haven, CT
A 97 km de l'aeroport Bradley International ; a 38 km de New Haven, CT
16, 13 / solicitaron admisión, fueron
aceptados / candidats, admis
Japan (13), Korea (10),
Philippines (4), Russia (4),
Saudi Arabia (12)
UNITED STATES
Oxford Academy's one-to-one teaching method has helped boys ages 14­20
achieve academic success since 1906. International students enroll for the ESL
program, which prepares them to enter American universities.
Desde 1906, el método de enseñanza individual que emplea Oxford
Academy ha ayudado a muchachos entre 14 y 20 años de edad a lograr el
éxito académico. Los alumnos extranjeros se inscriben en el programa de
enseñanza del inglés como segundo idioma (ESL), el cual los prepara para
ingresar en las universidades estadounidenses.
Oxford Academy a, depuis 1906, une méthode d'enseignement individuel
qui permet aux garçons de 14­20 ans de réussir sur le plan scolaire. Les élèves
étrangers s'inscrivent au programme d'anglais comme langue étrangère (ESL)
qui les prépare à entrer dans les universités américaines.
Sonia M. Varley, Admissions Coordinator
1393 Boston Post Road
P.O. Box P
Westbrook, Connecticut 06498
Phone: 860-399-6247 Fax: 860-399-6805
E-mail: oxacadmi@connix.com
URL: http://oxfordacademy.put.k12.ct.us
Northeastern University,
Emerson College, University of
North Carolina, Haverford College,
Connecticut College
Rolling / Continuo / Continuelles
Rolling / Continuo / Continuelles
Boys 9­PG / Muchachos/ Garçons