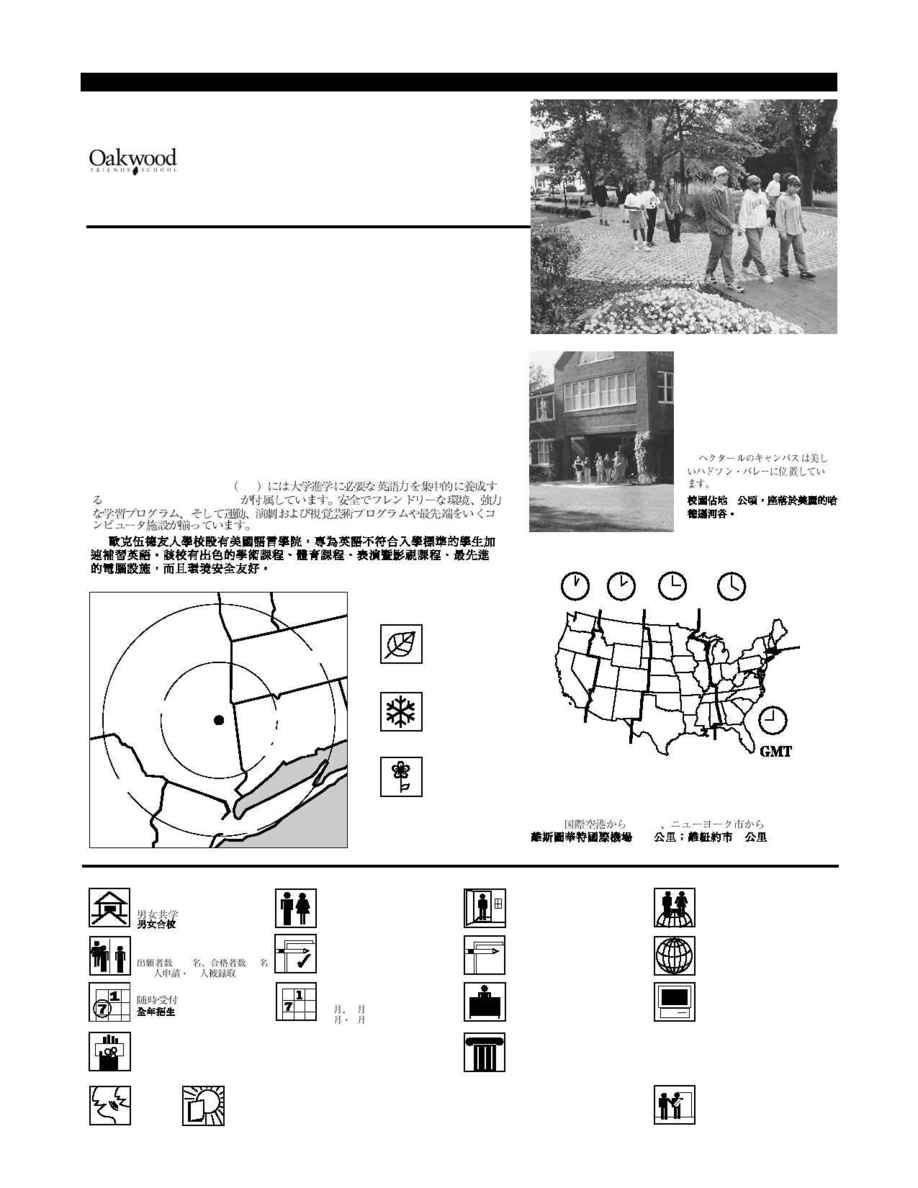 80 km
160 km
NEW
YORK
NEW
JERSEY
Atlantic
Ocean
MASSACHUSETTS
PENNSYLVANIA
CONNECTICUT
Oakwood Friends School
Founded 1796
70-acre campus located in the beautiful
Hudson Valley region.
Recinto escolar de 28 hectáreas de
terreno, en la hermosa región del Valle
de Hudson.
Le campus de 28 hectares est situé
dans la magnifique région de la Vallée
de Hudson.
12.4 kilometers from Stewart International Airport; 43 kilometers from
New York City / A 12,4 km del Aeropuerto Internacional de Stewart; a 43
km de la Ciudad de Nueva York / À 12,4 km de l'aéroport international de
Stewart ; à 43 km de la ville de New York
Stewart
Coeducational 6­12, PG / Mixto /
Mixte
121, 66 / solicitaron admisión, fueron
aceptados / candidats, admis
Rolling / Continuo / Continuelles
September, January / septiembre,
enero / septembre, janvier
9
Cornell University, Haverford College,
New York University, Rhode Island
School of Design, Wesleyan University
Brazil, Germany, Japan, Korea,
Taiwan
UNITED STATES
Oakwood Friends School (OFS) houses the American Language Academy, an
intensive English training program for students who do not meet English proficiency
admission requirements. OFS provides a strong academic program, athletics,
performing and visual arts, and state-of-the-art computer facilities in a safe and
friendly environment.
Oakwood Friends School (OFS) es sede de la Academia Americana de Idiomas,
un programa intensivo de capacitación de inglés para estudiantes que no llenan los
requisitos de conocimientos de inglés para ser admitidos. OFS ofrece un programa
académico bien estructurado, deportes, artes escénicas y visuales, así como
modernas instalaciones de computadoras, en un ambiente seguro y amistoso.
Oakwood Friends School (OFS) comprend l'American Language Academy, un
programme de formation intensive à l'anglais destiné aux étudiants dont la maîtrise
de la langue ne correspond pas aux conditions d'admission. OFS propose un
programme pédagogique solide, des activités sportives, des cours d'art visuel et de
spectacle, ainsi qu'un laboratoire informatique ultra-moderne dans un
environnement sûr et chaleureux.
Oakwood Friends School OFS
American Language Academy
Cynthia L. Pope, Director of Admissions
515 South Road
Poughkeepsie, New York 12601-5499
Phone: 914-462-4200 Fax: 914-462-4251