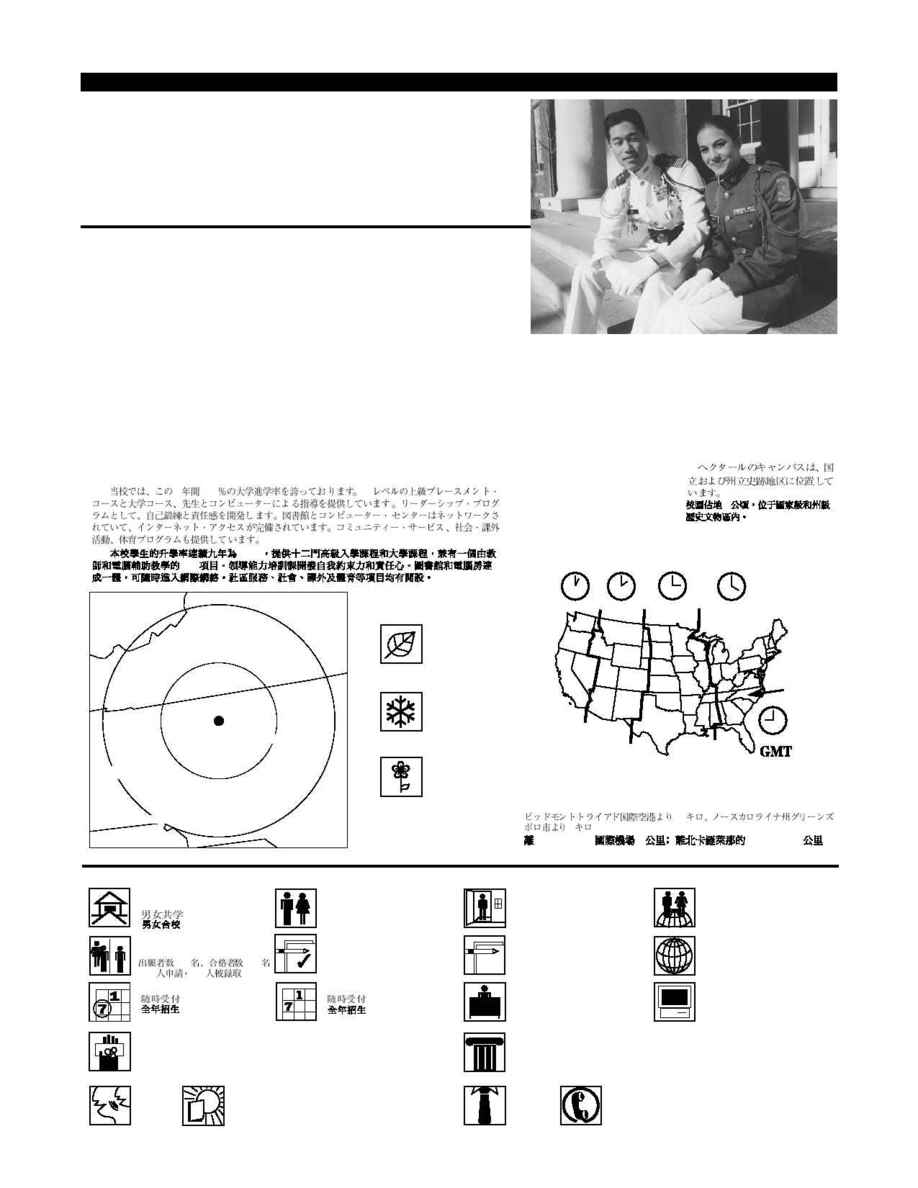 VIRGINIA
WEST
VIRGINIA
NORTH CAROLINA
SOUTH CAROLINA
80 km
160 km
Oak Ridge Military Academy
Founded 1852
The 101-acre campus is in a
National and State Historic District.
El recinto de 41 hectáreas se
encuentra en un Distrito Histórico
Nacional y Estatal.
Le campus de 41 hectares est situé
dans une région historique nationale
à l'échelle de l'état.
11 km from Piedmont Triad International Airport; 8 km from Greensboro, NC
A 11 km del Aeropuerto Internacional de Piedmont Triad; a 8 km de Greensboro, NC
À 11 km de l'aéroport international de Piedmont Triad; à 8 km de Greensboro,
Caroline du Nord
Coeducational 7­12 / Mixto /
Mixte
150, 100 / solicitaron admisión,
fueron aceptados / candidats, admis
Rolling / Continuo / Continuelles
Rolling / Continuo / Continuelles
Purdue University, University of
North Carolina, Appalachian State,
Vanderbilt University, West Point
Colombia (11), Honduras (21),
Hong Kong (13), Korea (13),
Thailand (13)
UNITED STATES
The Academy has had a 100% college acceptance rate for its students for nine years. Twelve
advanced placement courses and college courses are offered, as is an ESL program with teacher- and
computer-based instruction. A leadership program develops self-discipline and responsibility. The
library and computer labs are networked and have access to the Internet. Community service and
social, extracurricular, and athletic programs are available.
La Academia ha tenido durante nueve años un índice de aceptación en la universidad del 100%.
Se ofrecen doce cursos para colocación en programas avanzados y cursos universitarios, así como
un programa de inglés como segundo idioma (ESL) con instrucción con profesores y computadoras.
El programa de liderazgo desarrolla la autodisciplina y el sentido de la responsabilidad. La biblioteca
y los laboratorios de computación están conectados en redes y tienen acceso a Internet. Se ofrecen
programas de servicios a la comunidad, sociales, extracurriculares y de atletismo.
Depuis nuef ans, l'Academy enregistre un taux d'acceptation dans les universités de 100 % pour
ses étudiants. L'établissement propose douze cours de niveau supérieur et un programme de niveau
universitaire, ainsi que des cours d'anglais comme langue étrangère dont l'enseignement est
dispensé par des professeurs et à l'aide d'ordinateurs. Un programme de leadership permet de
développer la discipline personnelle et le sens des responsabilités. La bibliothèque et les laboratoires
informatiques sont connectés à un réseau informatisé et à Internet. Le service communautaire ainsi
que des programmes sociaux, périscolaires et sportifs sont également disponibles.
Cheryl Fleischfresser
Deputy Director of Addmissions
P.O. Box 498
Oak Ridge, North Carolina 27310
Phone: 336-643-4131 Fax: 336-643-1797