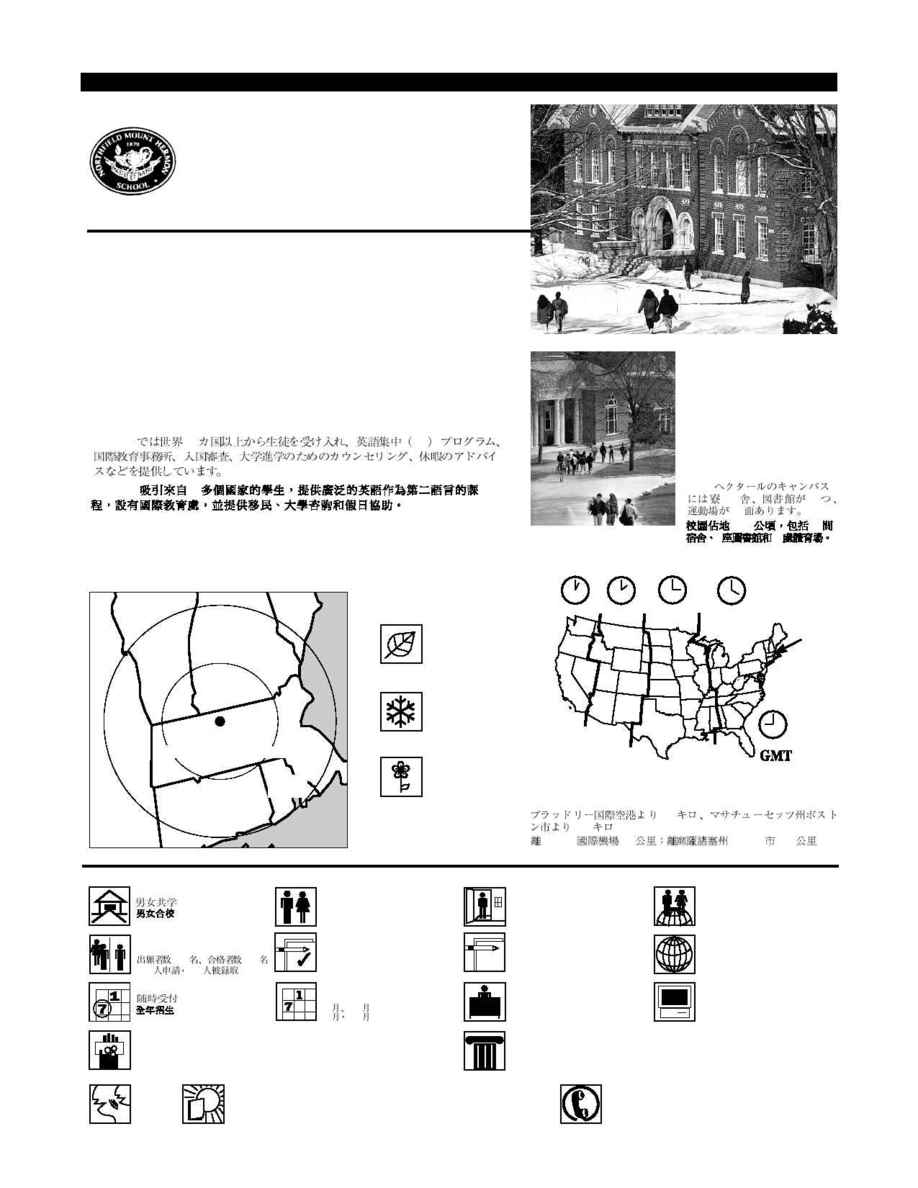 NEW
HAMPSHIRE
VERMONT
CONNECTICUT
NEW
YORK
80 km
160 km
MASSACHUSETTS
RHODE
ISLAND
Northfield Mount Hermon School
Founded 1879
The 3,500-acre campus includes
20 dormitories, 2 libraries, and 27
athletic fields.
Las 1,417 hectáreas de terreno
incluyen 20 residencias
estudiantiles, 2 bibliotecas y
27 campos de atletismo.
Le campus de 1,417 hectares
comprend 20 dortoirs, 2
bibliothèques et 27 terrains de sports.
89 km from Bradley International Airport; 120 km from Boston, MA
A 89 km del aeropuerto internacional de Bradley; a 120 km de Boston, MA
A 89 km de l'aéroport international de Bradley ; à 120 km de Boston, MA
Coeducational 9­PG / Mixto / Mixte
300, 150 / solicitaron admisión, fueron
aceptados / candidats, admis
Rolling / Continuo / Continuelles
September, December / septiembre,
diciembre / septembre, décembre
9
Cornell University, New York University,
Carnegie Mellon University,
Brown University, Tufts University,
Johns Hopkins University
Germany (13),Hong Kong (41),
Japan (26), Korea (65),
Republic of China (48)
South America (11)
UNITED STATES
NMH attracts students from over 40 countries and offers an extensive ESL
program, an office of international education, immigration and college
counseling, and vacation assistance.
NMH atrae a estudiantes más de 40 países y ofrece un amplio programa de
inglés como segundo idioma (ESL), una oficina de educación internacional,
asesoría para inmigración y universidad y asistencia con las vacaciones.
NMH attire des étudiants de plus que 40 pays différents et offre un
programme d'anglais comme langue étrangère (ESL), un bureau d'éducation
internationale, des facilités d'immigration, des conseils pour aller à l'université
et pour l'organisation des vacances.
Pamela J. Safford, Director of Admissions
The Homestead, 206 Main Street
Northfield, Massachusetts 01360-1089
Phone: 413-498-3227 Fax: 413-498-3152
E-mail: admission@nmh.northfield.ma.us
URL : http://www.nmh.northfield.ma.us