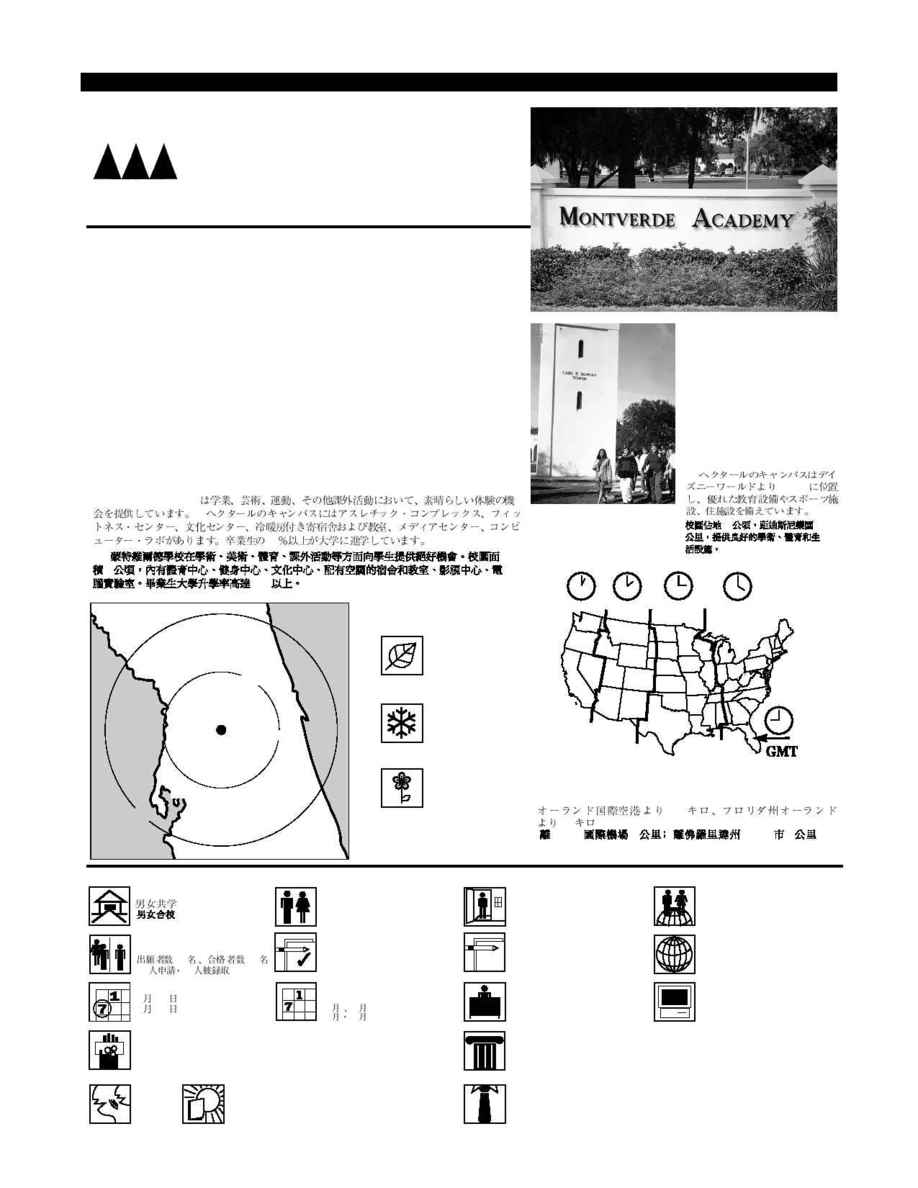 FLORIDA
Montverde Academy
Founded 1912
The 130-acre campus, 35 miles from
Disney World, provides outstanding
academic, athletic, and living facilities.
Las 53 hectáreas de terreno, a 56 km
de Disney World, cuentan con
excelentes instalaciones académicas,
de atletismo y de internado.
Le campus de 53 hectares est à une
distance de 56 km de Disney World, et
fourni d'excellentes installations
académiques, sportives et
résidentielles.
35 km from Orlando International Airport; 35 km from Orlando, FL
A 35 km del aeropuerto internacional de Orlando; a 35 km de Orlando, FL
A 35 km de l'aéroport international d'Orlando ; à 35 km de Orlando, FL
Coeducational 7­12 / Mixto / Mixte
80, 67 / solicitaron admisión, fueron
aceptados / candidats, admis
August 15 / 15 de agosto / 15 août
8
September, January / septiembre,
enero / septembre, janvier
9
Stetson University, University of Florida,
University of Central Florida, Florida State
University, Pennsylvania State University
Bahamas (13), Germany (30),
Japan (15), Korea (9),
Spain (13)
UNITED STATES
Montverde Academy offers its students excellent opportunities in academics, fine arts,
athletics, and extracurricular activities. The 130-acre campus includes an athletic
complex, a fitness center, a cultural center, air-conditioned dormitories and classrooms,
a media center, and computer labs. More than 95 percent of graduates are accepted
by colleges.
Monteverde Academy ofrece a sus estudiantes excelentes oportunidades de estudios
académicos, bellas artes, atletismo y actividades extracurriculares. El recinto de 53
hectáreas incluye un complejo de atletismo, un centro de ejercicios, un centro cultural,
residencias estudiantiles y aulas con aire acondicionado, un centro de medios y
laboratorios de computación. Más del 95 por ciento de los graduados son aceptados en
las universidades.
Montverde Academy offre aux étudiants d'excellentes opportunités sur le plan
scolaire, artistique et sportif, ainsi qu'au niveau des activités pluridisciplinaires. Le
campus de 53 hectares comprend un complexe sportif, un centre de conditionnement
physique, un centre culturel, des dortoirs et des salles de classe climatisés, une
médiathèque, et des laboratoires informatiques. Plus de 95 % des étudiants sont acceptés
dans les universités.
Maureen Kesselring, Director of Admissions
P.O. Box 560097
Montverde, Florida 34756-0097
Phone: 407-469-2561 Fax: 407-469-3711
E-mail: info@montverde.org
URL : http://www.montverde.org