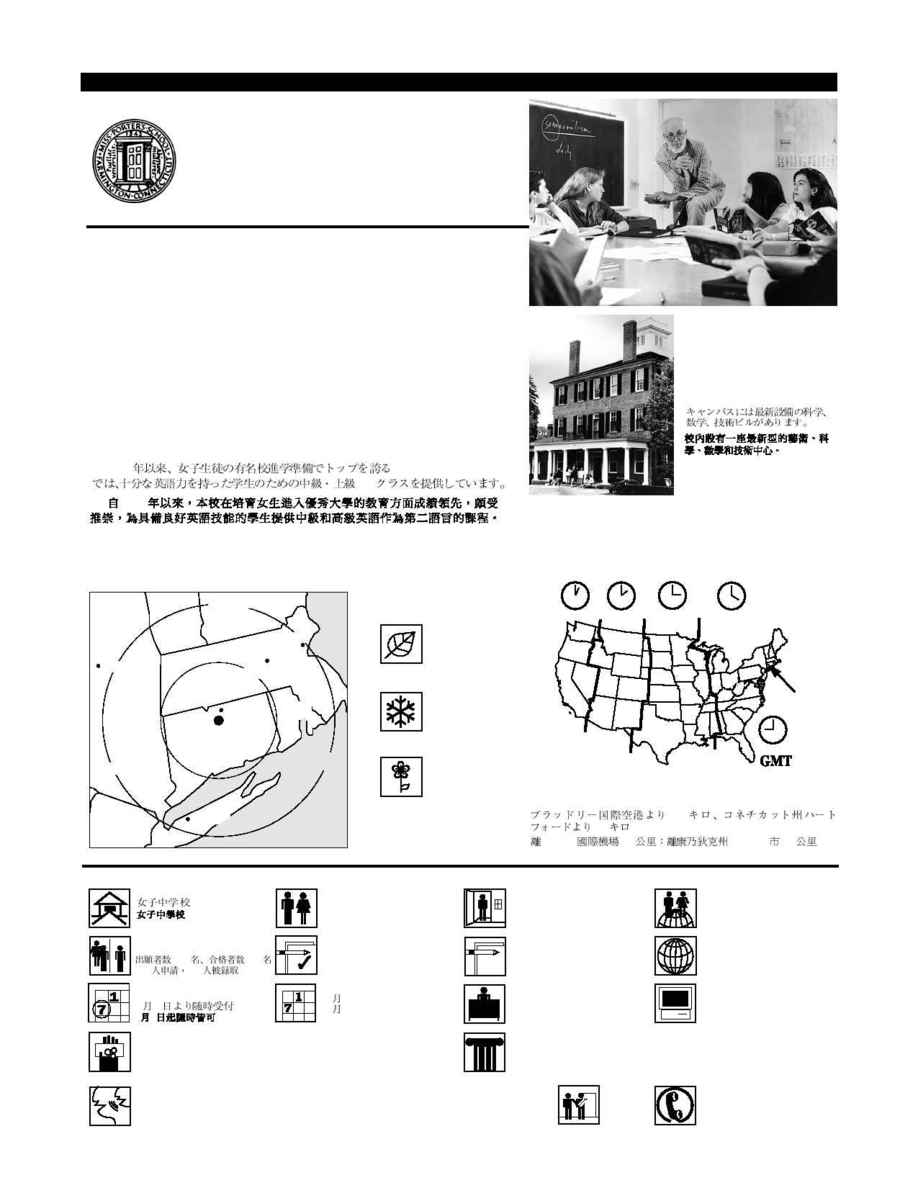 CONNECTICUT
NEW HAMPSHIRE
ATLANTIC
OCEAN
NEW JERSEY
NEW YORK
MASSACHUSETTS
VERMONT
RHODE
ISLAND
80 km
160 km
Miss Porter's School
CAIS, NAIS, TABS, FAIS, NAFSA member
Founded 1843
The campus includes a state-of-the-art
science, math, and technology building.
Los terrenos del colegio incluyen
modernos edificios de ciencias,
matemáticas y tecnología.
Le campus comprend un bâtiment
ultra-moderne pour les sciences, les
mathématiques et la technologie.
32 km from Bradley International Airport; 14 km from Hartford, CT
A 32 km del aeropuerto internacional de Bradley; a 14 km de Hartford, CT
A 32 km de l'aéroport international de Bradley ; à 14 km de Hartford, CT
Girls 9­12 / Niñas / Filles
309, 150 / solicitaron admisión, fueron
aceptadas / candidats, admis
February 1, rolling / 1 de febrero,
continuo / 1 février, continuelles
2
September / septiembre / septembre
9
9
University of Pennsylvania,
Johns Hopkins University,
Trinity College, Brown University,
Wellesley College
Argentina (75), Germany (75),
Hong Kong (75), Korea (75),
Saudi Arabia (75)
UNITED STATES
A respected leader in preparing young women for competitive colleges since
1843, Miss Porter's School offers intermediate and advanced ESL classes for
students who demonstrate sound English language skills.
Un líder respetado por preparar a las jóvenes para las mejores
universidades desde 1843, Miss Porter's School ofrece clases intermedias y
avanzadas de inglés como segundo idioma (ESL) a estudiantes que demuestren
tener buenos niveles de competencia en el idioma inglés.
Depuis 1843, Miss Porter's School est un établissement de tout premier plan
qui prépare les jeunes filles à l'entrée dans les meilleures universités. L'école
offre des cours d'anglais comme langue étrangère (ESL) de niveaux
"intermédiaire" et "avancé" destinés aux étudiantes ayant des connaissances
solides de l'anglais.
Stephanie S. Dwyer
Associate Director of Admissions
60 Main Street
Farmington, Connecticut 06032
Phone: 860-409-3530 Fax: 860-409-3531
URL : http://www.missporters.org