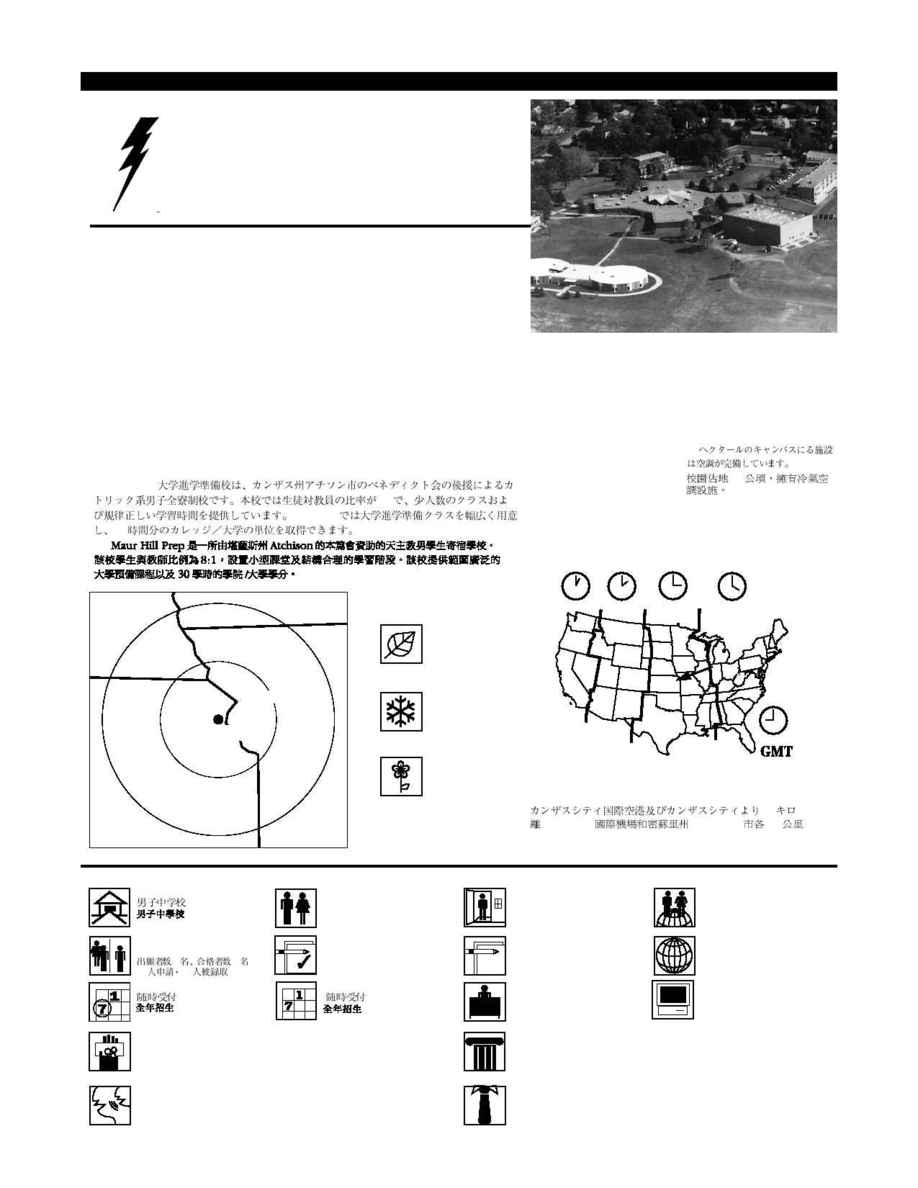 NEBRASKA
80 km
160 km
MISSOURI
KANSAS
Maur Hill Prep School
Founded 1919
Air-conditioned facilities, 150-acre
campus.
El terreno de 60 hectáreas incluye
instalaciones con aire
acondicionado.
Le campus de 60 hectares offre des
installations climatisées.
55 km from Kansas City International Airport and Kansas City, MO
A 55 km del aeropuerto internacional de Kansas City y de Kansas City, MO
A 55 km de l'aéroport international de Kansas City et de Kansas City, MO
75, 60/ solicitaron admisión, fueron
aceptados / candidats, admis
University of Kansas, Benedictine
College, Notre Dame, Rockhurst,
Pittsburg State, Kansas State
Colombia, Egypt, Indonesia,
Korea, Mexico, Pakistan,
Panama, Saudi Arabia,
Thailand
UNITED STATES
Maur Hill Prep is a Catholic boys' boarding school sponsored by the Benedictines of
Atchison, Kansas. The school provides an 8:1 student-teacher ratio, small class size, and
structured study periods. Maur Hill offers a wide range of college-preparatory classes
and 30 hours of college/university credit.
Maur Hill Prep es un internado católico para varones patrocinado por los
benedictinos de Atchison, Kansas. El colegio tiene una proporción de
estudiantes/maestros de 8:1, clases con pocos alumnos y períodos de estudio
estructurados. Maur Hill ofrece una amplia variedad de clases de preparación para la
universidad y 30 horas de créditos para la universidad.
La Maur Hill Prep School est un internat catholique pour garçons parrainé par les
bénédictins de Atchinson au Kansas. L'école offre un coefficient étudiant/professeur de
8:1, des classes restreintes et des périodes d'étude structurées. Maur Hill propose toute
une gamme de cours préparant à l'entrée à l'université et 30 heures d'unités de valeur
universitaires.
Mike McGuire, Director of Admission
1000 Green Street
Atchison, Kansas 66002-3078
Phone: 913-367-5482 Fax: 913-367-5096
E-mail: maurhill@maurhill.com
URL: http://www.maurhill.com
Rolling / Continuo / Continuelles
Rolling / Continuo / Continuelles
Boys 9­12 / Muchachos / Garçons