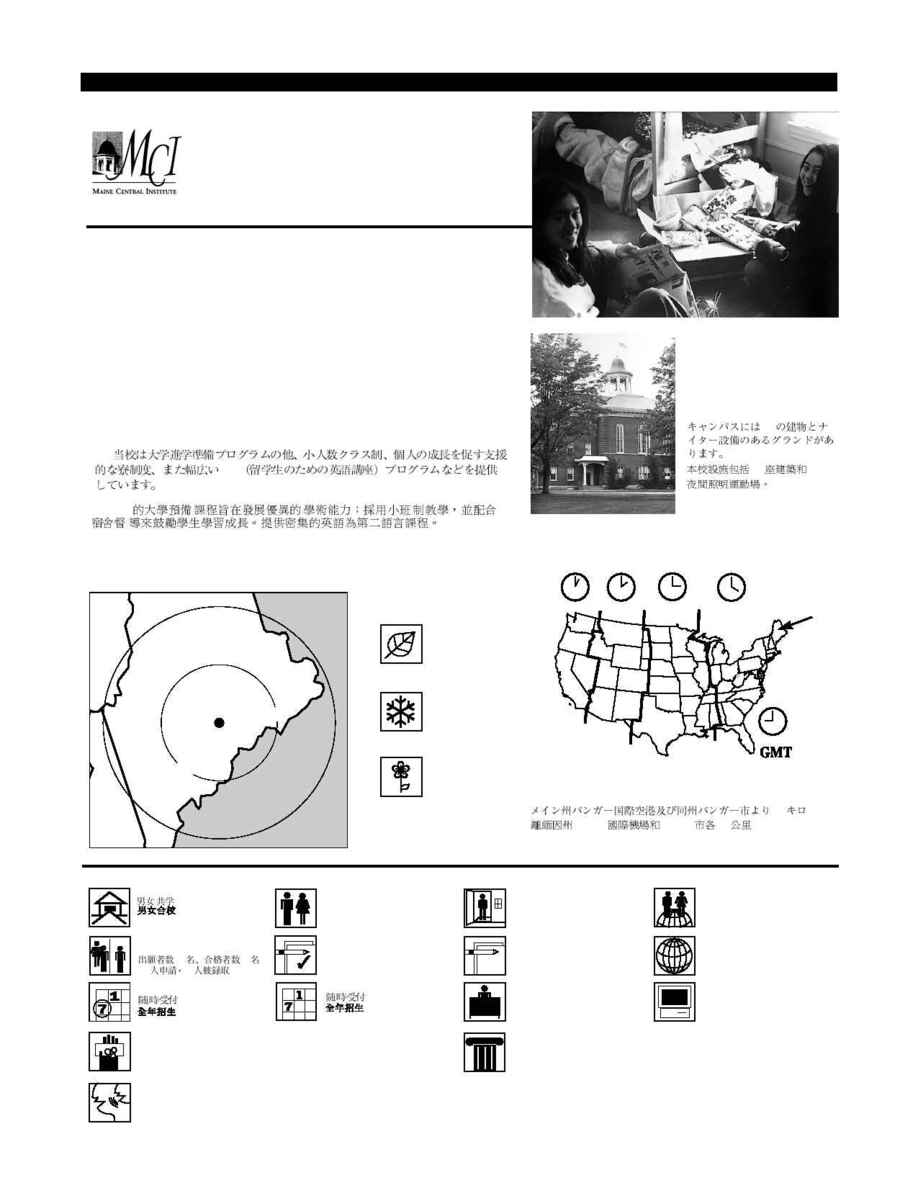 MAINE
Atlantic
Ocean
Maine Central Institute
Founded 1866
The campus has 14 buildings and
lighted athletic fields.
El recinto tiene 14 edificios y
campos de atletismo iluminados.
Le campus comprend 14 bâtiments
et un terrain de sport illuminé.
40 km from Bangor International Airport and Bangor, ME
A 40 km del aeropuerto internacional de Bangor y de Bangor, ME
A 40 km de l'aéroport international de Bangor et de Bangor, ME
Coeducational 9­PG / Mixto / Mixte
18, 12 / solicitaron admisión, fueron
aceptados / candidats, admis
Rolling / Continuo / Continuelles
University of Maine, Boston College,
Fairleigh Dickinson University, Harvard University,
Cornell University, Georgetown University,
Rochester Institute of Technology
Bahamas, Bermuda, Canada, China,
Germany, Japan, Korea, Mexico,
Puerto Rico, Russia, Saudi Arabia,
Spain, Taiwan, Yugoslavia
UNITED STATES
MCI offers a college-preparatory curriculum, small classes, supportive
residence hall supervision to foster individual growth and achievement, and
an extensive ESL program.
MCI ofrece un plan de estudios de preparación universitaria, clases con
pocos alumnos, supervisión y apoyo en las residencias para fomentar el
desarrollo y los logros individuales, y un amplio programa de enseñanza del
inglés como segundo idioma (ESL).
MCI offre un programme de préparation aux universités. La petite taille des
classes alliée au soutien apporté aux élèves par le personnel d'encadrement
des résidences leur permet de s'épanouir et d'obtenir de bons résultats. Un
programme très complet d'anglais comme langue étrangère (ESL) est offert.
Director of Admission
125 South Main Street
Pittsfield, Maine 04967
Phone: 207-487-2282 Fax: 207-487-3512
E-mail: clintw@mci-school.org
URL: http://www.mci-school.org
Rolling / Continuo / Continuelles