Suzuki Mini Festival & GAC Flyer Page 1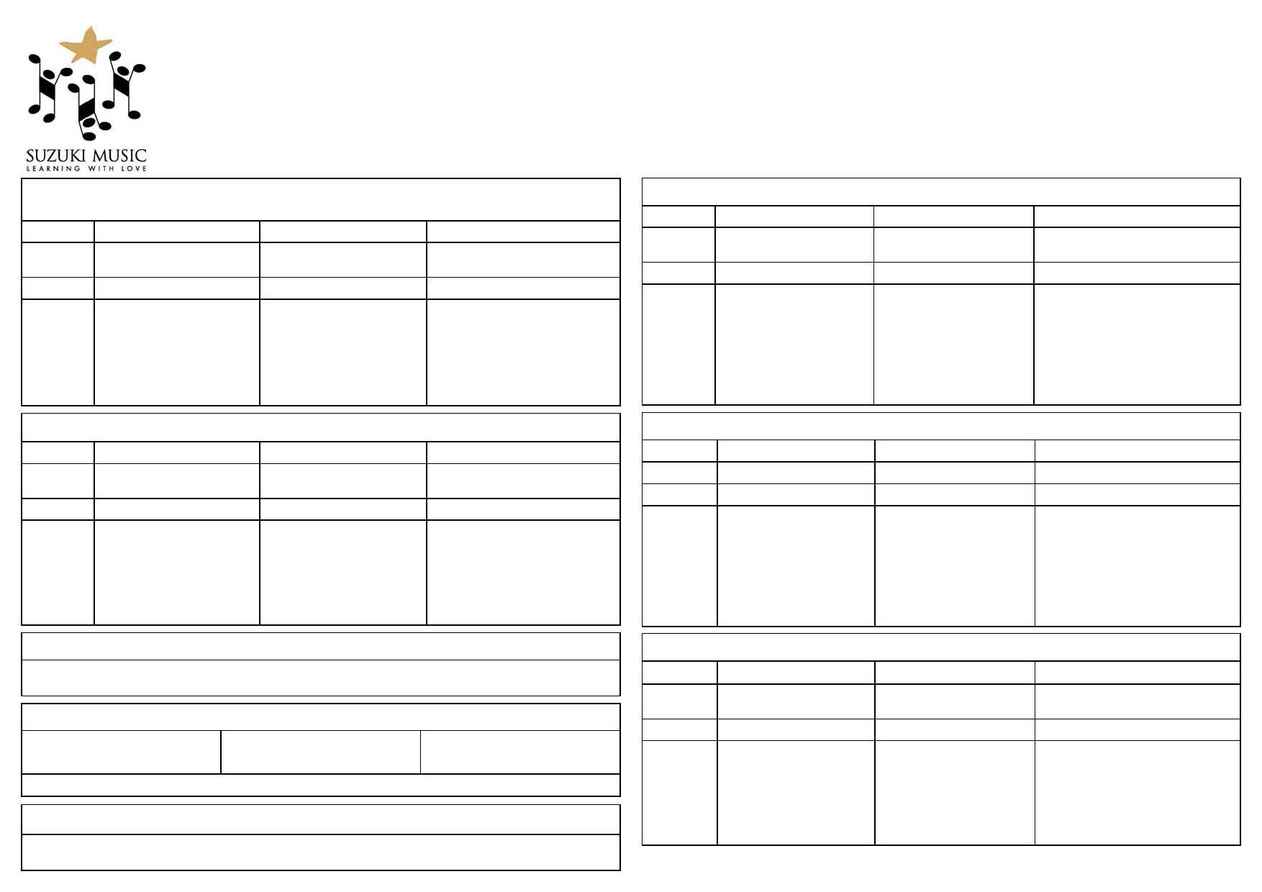 MINI FESTIVAL 2008
Scotch College, Morrison Street, Hawthorn
Closing Date Wednesday 25 June
Workshop fun for Violin, Viola, Cello, Flute & Guitar students from Pre-Twinkle to Advanced
Incorporating Grand Annual Concert 2008 Rehearsals (see reverse for more details)
VIOLIN
with Guest Tutors Yasuki Nakamura (NSW), Sachie Yuki (QLD), and Alison McAlpine (NSW)
Eligibility Pre-Twinklers
Repertoire Class PLUS
Play-In PLUS
2 sessions of Ensemble PLUS
FLUTE
with Guest Tutors Janne Frost (Flute - NSW) and Christoph Maubach (Improvisation)
Repertoire PLUS
Improvisation PLUS
Improvisation PLUS
CELLO
with Guest Tutor Takao Mizushima (NSW)
Eligibility Pre-Twinklers
2 Tutorials PLUS
Solo Concert PLUS
Ensemble
Solo Concert PLUS
VIOLA
Eligibility Pre-Twinklers
Repertoire Class PLUS
Play-In PLUS
PLUS Grand Annual Concert
GUITAR
with Guest Advanced Program Tutor Ken Murray
Eligibility Pre-Twinklers
Repertoire Class PLUS
2 sessions of Ensemble PLUS
VIOLIN, VIOLA, FLUTE and CELLO PRIVATE LESSONS
A limited number of Violin, Flute and Cello Private lessons will be available with Guest Tutors. See application form for
available times. Cost $62 per 30 minute lesson.
MINI FESTIVAL COST
Late fee of $15 per family will apply to all applications received after the closing date of Wednesday 25 June 2008.
AFTERNOON TEA
A snack of cake and juice or water will be available at Scotch College during the Afternoon Tea break at a cost of
$4 per person. Afternoon Tea must be preordered on your application form.
PO Box 439 Kew East Vic 3102 Phone 03 9859 0433 Fax 03 9859 0477 info@suzukimusic.org.au
Suzuki Talent Education Association of Australia (Vic.) Inc. A5744 ABN 14080413955