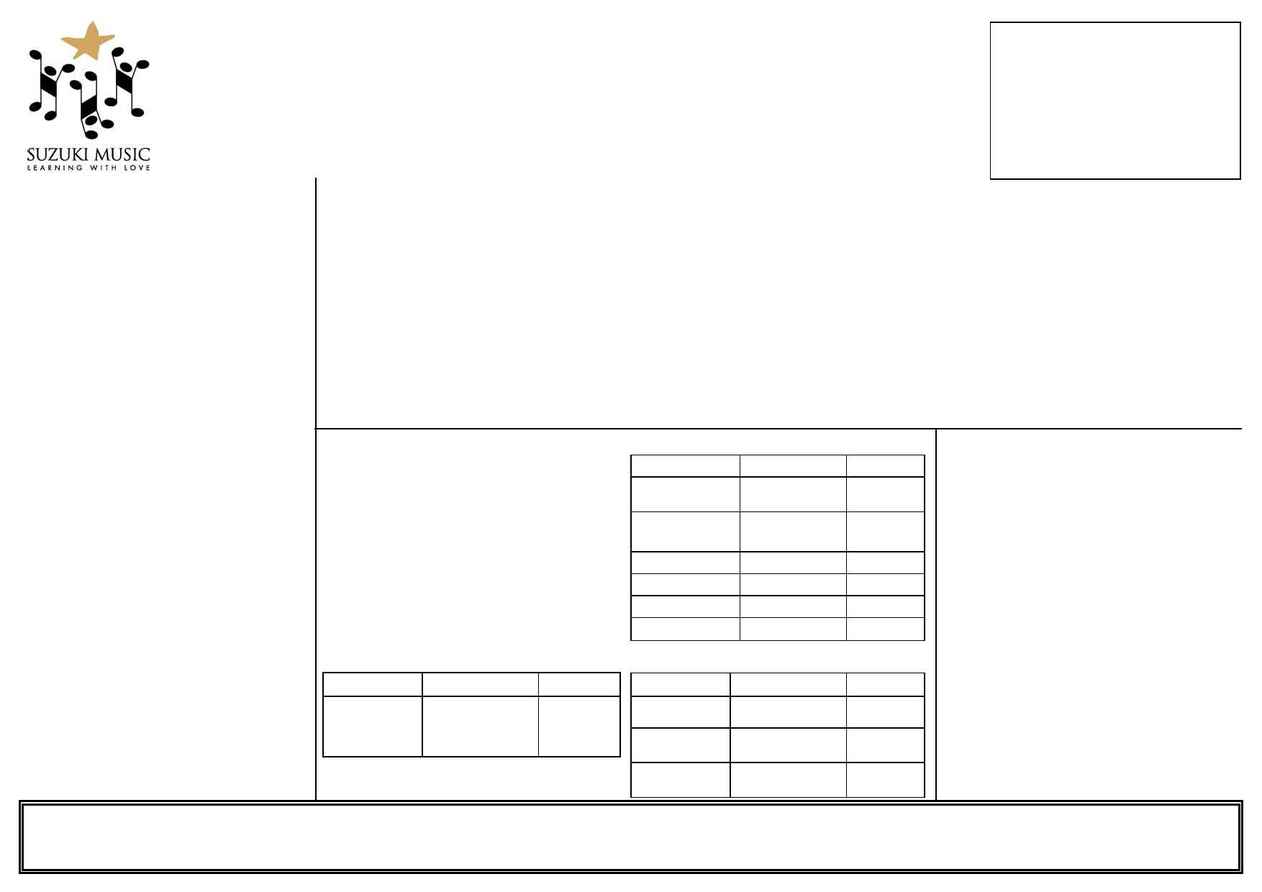 Rehearsals - Sunday 24 August
Rehearsals - Sunday 31 August
GRAND ANNUAL CONCERT 2008
340 Camberwell Road, Camberwell
All Suzuki Violin, Viola, Cello, Flute, Guitar, Suzuki
Orchestra and Voice students are invited to
perform. Come and join in the festivities and
enjoy the thrill of performing on stage in a large
group. You are welcome to play on more than
one instrument too!
Previously known as Graduation Concert
WHAT WILL I PLAY?
Cello
Twinkle Variation A - Suzuki Bk 1
French Folk Song - Folk Song Bk 1
Moon Over the Ruined Castle Bk 2/3
Sonata in E min, 2nd Mvt - Marcello Bk 4
Tarantella Op 23 - Squire Bk 6
Flute
Mary Had a Little Lamb - Folk Song Bk 1
On Wings of Song - Mendelssohn Bk 2
Concerto, 3rd Mvt - Cimarosa Bk 5
11:15 Rehearsals (as per schedule)
12:30 Teacher
Teacher briefing - all teachers
Concert dress is navy skirt or trousers, white shirt,
white socks/dark stockings and dark shoes. If you
don't yet have navy `bottoms' ask your teacher
if they know of someone in the studio who may
have some you can borrow. Navy skirts and
White logo polo shirts can be purchased from
Suzuki Music. Phone 9859 0433 for more details.
NO JEANS, RUNNERS, OR T-SHIRTS PLEASE!
The Grand Annual Concert is an extremely special day for the entire Suzuki Community.
It is an opportunity for us to come together to celebrate the achievements of all Suzuki students and teachers.
We look forward to seeing you at this momentous occasion.
Camberwell Centre 11:00 - 11:30
Camberwell Centre 11:30 - 12:00
Camberwell Centre 12:00 - 12:30
(Twinkle - Witches' Dance)
25 June Closing date - Mini Festival
6 Aug
Closing date - Grand Annual Concert
24 Aug Mini Festival and Grand Annual Concert
31 Aug Grand Annual Concert
HOW MUCH DOES IT COST TO PLAY?
Nothing for registered performers! All registered
performers will be given a ticket for their own use
to attend Grand Annual Concert.
Parents, Siblings, Grandparents and Friends can
purchase tickets to watch you play.
TICKET PRICES
Child (to age 17)/Pensioner* $17
All Grand Annual Concert tickets are
*Pensioner cards must be presented on request
WHEN AND WHERE WILL I REHEARSE?
Rehearsals for every instrument will take place as
part of the Mini Festival program on Sunday 26
August. If you would like to perform in Grand
Annual Concert, you must attend the rehearsal
on 24 August even if you are not enrolling in Mini
Festival.
Please check the full rehearsal schedule listed
below, including venue and time for your
instrument(s). Please ensure that you arrive prior
to your scheduled rehearsal time.
HOW DO I REGISTER TO PERFORM?
All students who are enrolling for Mini Festival will
be automatically registered to perform in Grand
Annual Concert once their Mini Festival
application is received and processed. If you are
attending Mini Festival, but are not able to play
in the Grand Annual Concert, please ensure that
you tick the appropriate box stating this on the
Registration form.
If you are not registering for Mini Festival, please
register to perform in the Grand Annual Concert
using the registration form in the 2008 Autumn
edition of Suzuki Notes.
Guitar
Twinkle Variation B - Suzuki Bk 1
May Song - Folk Song Bk 1
French Folk Song - Folk Song Bk 1
Lesson for Two Lutes - Anon. Bk 4
Viola
Twinkle Variation A - Suzuki Bk 1
Bohemian Folk Song - Folk Song Bk 1
Sonata in G maj, 2nd Mvt - Marcello Bk 5
Voice
Peikko Pikkusiipi - Soili
The Greeting - Mendelssohn Bk 3
Violin
Twinkle Variation A - Suzuki Bk 1
Go Tell Aunt Rhody - Folk Song Bk 1
Chorus `Judas Maccabaeus' - Handel Bk 2
Theme `Witches' Dance' - Paganini Bk 2
Concerto for 2 Violins - Bach Bk 4/5
`Haffner' Rondo - Mozart Post Bk
Rehearsals - Saturday 23 August