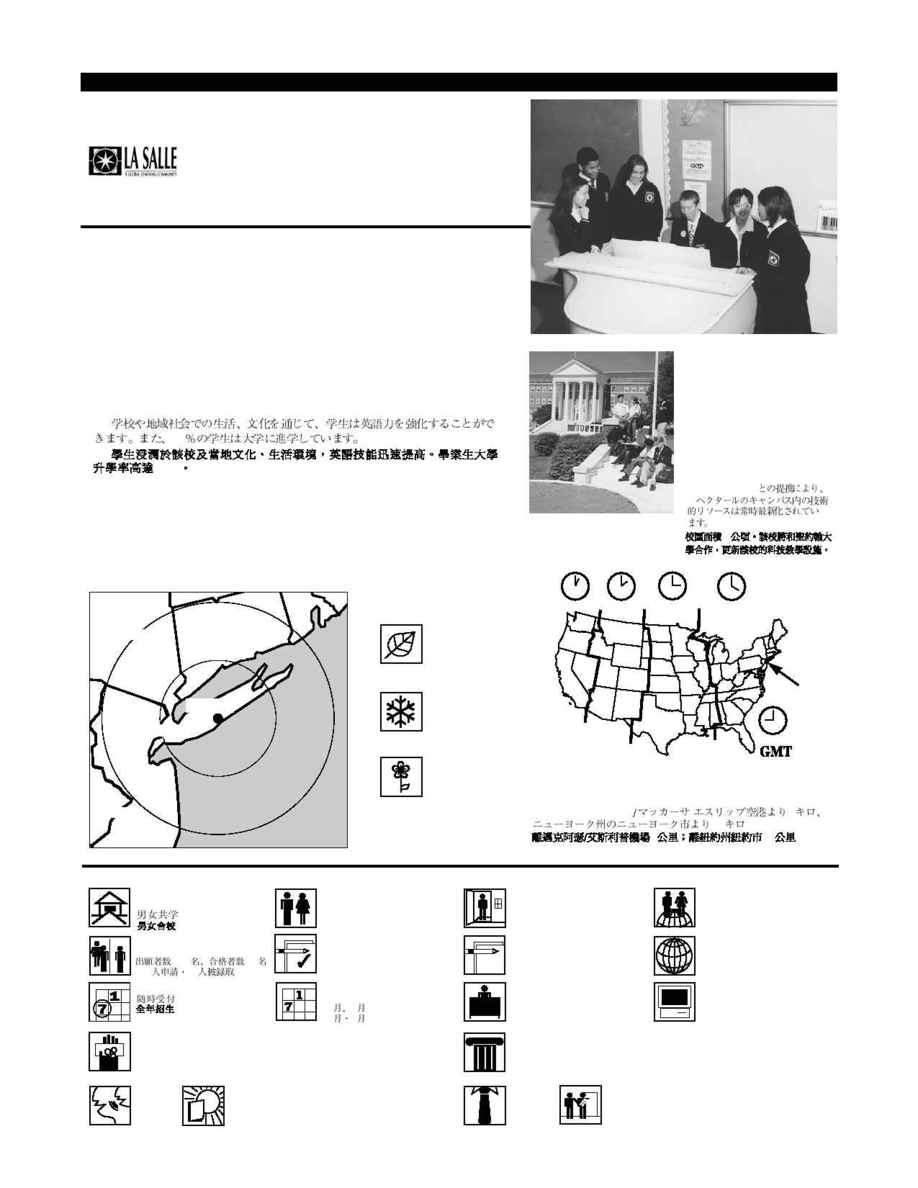 80 km
160 km
NEW
YORK
CONNECTICUT
NEW
JERSEY
Atlantic
Ocean
La Salle Center
Founded 1883
A partnership with St. John's University
will update technological resources on the
175-acre campus.
Una asociación con la Universidad de St.
John's actualizará los recursos
tecnológicos en el recinto de 71 hectáreas
de terreno.
Un partenariat avec St. John's University va
permettre d'actualiser les ressources
technologiques du campus de 71 hectares.
St. John's University
71
8 km from MacArthur/Islip Airport; 80 km from New York City, NY / A 8
kilómetros del aeropuerto MacArthur/Islip; a 80 kilómetros de la ciudad de
Nueva York, NY / A 8 kilomètres de l'aèroport MacArthur/Islip; à 80 Km de
la ville de New York, NY.
Coeducational K­12 / Mixto /
Mixte
100, 60 / solicitaron admisión, fueron
aceptados / candidats, admis
Rolling / Continuo / Continuelles
September, January / septiembre,
enero / septembre, janvier
9
Syracuse University, New York University,
St. John's University, Massachusetts Institute
of Technology, Hofstra University
China (36), Japan (25),
Korea (17), Mexico (61),
Taiwan (36), Venezuela (46)
UNITED STATES
Students develop strong skills in English while being immersed in the culture and
life of the school and the area. Ninety-eight percent of the student body enrolls in
universities.
Los estudiantes adquieren conocimientos avanzados de inglés mientras se
familiarizan con la cultural y la vida de la escuela y el área. El noventa y ocho por
ciento de los estudiantes se matriculan en la universidad.
Les étudiants développent une solide maîtrise de l'anglais tout en profitant d'une
excellente exposition à la culture et à la vie de l'école et de la région. Quatre-vingt-
dix-huit pour cent des étudiants s'inscrivent dans les universités.
Mrs. Kathy Goehle, Admissions Coordinator
500 Montauk Highway
Oakdale, New York 11769-1796
Phone: 631-589-0900 ext. 205
Fax: 631-563-7277