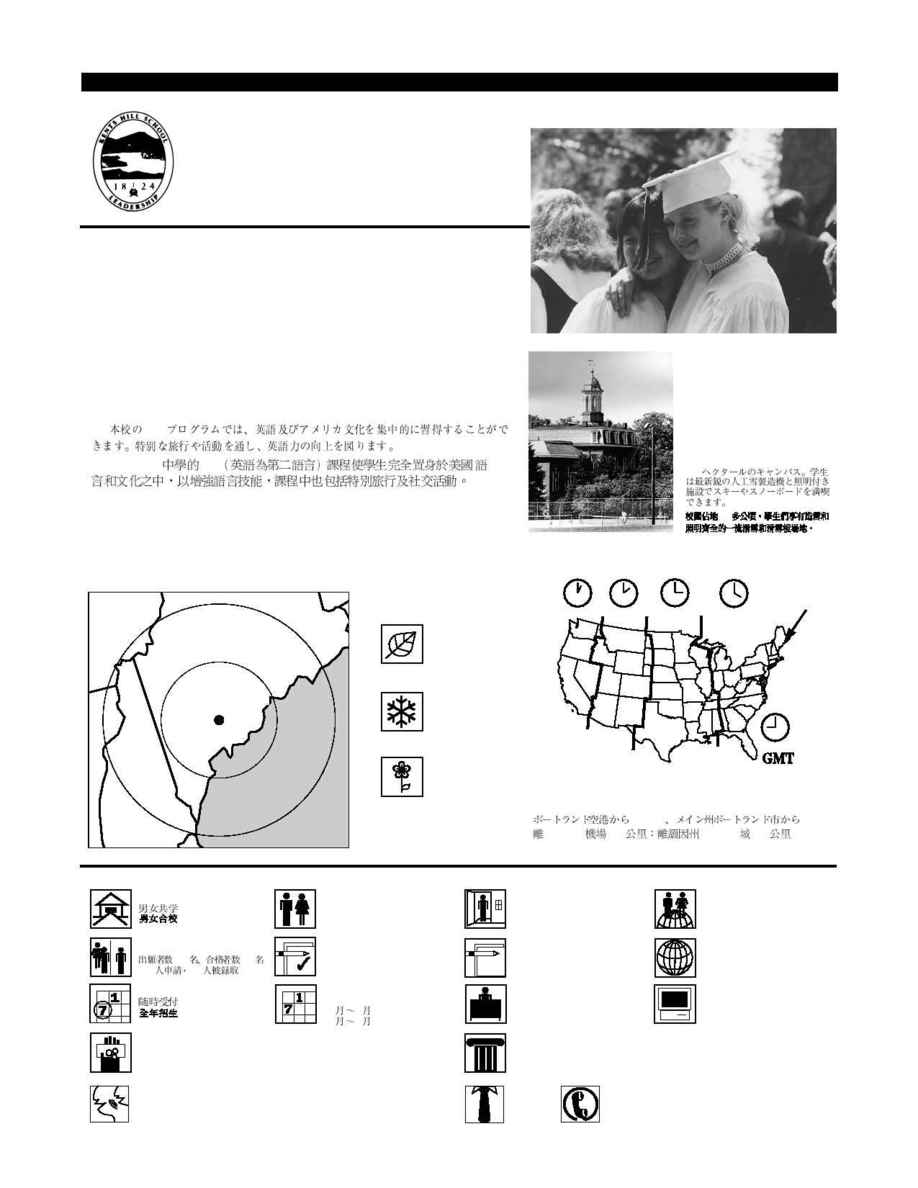 Matthew R. Crane, '90, Director of Admissions
Kents Hill, Maine 04349-0257
Phone: 207-685-4914 Fax: 207-685-9529
E-mail: khsadmit@kents-hill.pvt.k12.me.us
URL: http://www.kents-hill.pvt.k12.me.us
MAINE
NEW
HAMPSHIRE
QUEBEC
80 km
160 km
Atlantic
Ocean
Kents Hill School
Founded 1824
The Kents Hill ESL program provides an immersion in the language and culture of
the U.S., including special trips and functions to build strong English skills.
El programa de enseñanza del inglés como segundo idioma (ESL) de Kents
Hill permite a los estudiantes empaparse en el idioma y la cultura de los Estados
Unidos, incluyendo excursiones y funciones, para desarrollar al máximo sus
habilidades en el idioma inglés.
Le programme d'anglais comme langue étrangère (ESL) de Kents Hill permet
un apprentissage intensif de la langue, de la culture et de l'histoire américaine.
Cette éducation comprend des excursions et des fonctions particulières qui aide
au perfectionnement de l'anglais.
600-acre campus; students enjoy a state-
of-the-art skiing and snowboarding facility
with snowmaking and lights.
243 hectáreas de terreno; los estudiantes
disfrutan de modernas instalaciones para
esquiar y practicar snowboarding, con
elaboración de nieve artificial y luces.
Campus de 243 hectares ; les étudiants
bénéficient d'une installation ultra-
moderne pour pratiquer le ski et le surf
des neiges (neige artificielle et éclairage).
243
110 km from Portland Airport; 110 km from Portland, ME
A 110 km del aeropuerto de Portland; a 110 km de Portland, ME
A 110 km de l'aéroport de Portland ; à 110 km de Portland, ME
200, 190 / solicitaron admisión, fueron
aceptados / candidats, admis
Bermuda (20), Germany (20),
Japan (10), Korea (10),
Saudi Arabia (20)
September­May / septiembre­mayo /
septembre­mai
9
California State University, Endicott
College, Babson College, Pepperdine
University, University of Southern
California, University of San Francisco
UNITED STATES
Coeducational 9­PG / Mixto / Mixte
Rolling / Continuo / Continuelles