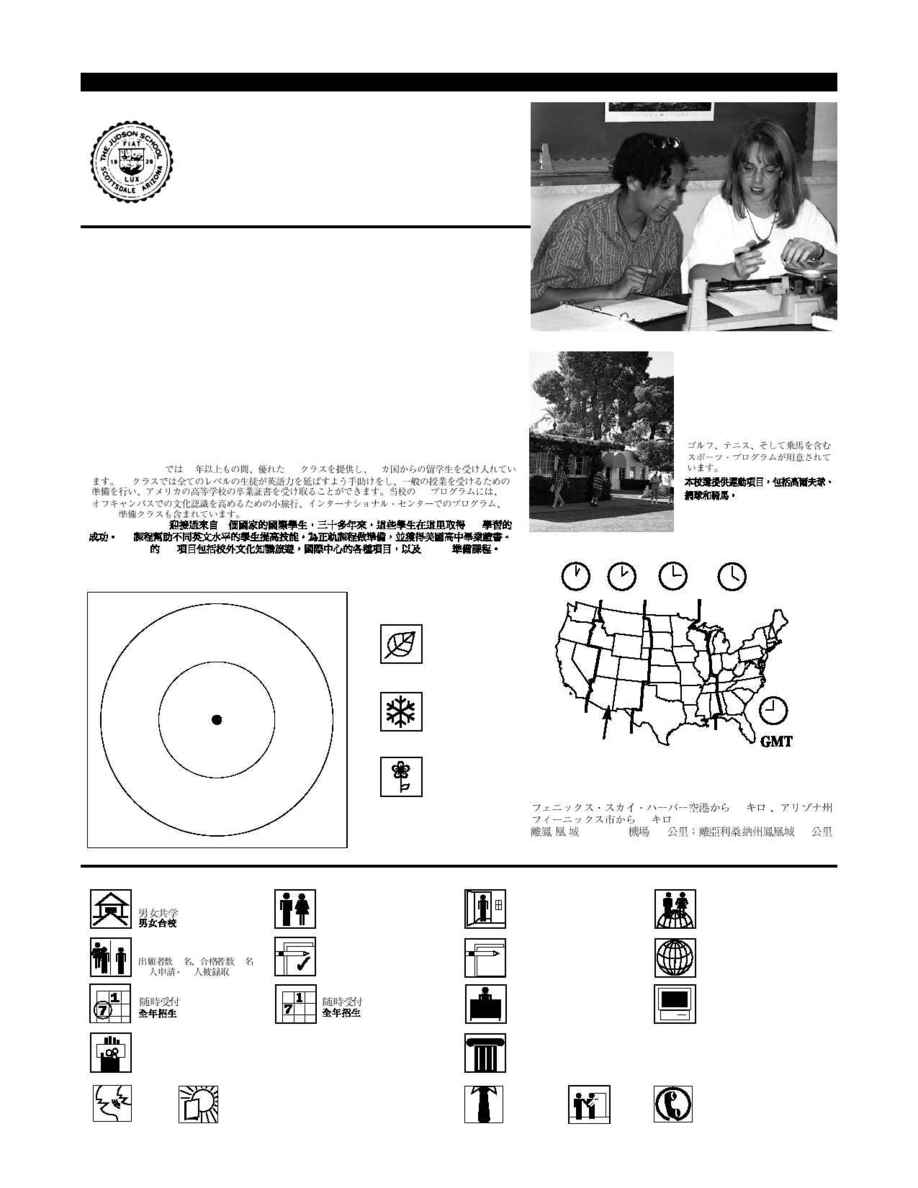 Lynn Casebere, Director of Admission
6704 N. Mockingbird Lane
Paradise Valley, Arizona 85253
Phone: 480-948-7731 Fax: 480-483-6425
E-mail: admission@judsonschool.com
ARIZONA
80 km
160 km
Judson School
NAIS, TABS, FAIS, NAFSA member
Founded 1928
Judson School embraces the presence of international students from 25 countries, who have found
success studying ESL for over thirty years! ESL classes help students at all levels of English improve skills,
prepare for regular classes, and receive an American high school diploma. Judson's ESL Program
includes off-campus cultural awareness trips, programs in the International Center, and TOEFL
preparation classes.
Judson School acoge la presencia de estudiantes extranjeros provenientes de 25 países, los cuales
han logrado el éxito con su programa de inglés como segundo idioma por más de 30 años. Las clases
de inglés ayudan a los estudiantes de todos los niveles de inglés a ampliar sus conocimientos, prepararse
para los cursos regulares y recibir un diploma de secundaria de los Estados Unidos. El programa de
inglés como segundo idioma de Judson incluye excursiones culturales fuera de la universidad,
programas en el Centro Internacional, y clases de preparación para las pruebas TOEFL.
Depuis plus de 30 ans, des étudiants étrangers de 25 pays différents viennent à la Judson School pour y
étudier avec succès l'anglais comme langue étrangère. Les cours d'anglais comme langue étrangère
permettent aux élèves, quel que soit leur niveau d'anglais, d'améliorer leurs compétences, de se préparer aux
cours réguliers et de recevoir un diplôme d'études secondaires américain. Le programme d'anglais comme
langue étrangère proposé à Judson comprend des voyages d'éveil, des cours au Centre International et une
préparation au TOEFL.
A sports program including, golf, tennis, and
horseback riding are offered.
Se ofrece un programa deportivo que
incluye golf, tenis y equitación.
Des activités sportives sont offertes,
parmi lesquelles le golf, le tennis et
l'équitation.
20 km from Phoenix Sky Harbor Airport; 20 km from Phoenix, AZ
A 20 km del aeropuerto Sky Harbor de Phoenix; a 20 km de Phoenix, AZ
A 20 km de l'aéroport Sky Harbor de Phoenix ; à 20 km de Phoenix, AZ
75, 52 / solicitaron admisión, fueron
aceptados / candidats, admis
Brazil (25),Germany (35),
Japan (35), Korea (30),
Thailand (20)
Rolling / Continuo / Continuelles
Purdue University, Drake
University, University of Arizona,
University of California, Syracuse
University
UNITED STATES
Coeducational 5­PG / Mixto /
Mixte
Rolling / Continuo / Continuelles