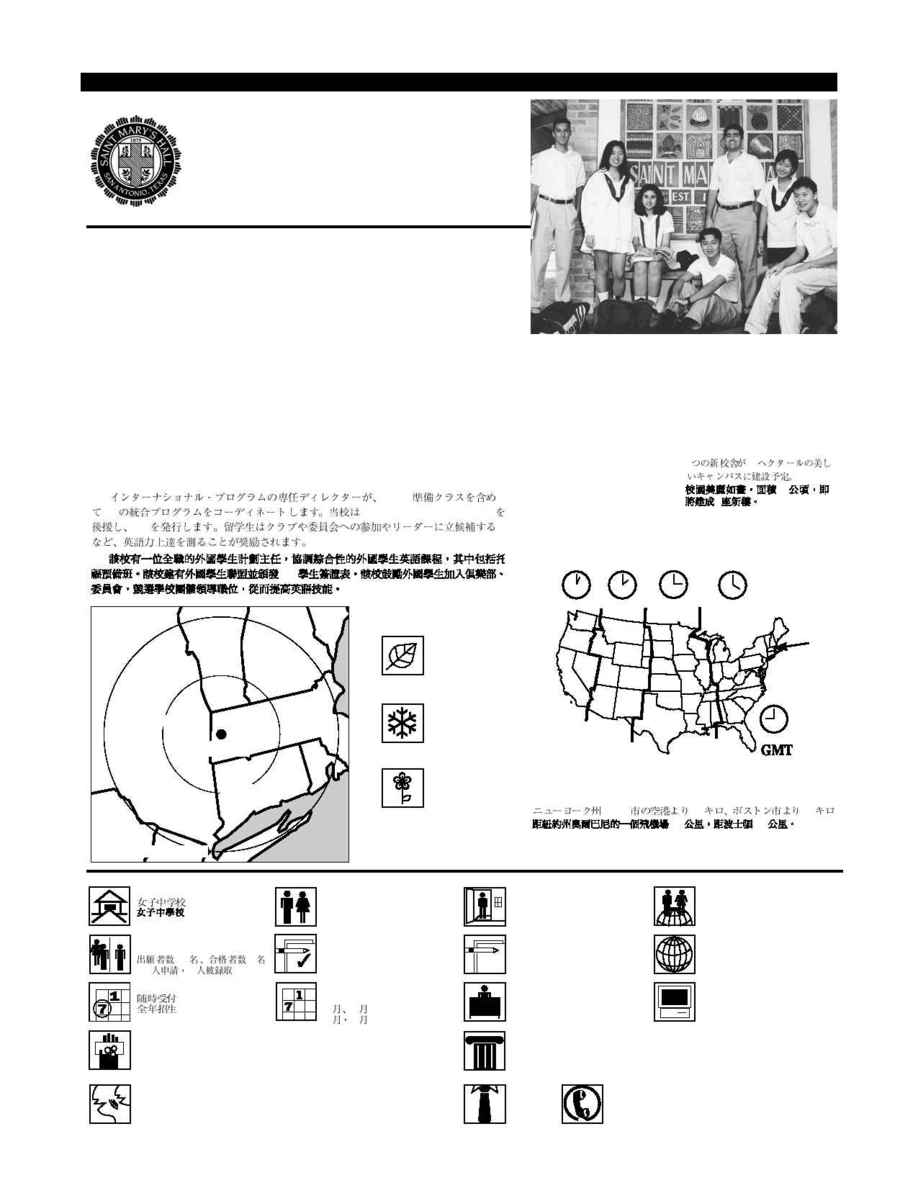 NEW
YORK
MASSACHUSETTS
80 km
160 km
CONNECTICUT
Atlantic
Ocean
Miss Hall's School
Founded 1898
Three new buildings will complement
this lovely 80-acre campus.
Tres nuevos edificios complementarán
este hermoso recinto de 32 hectáreas
de terreno.
Trois nouveaux bâtiments
complémenteront bientôt cet agréable
campus de 32 hectares.
102 km from an airport in Albany, NY; 210 km from Boston
A 102 km de un aeropuerto de Albany, NY; a 210 km de Boston
À 102 km d'un aéroport d'Albany, NY; à 210 km de Boston
Girls 9­12 / Niñas / Filles
139, 89 / solicitaron admisión,
fueron aceptadas / candidats, admis
Rolling / Continuo / Continuelles
September, January / septiembre,
enero / septembre, janvier
9
Mount Holyoke College, Columbia University,
Yale University, Wheaton College,
Middlebury College
The Caribbean, Ecuador, Japan,
Korea, Mexico
UNITED STATES
Full-time Director of International Program coordinates an integrated ESL program,
which includes a TOEFL preparation class. The school sponsors an International
Student Alliance and issues I-20s. International students are encouraged to
strengthen their English skills by joining clubs and committees and running for
leadership positions.
El Director de tiempo completo del Programa Internacional, coordina un
programa integrado de inglés como segundo idioma (ESL) que incluye una clase de
preparación para el examen de inglés como idioma extranjero (TOEFL). El colegio
patrocina una Alianza Internacional de Estudiantes y emite visas I-20. Se estimula a
las estudiantes extranjeras a fortalecer sus conocimientos de inglés incorporándose a
clubes y comités y postulándose para posiciones de liderazgo.
Le directeur du programme international coordonne à temps complet un
programme d'anglais comme langue étrangère (ESL) intégré qui comporte des cours
de préparation au TOEFL. L'établissement parraine une Alliance internationale
d'étudiants et émet des formulaires I-20. Les étudiants étrangers sont encouragés à
renforcer leur maîtrise de l'anglais en devenant membres de clubs et de comités, et
en se présentant à des postes de leader.
International Student Alliance
Elaine Cooper, Director of Admissions
492 Holmes Road, P.O. Box 1166
Pittsfield, Massachusetts 01201
Phone: 413-499-1300 Fax: 413-448-2994