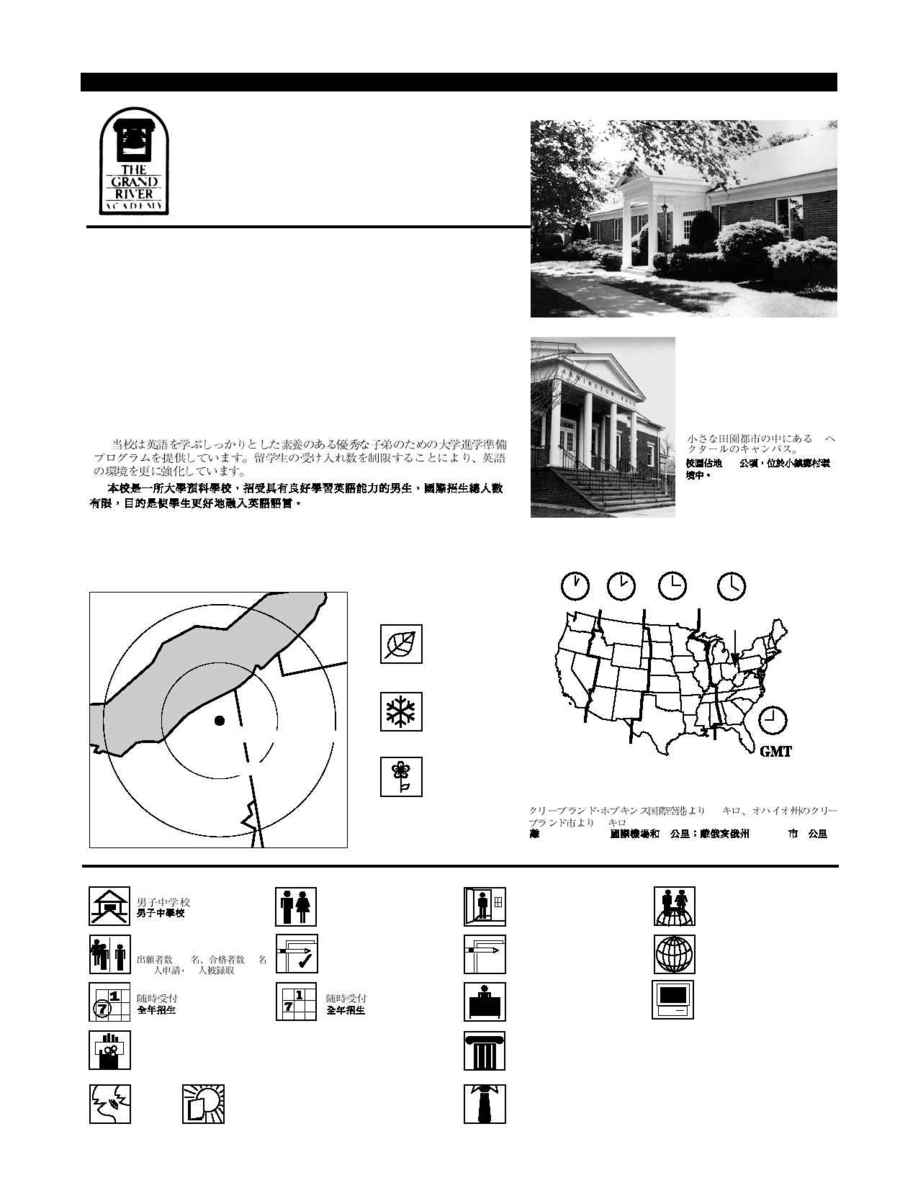 Lake Erie
OHIO
PENNSYLVANIA
NEW
YORK
80 km
160 km
The Grand River Academy
Founded 1831
The 150-acre campus is in a rural
small-town setting.
El recinto de 61 hectáreas está
situado en un ambiente de ciudad
rural pequeña.
Le campus de 61 hectares est situé
au sein d'une petite ville rustique.
95 km from Cleveland Hopkins International Airport; 85 km from Cleveland, OH
A 95 km del aeropuerto internacional Hopkins de Cleveland; a 85 km de Cleveland, OH
A 95 km de l'aéroport international Hopkins de Cleveland ; à 85 km de Cleveland, OH
Boys 9­PG / Muchachos / Garçons
100, 80 / solicitaron admisión, fueron
aceptados / candidats, admis
Rolling / Continuo / Continuelles
$18,200­$21,200 (ESL tutor);
$2000­$3000
Rolling / Continuo / Continuelles
SLEP (25­50), TOEFL (300­400)
Miami University (Ohio), Muskingham
College (Ohio), Ohio State University,
University of Toledo (Ohio),
Boston University
Japan, Russia, South Korea,
Spain, Taiwan
UNITED STATES
The Academy is a college-preparatory school that seeks intelligent young men
who have an excellent capacity to learn English. Total international enrollment is
limited so that students can better immerse themselves in the English language.
Grand River Academy es un colegio de preparación universitaria que busca
a jóvenes inteligentes que tienen una excelente facilidad para aprender el
inglés. La matrícula para estudiantes extranjeros es limitada para que los
estudiantes puedan aprender con más rapidez el idioma inglés.
L'Académie est une école de préparation universitaire qui sélectionne les
jeunes gens intelligents qui ont une facilité pour l'apprentissage de l'anglais. Le
nombre d'élèves étrangers est délibérément limité pour permettre aux
étudiants une meilleure immersion dans la langue anglaise.
Keith Corlew, Director of Admission
3042 College Street
Austinburg, Ohio 44010
Phone: 440-275-2811 Fax: 440-275-1825
E-mail: academy@interlaced.net