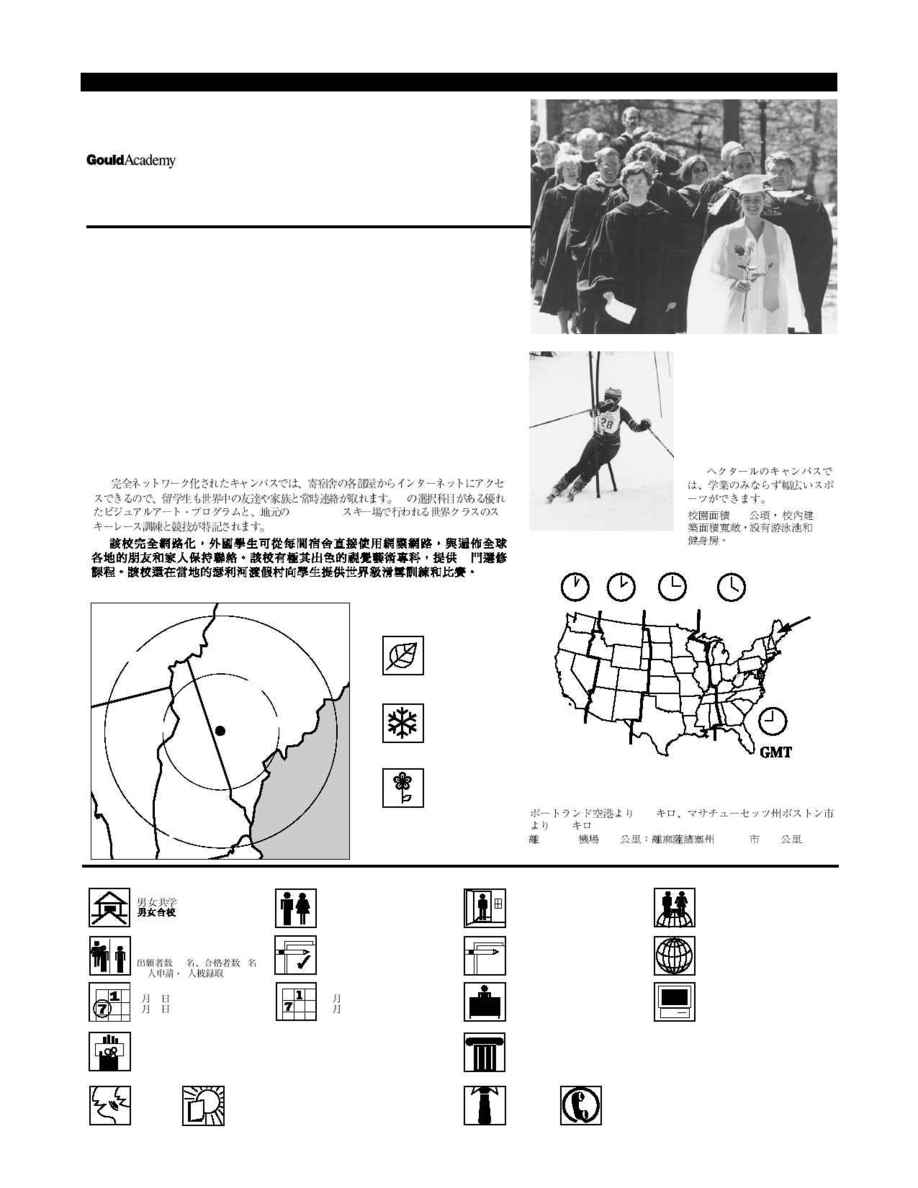 MAINE
VERMONT
NEW
HAMPSHIRE
QUEBEC
80 km
160 km
Gould Academy
NAIS, TABS, FAIS, NAFSA member
Founded 1836
The 456-acre campus offers
opportunities in academics and
athletics.
El recinto de 214 hectáreas ofrece
oportunidades en campos
académicos y de atletismo.
Le campus de 214 hectares offre
des possibilités académiques et
d'athlétisme.
113 km from Portland Airport; 290 km from Boston, MA
A 113 km del aeropuerto de Portland; a 290 km de Boston, MA
A 113 km de l'aéroport de Portland ; à 290 km de Boston, MA
Coeducational 9­PG / Mixto / Mixte
11, 8 / solicitaron admisión, fueron
acceptados / candidats, admis
February 18 / 18 de febrero / 18 février
2
September / septiembre / septembre
9
9
Canada (22), France (22),
Germany (22), Japan (22),
Korea (8)
Bates College, Colby College,
University of Vermont, University of
Maine, Colby Sawyer
UNITED STATES
With a fully networked campus offering Internet access from every dormitory room,
international students stay connected to friends and family around the world. Exceptional
offerings include an excellent visual arts program that offers thirteen electives and world-class
ski race training and competition at the local Sunday River Ski Resort.
Con un recinto escolar totalmente conectado en redes con acceso a Internet en todas las
habitaciones de las residencias estudiantiles, los estudiante extranjeros se mantienen
conectados con amigos y familiares en todo el mundo. Entre los elementos excepcionales que
se ofrecen se cuentan un excelente programa de artes visuales que incluye trece cursos
optativos y entrenamiento de renombre internacional en carreras y competiciones de esquí en
la estación de esquí local de Sunday River.
Grâce au réseau interne du campus et aux accès à Internet dans tous les dortoirs, les
étudiants étrangers peuvent continuer à communiquer avec leurs familles et amis dans le
monde entier. L'Academy propose un excellent programme d'arts visuels composé de treize
cours au choix des étudiants, ainsi qu'une formation et des compétitions internationales de ski
dans la station de sports d'hiver voisine de Sunday River.
Nancy Stowell White, Director of Admissions
P.O. Box 860
Bethel, Maine 04217
Phone: 207-824-7777 Fax: 207-824-2926
E-mail: contact@gouldacademy.org