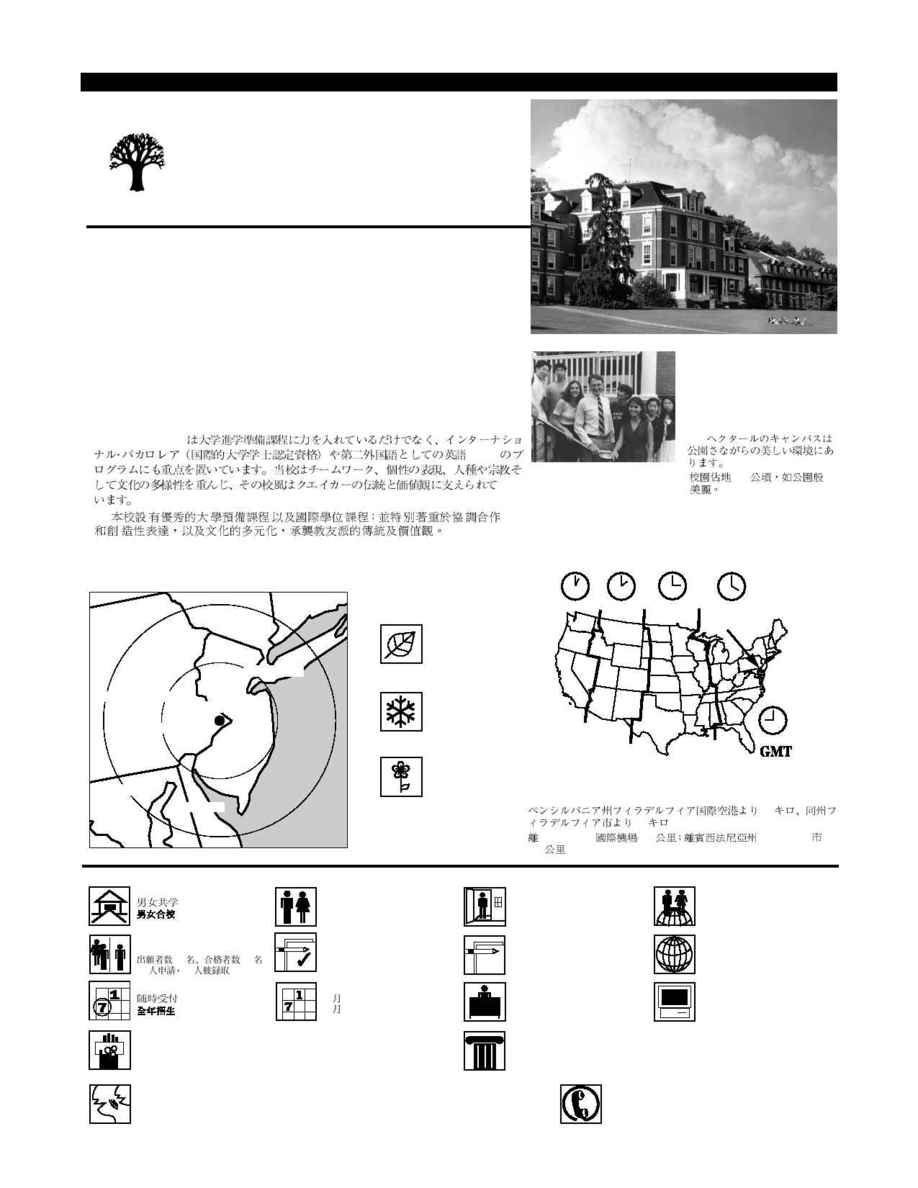 PENNSYLVANIA
NEW
JERSEY
Atlantic
Ocean
80 km
DELAWARE
160 km
NEW
YORK
MARYLAND
George School
Founded 1893
The campus is set on 265 park-like
acres.
El colegio se encuentra en 107
hectáreas de terrenos estilo parque.
Le campus se trouve sur un parc de
107 hectares.
48 km from Philadelphia International Airport; 40 km from Philadelphia, PA
A 48 km del aeropuerto internacional de Filadelfia; a 40 km de Filadelfia, PA
A 48 km de l'aéroport international de Philadelphie ; à 40 km de Philadelphie, PA
Coeducational 9­12 / Mixto / Mixte
60, 29 / solicitaron admisión, fueron
aceptados / candidats, admis
Rolling / Continuo / Continuelles
September / septiembre / septembre
9
9
University of Pennsylvania,
Haverford College, Wesleyan
University, Boston University,
Oberlin College, Guilford College
France (46), Germany (56),
Japan (71), Korea (11),
Latin America (91),
Southeast Asia (71),
UNITED STATES
George School offers a strong college-preparatory curriculum as well as the International
Baccalaureate and ESL. It emphasizes team work, creative expression, diversity of race,
religion and culture and is governed by its Quaker heritage and values.
George School ofrece un plan de estudios intensivo para la preparación universitaria
además del bachillerato internacional y enseñanza del inglés como segundo idioma
(ESL). Pone énfasis en el trabajo en equipos, la creatividad y la diversidad de razas,
religiones y culturas, se rige por el patrimonio y los valores cuáqueros.
La George School offre un programme intensif pour la préparation universitaire
aussi bien que le baccalauréat international et un programme d'anglais comme
langue étrangère (ESL). L'école accentue le travail de groupe, la diversité culturelle,
religieuse et raciale, le tout gouverné par la tradition et les valeurs des Quakers.
Karen Hallowell, Director of Admissions
Route 413, P.O. Box 4460
Newtown, Pennsylvania 18940
Phone: 215-579-6547 Fax: 215-579-6549