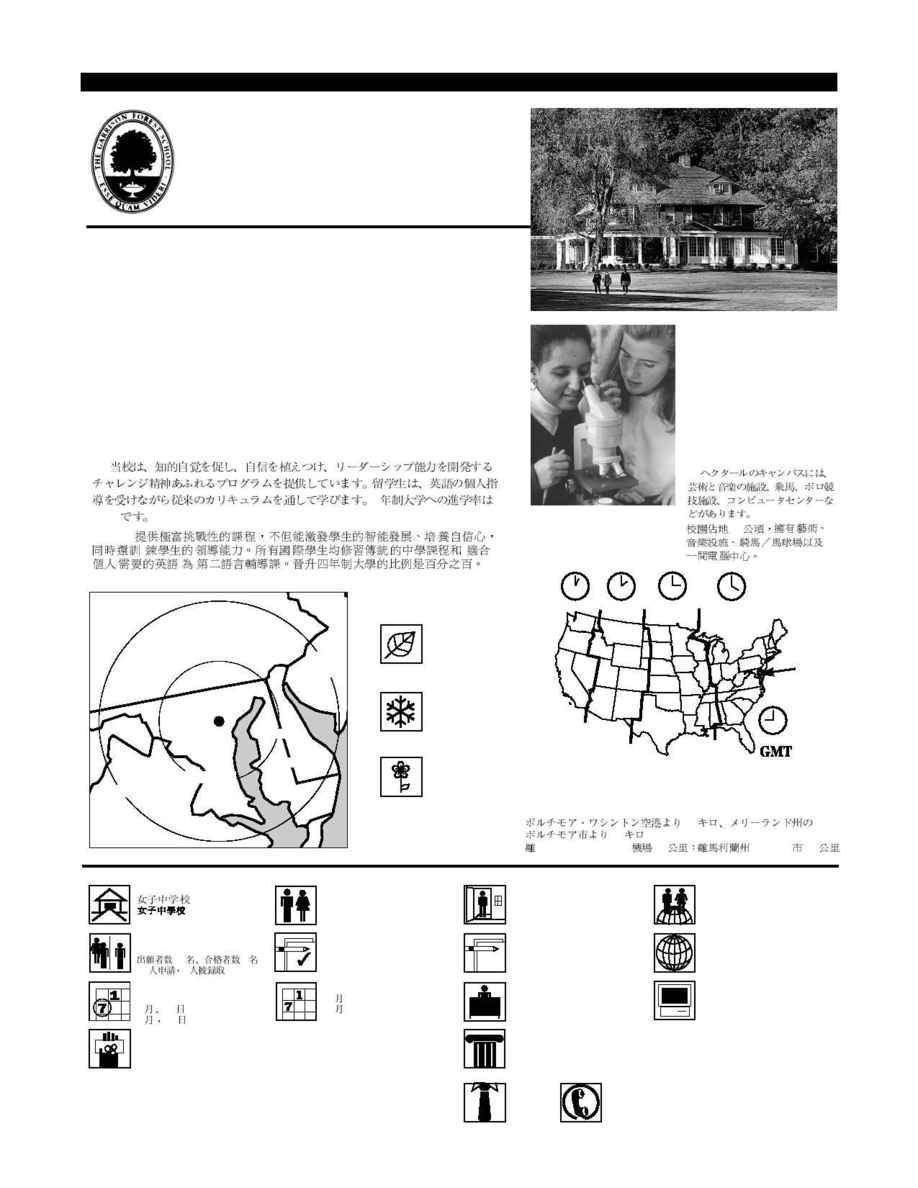 VIRGINIA
PENNSYLVANIA
80 km
160 km
DELAWARE
NEW
JERSEY
Garrison Forest School
Founded 1910
The 100-acre campus has art and
music facilities, riding/polo, and a
computer center.
Las 40 hectáreas de terreno tienen
instalaciones de arte y música,
equitación y polo, y un centro de
computación.
Le campus de 40 hectares a des
d'art et de musique, des installations
d'équitation et de polo, ainsi qu'un
centre d'informatique.
29 km from Baltimore-Washington Airport; 20 km from Baltimore, MD
A 29 km del aeropuerto Baltimore-Washington; a 20 kilómetros de
Baltimore, MD / A 29 km de l'aéroport de Baltimore-Washington ; à 20 km
de Baltimore, MD
10, 7 / solicitaron admisión, fueron
aceptadas / candidates, admises
January 15 / 15 de enero /
15 janvier
1
September / septiembre / septembre
9
9
Middlebury, Columbia,
Cornell, Duke, Georgetown,
Johns Hopkins
Germany (15), Hong Kong (9),
Japan (8), Korea (8), Mexico (11),
Saudi Arabia (16), Spain (17),
Thailand (11), Venezuela (16)
UNITED STATES
GFS offers a challenging college-preparatory program that develops intellectual
awareness, confidence, and leadership skills. International students follow the
traditional curriculum with individualized ESL tutorials. 100% attend 4-year colleges.
GFS ofrece un estimulante programa de preparación para la universidad que
desarrolla la curiosidad intelectual, la confianza y las cualidades de liderazgo.
Las estudiantes extranjeras siguen el plan de estudios tradicional con clases
particulares de inglés como segundo idioma (ELS) individualizadas. El 100% de
las estudiantes pasan a estudiar en universidades con programas de 4 años.
GFS offre un programme rigoureux de préparation aux universités qui
stimule l'éveil intellectuel, donne de l'assurance et développe la capacité de
leadership. Les élèves étrangères suivent les cours normaux avec, en plus, un
programme individuel d'étude de l'anglais. 100% des élèves entrent à l'université.
A. Randol Benedict, Director of Admissions
300 Garrison Forest Road
Owings Mills, Maryland 21117
Phone: 410-363-1500 Fax: 410-363-8441
URL: http://www.gfs.org
Girls 9­12 / Niñas / Filles