Suzuki MBRteach 2007 Page 1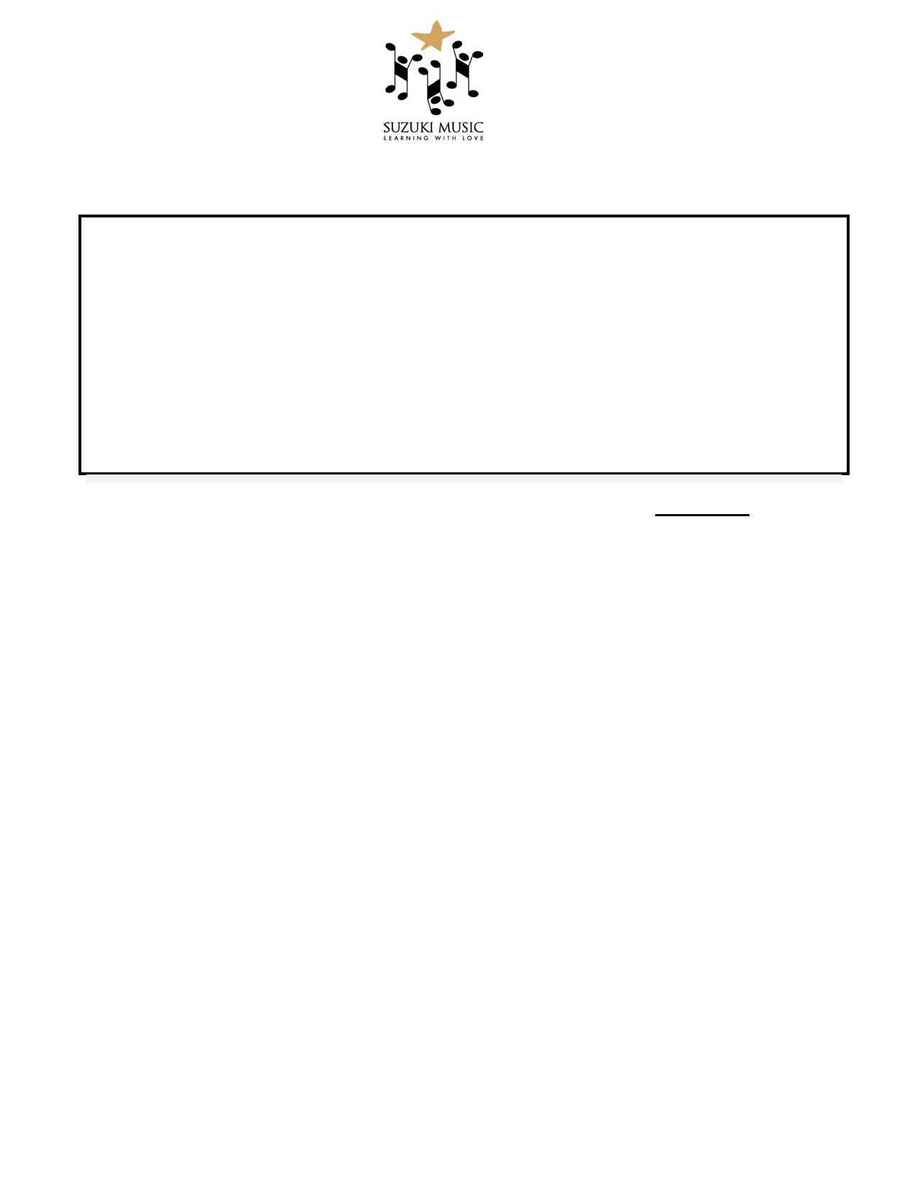 APPLICATION FOR TEACHER/TRAINEE MEMBERSHIP 2007
The Membership year is from 1 January - 31 December. Teachers who first join during the year pay pro-rata
fees.
Teacher and Teacher Trainee members receive the bi-monthly Suzuki Notes with details of all Suzuki Music
activities plus regular Teachers' Information Sheets.
Teachers are Teacher Trainee Members until they attain Primary Accreditation, when they become full
Teacher members. Teacher members are required to complete a minimum of 6 hours of approved
professional development annually to maintain their listing on the Directory of Accredited Teachers and the
right to enter students for Graduation.
Teacher and Teacher Trainee membership includes a compulsory ISA membership of $10 which entitles the
teacher to teach using the Suzuki name.
A late fee of $25 will be charged to teachers who renew after 31 March.
Full time students are entitled to a discount for Trainee membership on presentation of their student card.
N
ew member (see below)
$
Renewing member (Membership No:..................)
1 Year
$140
3 Years
$400
Dr /Mr /Mrs /Ms /Miss (Please circle)
Family Name______________________________________________ Given Name ________________________________
Address ________________________________________________________________________________________________
City ________________________________________________________ Postcode_________________________________
Telephone Home _____________________________________ Business ________________________________________
Fax __________________________ Mobile _____________________________ Email ______________________________
Instrument _____________________________________________________________________________________________
Qualifications __________________________________________________________________________________________
Teaching Experience ___________________________________________________________________________________
________________________________________________________________________________________________________
Payment : Please note that all prices are inclusive of GST
(Please tick) Cheque/Money Order (payable to Suzuki Music) Cash Credit Card
If paying by credit card* please fill in the details below: ( Visa Mastercard )
* Credit Card Payments incur an additional 2% Surcharge
Name on card (Block letters): ____________________________________ Signature: ____________________________
_ _ _ _ /_ _ _ _ / _ _ _ _ / _ _ _ _
PO Box 439 Kew East VIC 3102
Ph: (03) 9859 0433 Fax (03) 9859 0477 info@suzukimusic.org.au www.suzukimusic.org.au
Suzuki Talent Education Association of Australia (Vic) Inc. Reg. No. A5744 ABN 14 080 413 955