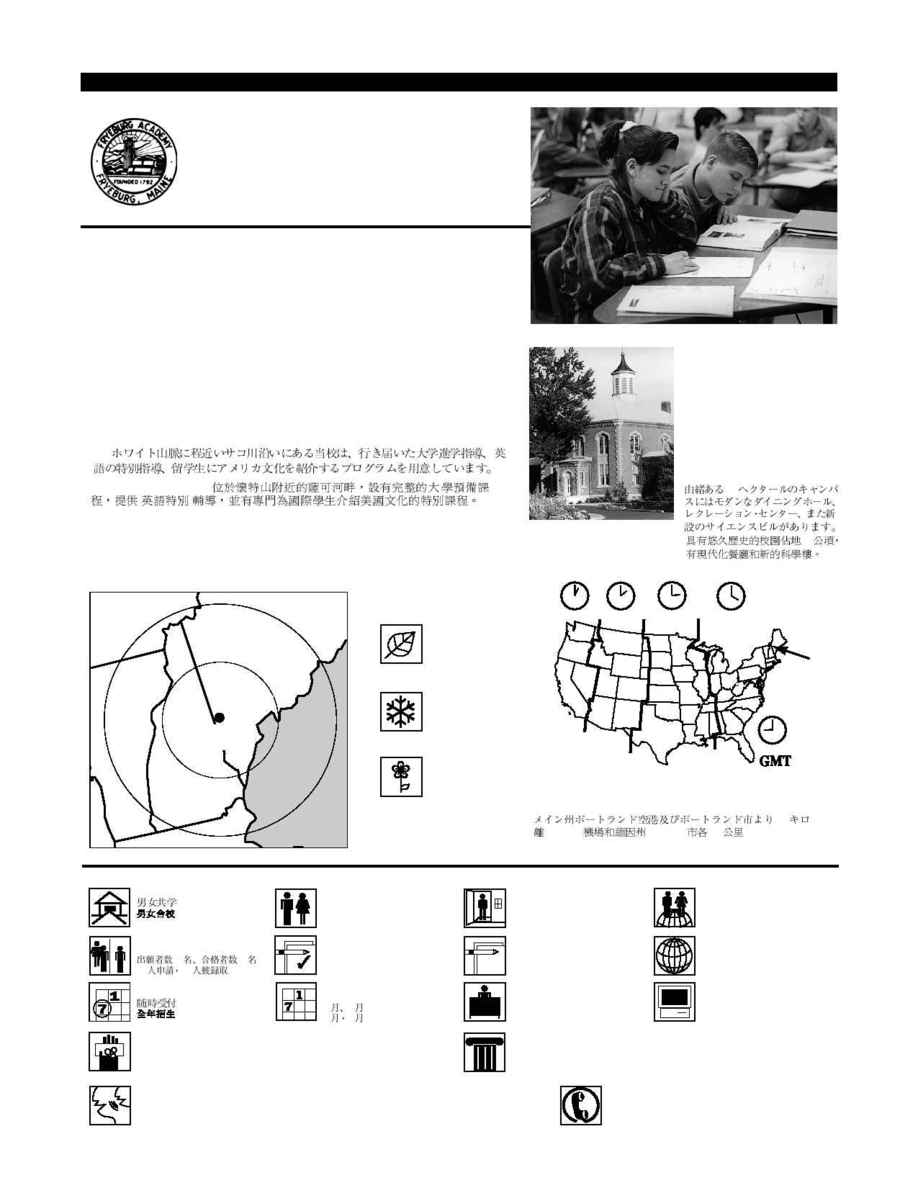 MAINE
VERMONT
NEW
HAMPSHIRE
QUEBEC
80 km
160 km
Fryeburg Academy
Founded 1792
The historic 25-acre campus has a
modern dining hall, a recreation
center, and new science building.
El histórico recinto de 10 hectáreas
tiene un salón comedor moderno, un
centro recreativo, y un nuevo edificio
de ciencias.
Le campus historique de 10 hectares
a un réfectoire moderne, un centre
de loisirs, et un nouveau immeuble
pour les sciences.
72 km from Portland Airport and Portland, ME
A 72 km del aeropuerto de Portland y de Portland, ME
A 72 km de l'aéroport de Portland et de Portland, ME
Coeducational 9­PG / Mixto / Mixte
35, 30 / solicitaron admisión, fueron
aceptados / candidats, admis
September, January / septiembre,
enero / septembre, janvier
9
University of Maine, University of New Hampshire,
University of Massachusetts, RPI, Roger Williams
University, Colby College, Babson College, Middlebury
College, Worcester Polytechnic Institute
Brazil (2), China (2), Egypt (1),
France (2), Germany (7),
Japan (3), Korea (7)
UNITED STATES
FA, on the banks of the Saco River near the White Mountains, offers thorough
college preparation, special assistance in English, and programs designed to
introduce international students to American culture.
FA, situado a la orilla del río Saco, cerca de las montañas White, ofrece
preparación completa para la universidad, ayuda especial con el inglés y
programas diseñados para introducir a los estudiantes extranjeros a la cultura
estadounidense.
Située au bord du fleuve Saco près des White Mountains, Freyburg
Academy offre un programme poussé de préparation à l'université, une
préparation spéciale en anglais et des programmes destinés à familiariser les
élèves étrangers avec la culture américaine.
Alan D. Whittemore, Director of Admissions
152 Main Street
Fryeburg, Maine 04037-1329
Phone: 207-935-2013 Fax: 207-935-4292
877-935-2001 (toll free)
Rolling / Continuo / Continuelles